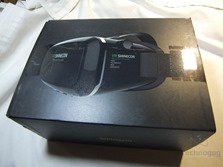 Virtual reality glasses are popular and you've got many choices when looking for a pair for you, they're essentially Google Cardboard but just better and usually not made of cardboard. Today for review I've got one of the nicest pairs I've reviewed from a company called Elegiant which are actually the VR Shinecon, these are very well made and they've got numerous adjustment knobs so you can adjust them to your prescription if you wear glasses. The only complaint I could have about these is that they have no magnetic button to use in apps and games so you'll need a controller to get full use out of them. Read on to learn more..
Specifications and Features
ELEGIANT 360 Viewing Immersive Virtual Reality 3D VR Glasses Google Cardboard 3D Video Games Glasses VR Headset Compatible with 3.5-6.0 inches Android & Apple Smartphones for 3D Movies and Games
Specification:
Color: Black
Size: 3D VR Video Glasses: 20 X 14 X 10cm
Suitable for Android and IOS smart phones with 3.5-6.0 Inch screen size, the max length*width is 4.62 X 2.46 inches.
Such as: Samsung Galaxy Mega 2/ Galaxy Note 4/Galaxy Note 3/ Galaxy S6 Edge/ Galaxy S6/ iPhone 6/ iPhone 6 Plus/LG G3/ SONY Experia T2 Ultra/ Xperia Z3+/Nexus 6P/HTC One Max/ Desire 816/One M9/ASUS Zenfone 2 etc.
-Comfortable Design: Soft Leather Edges around Face Mask & Adjustable Strips Soft leather edges around the face mask which goes against your face. Adjust the straps correctly before use, your head and neck will not feel sore from having that weight
-Immersive: Great quality materials, simple Design and fully functional. High-definition optical resin lenses to get the most immersive 3D viewing. You can enjoy your personal IMAX at home anytime.
-FD and PD Adjustment Function: PD and FD can be adjusted to the right value to fit for most people, including within 600 degrees of myopia, no need to wear glasses. No magnet or NFC with this item.
-Charge and Use Together: The front cover is adsorbed by magnet, easily to be remove, make the phone cool while using. You can charge and use earphone at the same time through the ventilation holes on both sides.
-Larger Screens Better Feeling: Fit for 3.5-6.0 inches Smartphone, recommended phone size 4.7- 6 inches, the max length X width of smartphone is 4.62 X 2.46 inches.
Price: $35.85 (from Amazon at time of review)
The Review
Let's start with a video unboxing:
The packaging for these glasses is very nice, it's black and there's a picture of the glasses on the front. When you open the box you'll find documentation on top and then the glasses wrapped in bubble wrap for protection during shipment.
Once you get everything unpacked you'll find the glasses, cleaning cloth, a zip style bag with extra pads, user guide, and service guide.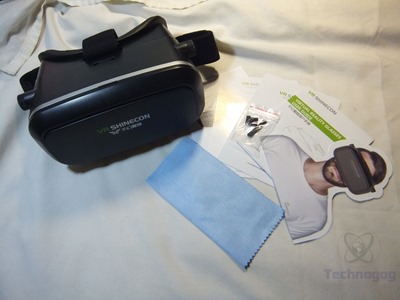 On the top is a knob to adjust the lenses inside to fit your eyes or pupil distance, it moves them both together or apart. The straps are attached to the sides and top and they have velcro on the sides and top as well for adjustments. On the back of the strap is a triangular shaped pad for the back of your head. Overall these glasses are very well made and just look great. The glasses are about 7.5 x 5.5 x 4.25 in dimensions and they're made of plastic of course so they're fairly lightweight.
On the bottom you can see the hinge for the front panel along with the depression for your nose but it's set far forward and my nose doesn't even really touch it.
On the left and right sides you'll find knobs so you can adjust the distance inside of the phone from your eyes. Also on both sides are slots so you can use a micro USB cable to charge your phone and you can use your headphones too.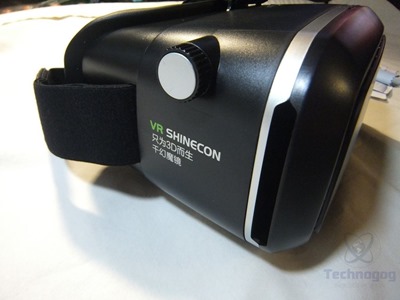 On the back is the lenses to look through and around them is a very thick and soft layer of padding for comfort, the layer of padding is about 1/2 inch thick. Each lens has a focus adjustment knob, this whole set of glasses can be adjusted to you really, if you wear glasses you most likely won't have to with these. The lenses do come with plastic covers over them for protection during shipping, the lenses are very clear with no distortions.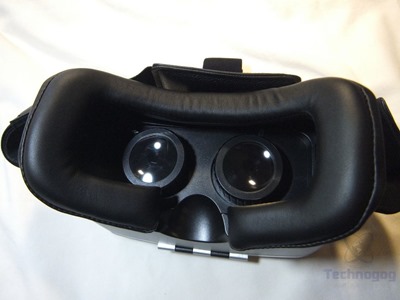 The front section is held on by magnets and can come off to reveal two rectangular holes for camera and there are also numerous holes for ventilation for keeping your phone cool while in use. You don't have to take the front cover off if you don't want to, it works fine with it on.
When you up the door you'll see the mounting bracket for your phone which is spring loaded to adjust to the size of your phone and hold them in place. There is one pad installed already but you may need to use more depending on the size of your phone, thankfully they included them for you. The front door is held closed with a small magnet at the top and it keeps it closed securely.
I used these glasses with my Samsung Galaxy S6 Android phone and the Google Cardboard app along with numerous other VR games.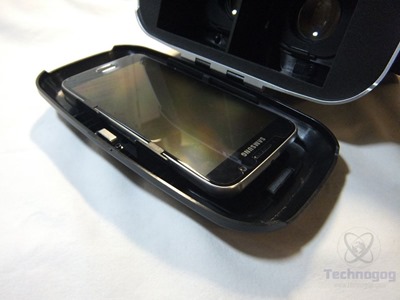 Please note these glasses do not have a magnetic button on them, there are apps and games you can use that don't require a button, but it's a very limited selection. To get the most out of these glasses you'll need a Bluetooth controller of some sort and I have the PowerA Moga Pro that I used with my phone and these glasses.
Conclusion
I've looked at a few sets of VR glasses and I've got more to come but these are the best quality ones so far next to my Samsung Gear VR, these are very well made and feature an excellent set of adjustments. These glasses are just highly adjustable, my Gear VR glasses aren't even as adjustable as these are. These VR glasses are almost perfect, but they're just missing a button to use them in games and apps. To really get the most use of out these you'll need to have already or buy a Bluetooth controller. Yes you can use them without a controller but that makes things very limited as to what you can do with them.
As is these are a great set of glasses in my opinion, the lenses are very clear with no distortions. You can use these with the front cover in place or not but there is some light that bleeds in on the sides, but not much with my phone, with smaller phones this can be an issue but you can just leave the front cover on and this should eliminate that issue.
I'm really impressed with these VR glasses overall.
Also: They just sent me over a $5 off coupon anyone can use if they want to purchase this headset on Amazon:
Coupon:3TQTEZP7
Amazon Link: http://www.amazon.com/exec/obidos/ASIN/B015CWDM9G/dragonsteelmo-20/
Pros:
+Very well made
+Straps are comfortable and hold glasses securely
+Holds phone securely in place
+Slots on sides for USB and headphone cables
+Comfortable to wear for long periods
+Numerous adjustments
Cons:
-No buttons
-Light can bleed in with smaller phones
| | |
| --- | --- |
| Grading | Scores Out of 10 |
| Overall | |
| Design / Aesthetic | |
| Value / Price | |
| Performance / Usage | |
To learn more about our review policy please visit this page HERE.