Up for review today I've got another Epson printer that's called the Stylus NX430 small-in-one, it's a play on words of course as it's an all-in-one printer that's very small. It's meant for those that are limited on space, but still want a decent printer. The NX430 is basic yes, but it does include wi-fi and USB connectivity along with a full-size flatbed scanner and even a built-in card reader along with a nice 2.5" LCD display and touch controls.
The Epson Stylus NX430 is a small printer so it comes in a small box as you might expect.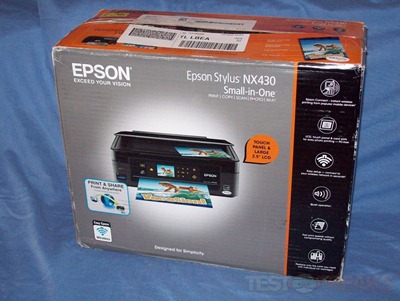 Inside you'll find the printer packaged very well in styrofoam and plastic.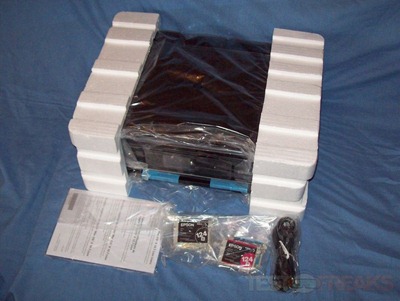 Inside you'll find the power cord, user manuals, ink cartridges and driver/software disc.
So here's the printer, it's black and small.
The return paper tray is on the front below the display screen: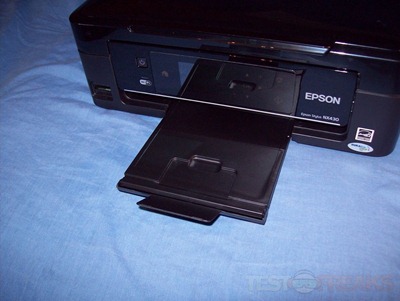 The input paper tray is on the back and it is of course adjustable to fit different paper sizes.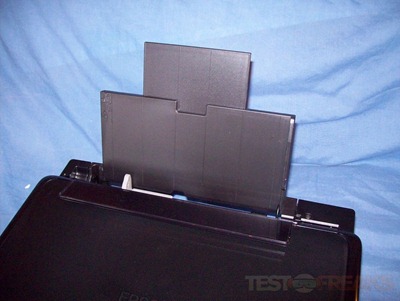 Here's what it looks like with both trays open.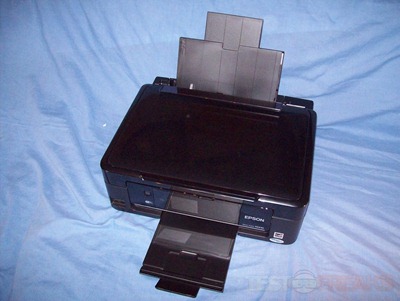 The LCD screen is there and the control panel is touch enabled of course and it can move up and down at an angle for you.
Off to the right of the panel you'll find a simple card reader.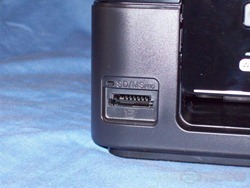 Under the top cover you'll find the flat bed scanner.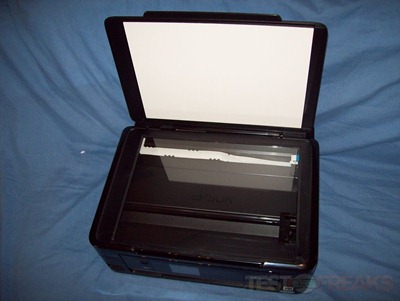 You can lift the scanner up to access the print cartridges.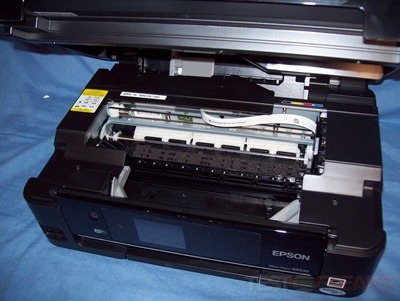 Moving around to the back you'll see the power connection and USB port.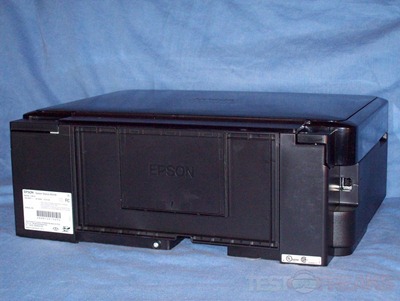 Specifications:

Like most printers these days the Stylus NX430 does have a 2.5" LCD display panel on it, and yes it's in full color. On the main menu you'll find options for Copy, Print Photos, Scan, Copy/Restore Photos, Photo Layout Sheet, Slide Show, Setup and Problem Solver.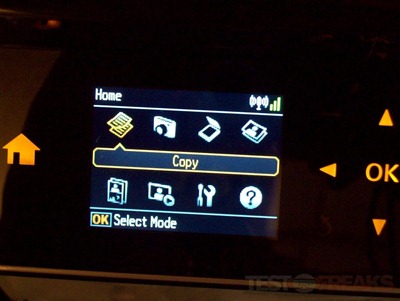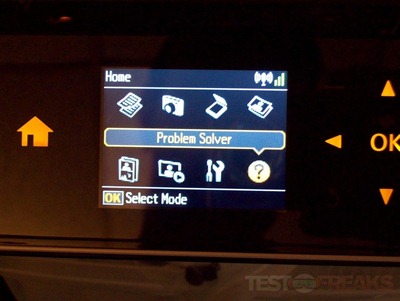 There is a mode to allow you to copy and/or restore photos automatically. The printer can just do it for you making your life a little easier.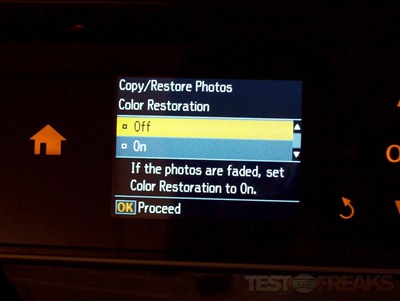 Under Setup you can find regular maintenance options along with other setup choices.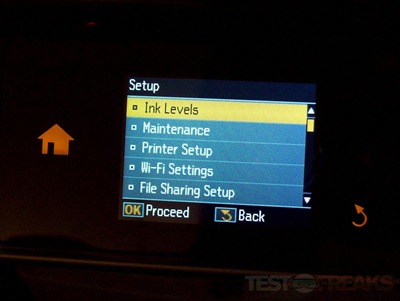 So for testing I printed stuff, large and small pictures along with text and graphics.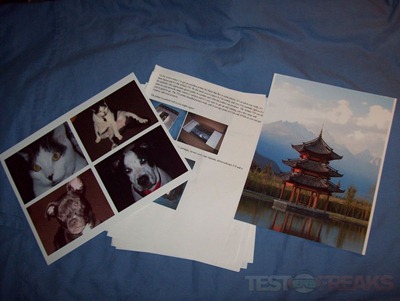 The first thing I have to say about printing pictures is that it takes a long time to print them. One would expect that from large size like 8×10, but even 4×6 prints too a very long time. All of them took not seconds but minutes to get done.
The second thing I have to say is about the quality, it's not that good honestly. Don't get me wrong though, it is decent, but when compared to other printers, especially other Epson ones, I expected better quality than I got from the NX430.
One of the other things I printed was using the Text/Graphic quality setting, I printed the last Epson review I did. As you can see from the picture below the printed picture quality isn't that great, it's rather fuzzy. The text is decent, nice and clear and readable.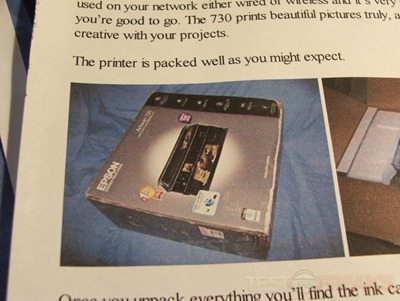 Here's the text that was above the picture. You'll also notice something else, on the left edge of the paper is some ink, not sure why or how that got there. I should note that the ink on the edges wasn't on every piece of paper I printed so it's not a common problem.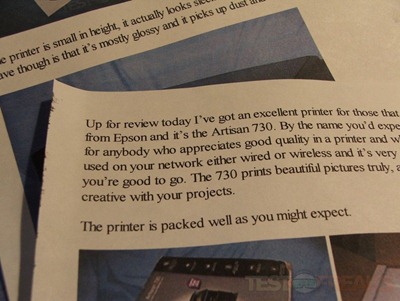 I zoomed in on the text a bit more and the text looks a bit fuzzy to me.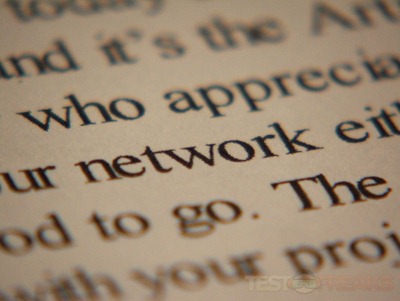 For the most part the ink looks good, just very slight bleeding.
The printer runs fairly quiet and regular black and white printing is fast. Any other printing though is rather slow to tell you the truth. I've already mentioned that picture printing is slow and it is.
Connectivity is easy especially over wi-fi, or you could use a USB connection but sadly no cable is included, but not many printers come with a USB cable so that's no surprise there's not one included. There is no Ethernet port so if you don't have wi-fi you're only going to be able to use USB. I think most people have wi-fi so that shouldn't be an issue though.
Conclusion:
The Epson Stylus NX430 is a small printer that should be fine for home use, I'm not sure about office use though as it's rather slow honestly. It's fine for printing basic black and white things, but pictures, even small one take a long time to print and the quality isn't the best. Like its name says, the NX430 is a small printer that would be great for those that are short on space and best of all it's rather inexpensive coming in at under $100.
The NX430 is a basic printer but honestly it's not one that I can recommend for those wanting to print pictures as it just takes a long time.
Pros:
+Small size
+Simple to use
+Simple to use
+Simple to use
+Multiple connection options
Cons:
-Very slow printing pictures
-Picture quality could be better
| | |
| --- | --- |
| Grades: |   |
| Overall | |
| Design | |
| Performance | |
To learn more about our review policy please visit this page HERE.