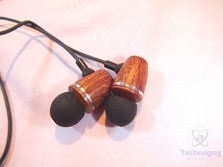 Up for review today I've got a pair of earphones from FSL or Future Sound Labs and these are called the Xylem and what makes makes these a bit special is the fact that they're made of wood. The headphones are inexpensive and they do have an in-line remote control for controlling media and phone calls. For the price they aren't bad, but they're not perfect. Read on to learn more…

Specifications and Features
Eco-friendly construction
You may not have a cape or super-powers but you can do your bit to save the earth with these premium quality wooden earbuds. Wood offers several advantages over plastics and metal and that is why it is used in the construction of premium, high end speakers and musical instruments.
Powerful vibrant sound with naturally enhanced bass
The wooden chamber of the FSL Xylem is designed specifically to reflect bass frequencies and yet absorb high frequencies. The result is a powerful bass sound with a fine detailed high end. Only a wooden chamber can provide this natural acoustic effect and the Xylem has been fine tuned to high definition audio standards.
Control your music and calls
A discreet integrated microphone and remote put you in complete control of your music and calls. Play, pause, skip track, previous track as well as answer and end call at the touch of the button without reaching for your phone.
Note: track controls may not be compatible with all devices
Compatibility
The FSL Xylem is universally compatible to work with all audio devices with a 3.5mm socket – that means just about anything portable like your smartphone, tablet or iPod etc.
Lifetime customer service and 3 year warranty
FSL prides itself on it's customer care and we want you to be happy with your product for years to come. Our faith in these earphones is why we offer a 3 year warranty and offer our customers support for the lifetime of the product.
Price: $14.99 (from Amazon at time of review)
The Review
Let's start with a video unboxing and then move on:
The packaging is a small brown box and inside you'll find a plastic try holding the earphones in place during shipping and for protection.
Once you get everything unpacked you'll find the earphones, user manual, extra sized bud covers and a carrying bag with spring style top closure.
They're wooden so they're very lightweight and they seem well made overall. I don't see any marking on them for right and left sides though.
In-line you'll find the remote control with a single multifunction button on the top and then the microphone on the bottom. The button is one press for play/pause, twice quickly to skip or twice and hold to fast forward, three times quickly to go back or three times and hold to rewind. For calls the controls are one press to answer/end and hold for 2 seconds to decline call.
At the end of the earphones you'll find a gold plated 3.5mm connector that's reinforced with metal above it.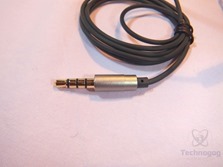 I tested these with my Samsung Galaxy S6 Android phone and the controls on the remote worked as they should. I'm not sure I like the one button for everything, but it does work and I guess that's what matters most here.
Sounds quality is not the best, bass heavy music produces a lot of distortion at even medium high volume levels.
There does seem to be a good balance of bass and treble overall, but they just seem to be able to handle heavy bass.
As far as comfort, they're not comfortable at all really, and they don't stay in my ears. I tried different sized earbud covers and they just didn't seem to want to stay in my ears.
Conclusion
The FSL Xylem earphones aren't bad for the price but they aren't great either.
Sound quality leaves a bit to be desired and they're not really comfortable either, at least for me they weren't.
Pros:
+Inexpensive
+Seem well made
+Remote works with Android
Cons:
-Not quite comfortable
-Distortion at med high volume levels
-Not sure about single button for everything
| | |
| --- | --- |
| Grading | Scores Out of 10 |
| Overall | |
| Design / Aesthetic | |
| Value / Price | |
| Performance / Usage | |

Disclosure: This product was given to us for review by the company for review purposes only, and is not considered by us as payment for the review.
To learn more about our review policy please visit this page HERE.