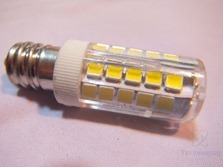 Let's save money, at least I like to, and changing from incandescent to LEDs can save you money but it's taken a while for them to actually be useful in my opinion. LED bulbs were very expensive and they took a while to come on and the light from them wasn't that good really, but they've come a long way and they are much better now. Today for review I've got five LED bulbs to replace incandescent ones, these have a candelabra or T3 base on them so they're not your common bulbs. I've replace the ones in my chandelier with these LED bulbs and I've grown to like them a lot. Read on to learn more..
Specifications and Features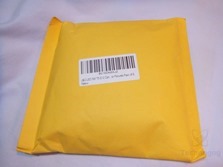 The bulbs are all packaged individually on cards.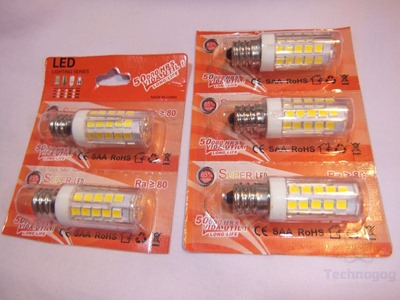 There are 44 LEDs per bulb. They're round but inside they have eight sides with five LEDs per side and then four LEDs on the top. The bulbs are only 1.75 inches tall including the base and slightly more than half inch across.
This bulbs are small, less than half the height and width the incandescent bulbs I was using originally.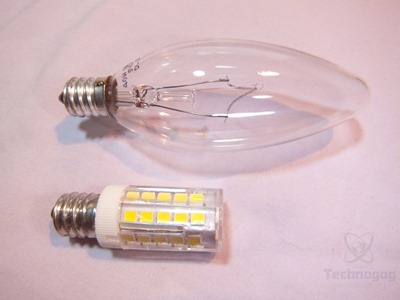 The bulbs I originally had in were 40Watt and these LEDs are supposed to be able to replace those. When I changed the bulbs I immediately noticed a difference in the color, the LEDs have a much cleaner white light to them but slight yellow. They're 4000K which means they're supposed to be a natural daylight white which I guess they are.
Conclusion
The LEDs take a bit to get accustomed to, the light is different but after a few days I really didn't notice them anymore.
The light from them is almost like I don't have the light on, what I mean is it's like the window blinds and curtains are open really it's that type of light from them.
The bulbs seem well made and I like them, they do look very different than the original ones, much smaller, but very bright.
At first I wasn't sure about the looks of them, but I've come to like them.
I think these are a decent product overall, but as far as longevity only time will tell as it were.
Pros:
+Bright
+Inexpensive
+Well made
+White day like light
Cons:
-Take time to get accustomed to
| | |
| --- | --- |
| Grading | Scores Out of 10 |
| Overall | |
| Design / Aesthetic | |
| Value / Price | |
| Performance / Usage | |
Disclosure: This product was given to us for review by the company for review purposes only, and is not considered by us as payment for the review.
To learn more about our review policy please visit this page HERE.