I don 't think this product needs much of an introduction, unless you've been living under a rock for the past year or so then I think you know what Angry Birds are. They've become extremely successful and have spawned several lines of accessories and today I have one of the more useful ones, at least I think it's more useful. Today for review I've got the Gear4 Angry Birds Speaker, there are a few different versions of it and I have the Red Bird which can be used with any device that has a standard 3.5mm audio jack.  Let's just jump right on in…
It's Angry Birds so you expect it to be boxed in a fun way and it is. The box is made to look like a wooden shipping crate with a window on the front showing the Red Bird. The window actually has a screen pattern in it, sort of like chicken wire.
When I first saw these I thought they were small, but this thing is huge, I was very much surprised by the size of it. Here's a regular size blu-ray movie box next to the Angry Birds box for size comparison: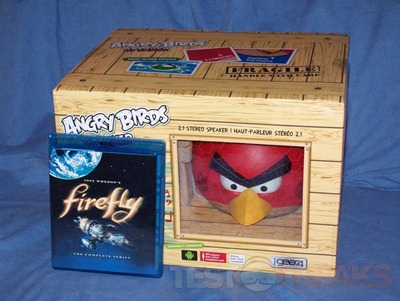 When you open the box you'll be greeted with the instructions for using the speaker and for unpacking the Red Bird, you'll also notice a male to male audio cable.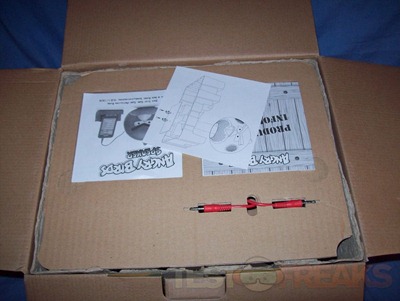 Here's everything unpacked: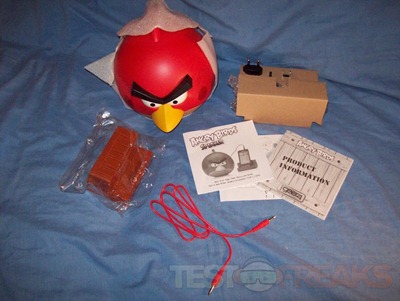 The audio cable is red to match the bird and it's about 41 inches long.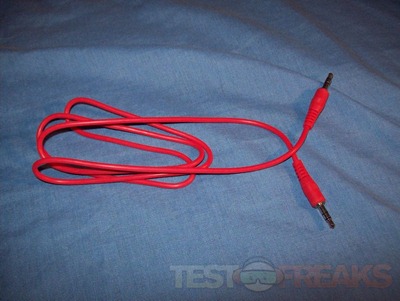 Included is what you might consider a dock, but it's really a stand for your phone or MP3 player. It follows the Angry Birds theme and resembles wood. On the front is a part that look like broken wood that sticks up to hold your device in place, on the back edge is a rubber strip to keep it from sliding.
On the bottom are rubber feet and a part that slides out to make the platform more stable for larger devices.
Included is a power adapter that can be used in many countries around the world, just pop them off and on.
And here's the Red Bird himself, and yes he looks angry. The bird is plastic, as with most things, and it's heavy, much heavier than I expected it to be, and it feels solidly  and quality made.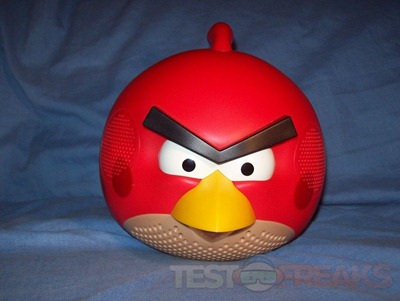 Here's a few more views for you. There are speakers on the sides and bottom of the bird, it has two mid-range and a sub-woofer.
On the back you'll find the control panel with a knob for bass, a power button, power input jack, audio input jack and the volume knob, under those is the bass port.
On the bottom of the bird you'll find a large rubber pad to keep that bird from flying off somewhere.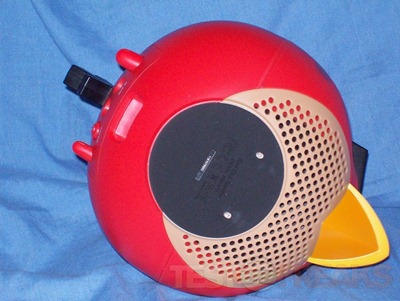 Specifications: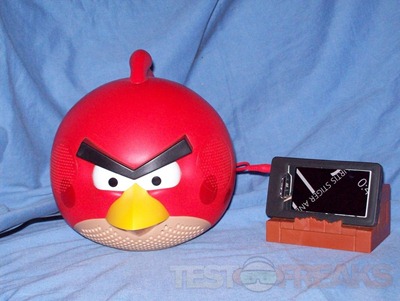 The Zune has its audio connection on the bottom so it had to sit sideways on the stand.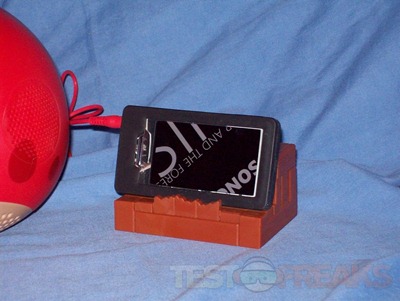 Then I used it with a larger device, my HTC Titan and it could stand up since its audio connection is on the top: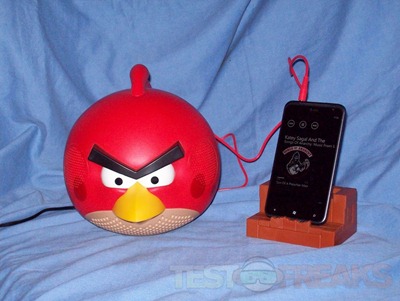 Here it is in the stand: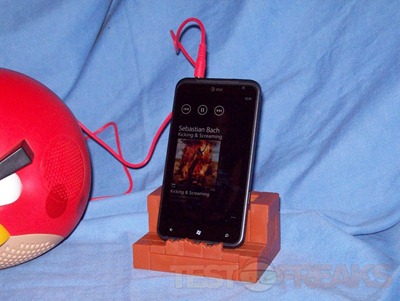 I didn't take a picture of it, but it did hold my Android 10" tablet in the stand, I just had to extend the back section out to stabilize it.
The sound is very good, and wow this thing can get very loud. It does get a bit distorted at full volume but you just need to lower the bass level a bit and it clears up. There is a lot of bass in this bird (that sounds weird) and it was vibrating my desk, I had to turn it down a bit.
The Red Bird is simple to use, and the sound is very good really.
On a side note about this bird, my dog doesn't care for it, it's funny and weird at the same time. When I first got it I had it sitting up on a shelf and she would sit there staring at it and barking and growling at it. After a couple weeks she stopped the barking but she still doesn't like it, when I bring it down she gets away and then walks over to it very tentatively to sniff it and then backs away to a safe distance.
The price is a bit high, but it's an officially licensed product and a novelty, so prices are usually higher on these types of things.  Is it worth it? Maybe, if you're an Angry Birds fan then yes it's worth it.
Conclusion:
So it's a speaker, it's an angry looking bird, it's an Angry Bird speaker. Is it worth it, I have to say yes, especially if you're an Angry Birds fan. I like Angry Birds sure, but I'm not a fanatic about it, but my kids are and they just love this thing. I think they were more excited than I was when I opened the box.
The Red Bird Angry Bird speaker looks good and it's very well made, well worth the cost in terms of design and build quality. The sound is very good as well, I think most people will be more than happy with the sound that this bird makes.
The one small issue I came across is the power cord, I think it's just too short really.
If you or anyone you know is an Angry Bird fan I think this would go over very well as a gift for them or yourself.
Pros:
+Works with any device with standard audio jack
+Very loud
+Comes with adapters for world use
+Decent sounding
Cons:
-Rather expensive
-Power cord could be longer
| | |
| --- | --- |
| Grades: |   |
| Overall | |
| Design | |
| Performance | |
To learn more about our review policy please visit this page HERE.