Hey, hey, looks it's another Sparkle video card review. This time it's another GT240, but it's the low-profile version meaning that it's made for smaller cases like an HTPC for instance. That's doesn't mean though that it can't be used for light gaming and anything else a video card is used for.

The box looks familiar, all of the GT240 boxes look pretty much the same.
Inside you'll find the card wrapped in bubble wrap and an anti-static bag along with user manual, driver cd and two PCI brackets. The VGA port is removable, it just plugs into the board so you can swap out the PCI brackets to use in a smaller chassis.
The card itself is short or small, but it's double size is terms of the heatsink. The card will take up two slots. The GT240 has DVI, VGA and HDMI ports on it.
Specifications:
GeForce GT240 1024MB DDR3 w/Low Profile & Native HDMI Port
Model No: SXT2401024S3LNM
GPU / VPU: NVIDIA GeForce GT240
Processor Technology: 40nm
Processor Cores: 96 cores
RAMDAC: Dual 400MHz
Bus Type: PCI-EXPRESS 2.0
Bus Speed: 16x
Video Memory: 1024MB
Memory Type: DDR3
Memory Interface: 128 bit
Output Connectors: HDMI x1, Dual-Link x1, VGA x1
HDCP Capable: Yes
Overclocked: No
Cooling System: Fan
Video Card Profile: Low Profile
Video Card Slot: Double Slot

Since I reviewed the two GT240 card yesterday, I figured just add this low profile to the charts for comparison.
Same setup, Intel C2Q9650, DFI motherboard, 8 gigs ram and everything hooked up to a 47" Vizio HDTV via HDMI.
First up is 3DMark06: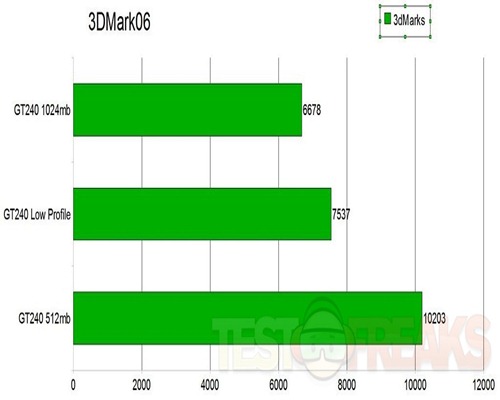 The low profile performs better than the regular GT240 with 1024mb.
Next up is 3DMarkVantage: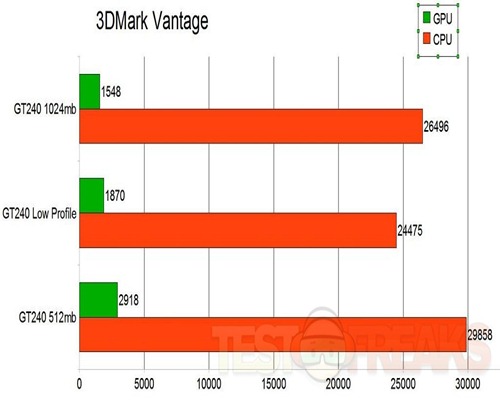 Again the low profile is better, but the GT240 512mb is even better.
Next up would be some good old Crysis Warhead:
Very low frame rates for all of them of course, but it just goes to show which card performs better.
Next would be some Far Cry 2 at a couple different resolutions.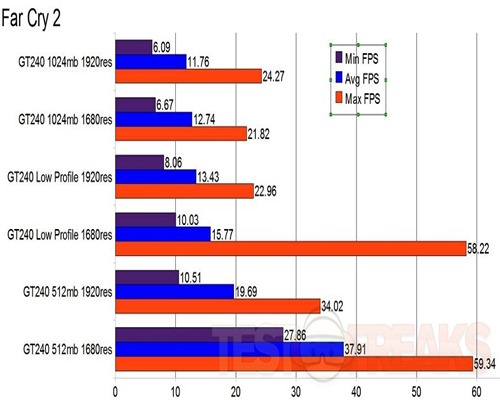 Again same performance here, no surprise.
Lastly I've got HAWX 2 benchmark: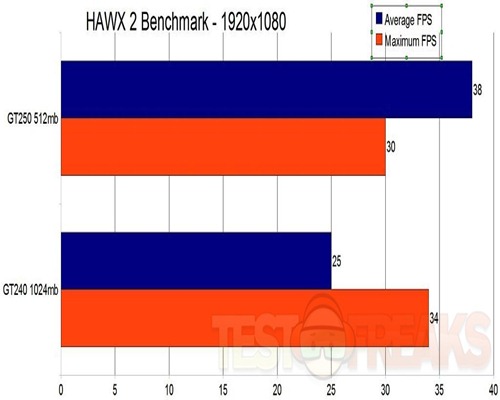 Well you can play HAWX 2 with this card, 33FPS on average shouldn't be too bad.
The card is large, or really  the heat sink is, so you'll lose a slot below it and in some cases that might make things more cramped.
The card does work great in an HTPC, popped in a blu-ray and the picture was beautiful. HD Content played fine on my 47" HDTV.
The card is quiet so it will work great in an HTPC, even under load it added no additional noise to the system. I like my system as quiet as possible so I know what quiet is.
Conclusion:
The performance of the low-profile GT240 is ok I guess, it's fine for light gaming, but it's a card made for an HTPC really and there it will work just fine. It's small, comes with PCI brackets and it's quit, just what one needs in an HTPC card.
Pros:
+Small
+Quiet
+Greast for an HTPC setup
Cons:
-Not the greatest for gaming
| | |
| --- | --- |
| Grades: | |
| Overall | |
| Design | |
| Performance | |
To learn more about our review policy please visit this page HERE.