Today I've got a rather large review for you with a lot to cover. Today for review I've got the HIS Radeon 7850 video card and I've put it through it's paces thoroughly including gaming, Eyefinity and overclocking. HIS has also just came out with a new software program called iTurbo that can help you adjust many of your video card settings including the fan and overclocking. When all was said and done I have to say that I'm very much impressed with what this card can do and I think you will be as well. So read on…

The box for the HIS 7850 is very similar to that of the HIS 7770 that I just reviewed, it's got the big sword on it with specs and features listed, but it's a bigger box.
Inside you'll find the same black box with the HIS logo on it.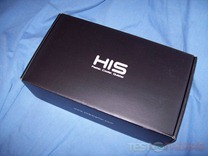 You'll find the card all snuggled in styrofoam for protection and a basic instruction sheet.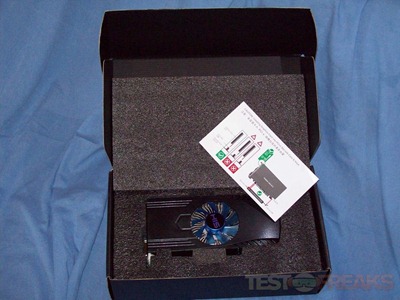 Under the styrofoam card section is a removable bottom that has a folder along with a VGA/DVI adapter and a Crossfire bridge and a separate software disc.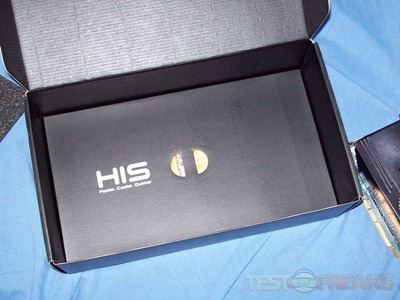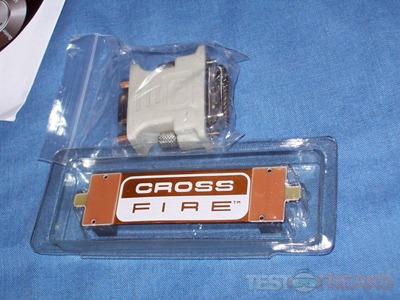 Here's everything all placed out for you to see: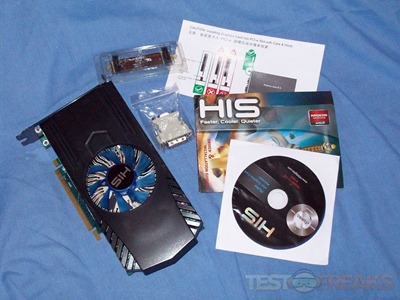 The folder contains the driver disc and instruction manual.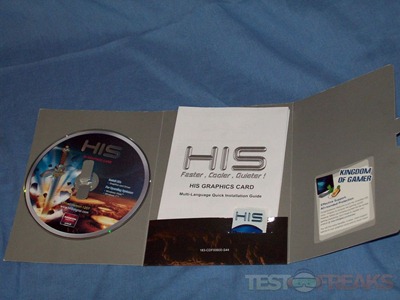 The HIS 7850 card is black and it's stylish and sleek looking with a clear blue fan in the center of the aluminum heatsink.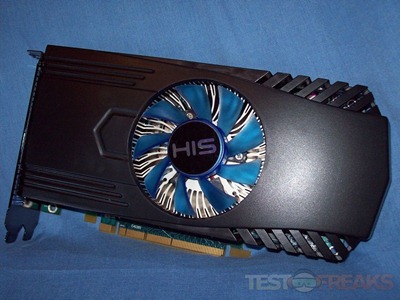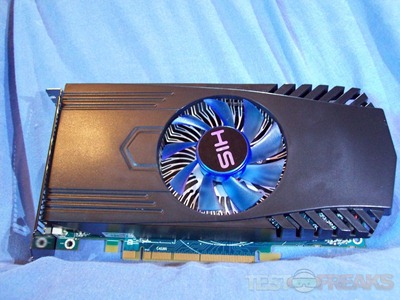 On the back of the card you'll find DVI, HDMI and two Displayport connections so you've got options in how you want to hook it up. Having all of these connections means more monitors of course.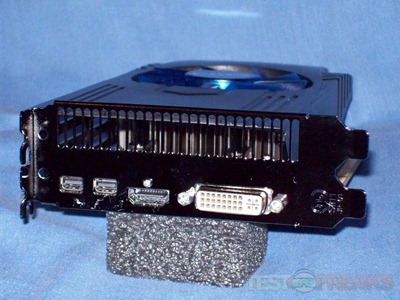 Here's side views of the card, it has a fast and sleek look to it even on the sides. The Crossfire connection is there too.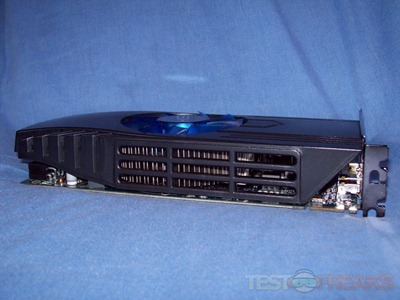 On the back end of the 7850 is a single PCIE 6pin power connection. I'm surprised that a next gen card only needs a single power connection, but that can be a good thing.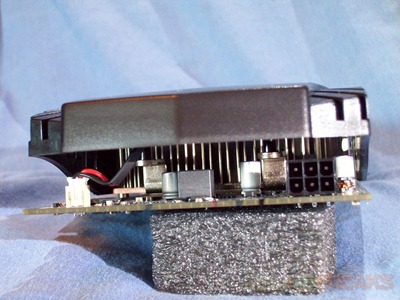 Here's the back of the card or the PCB side, it's green and rather plain looking:
Specifications:

Here's the 7770 and the 7850 for comparison: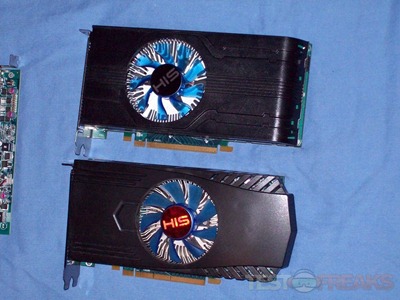 The shroud on the 7770 makes the card look a little bigger.
Let's start out with the iTurbo software I mentioned earlier:
iTurbo Software:
HIS has just came out with software that they call iTurbo which can help you keep the card cool and quiet or overclock. It allows you to monitor and adjust fan settings along with the card itself.
The interface can be in minimized mode which is a small circle. pressing one of the buttons put it into full sized mode where you'll se much more info. The word iTurbo in the center is actually a button that will automatically overclock the cad for you, but it barely does anything, you'll be better off handling that manually I think.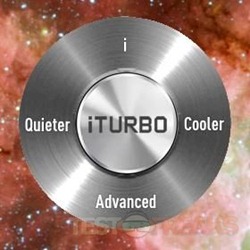 The software has five tabs across the tab for Home, Info, Overclock, FanControl and Settings. The home screen just basically shows news and has links to update the drivers.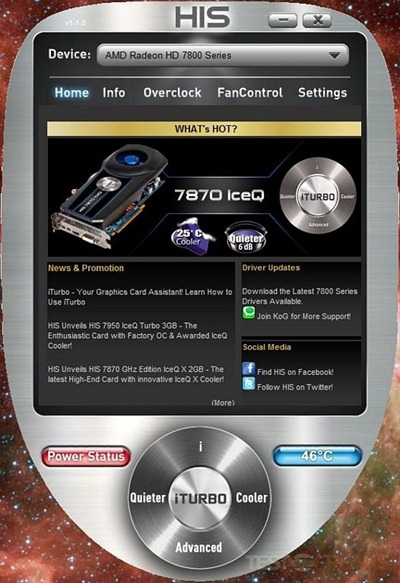 The Info tab is just that, information about the cards in your system. The bottom of the interface has a power status indicator that changes colors and a temperature display as well.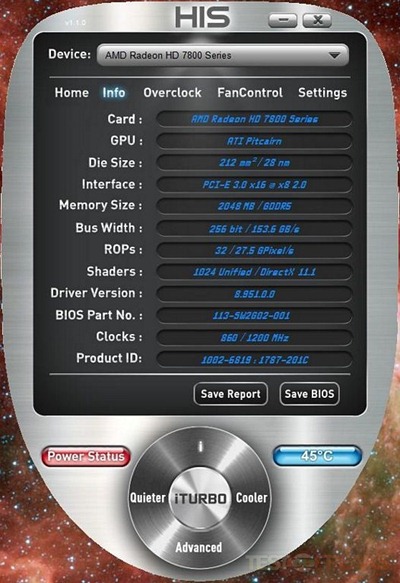 The Overclock tab lets you adjust the Core and Memort overclocks and save four profiles so you can quickly switch between them.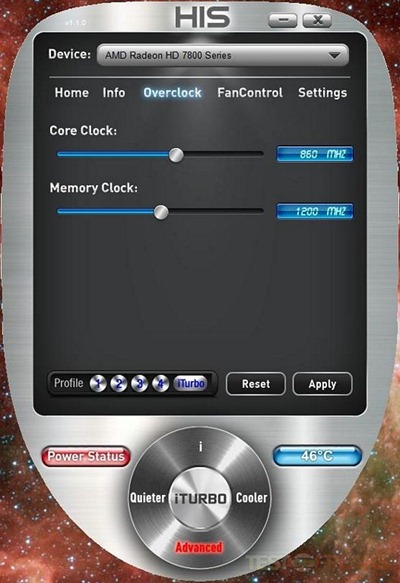 The FanControl tab is kind of self-explanatory, you can adjust the settings to your liking and save them as profiles to Quieter or Cooler.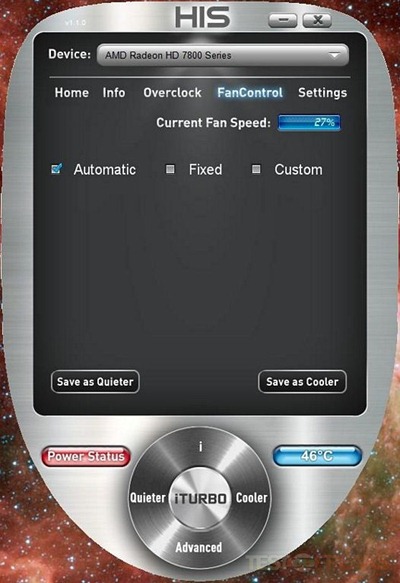 The Settings tab has some basic things you can change.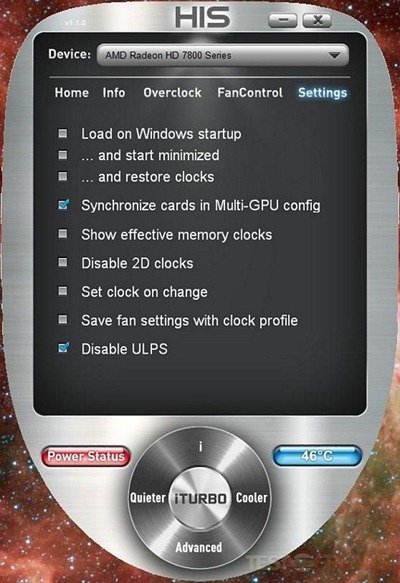 I found the software to be rather useful and very easy to use, it also works with the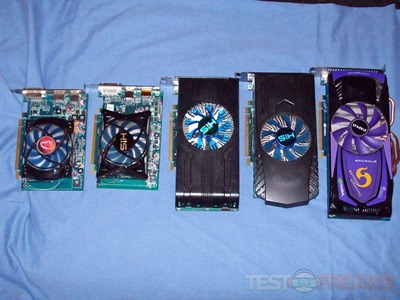 So let's get into actual testing and we'll start with the basics.
3DMark06 is up first:
So we're off to a good start it looks like, a nice improvement over the 7770 and the 465gtx.
Next is 3DMark11 running at all three modes, Entry, Performance and Extreme.
There's a nice improvement across all of the tests as you can see, the 7850 does very well.
Next up is 3DMark Vantage running at the Performance default settings at 1920×1080 resolution.
The CPU score dropped for whatever reason, but as you can see there's a marked improvement in the GPU scores here.
Let's more on to gaming starting with Aliens vs Predator. I ran two sets of tests at medium settings and maximum settings, both at 1920×1080 resolution.
Here's the actual settings in screenshot form:
Then here's the graph with the results: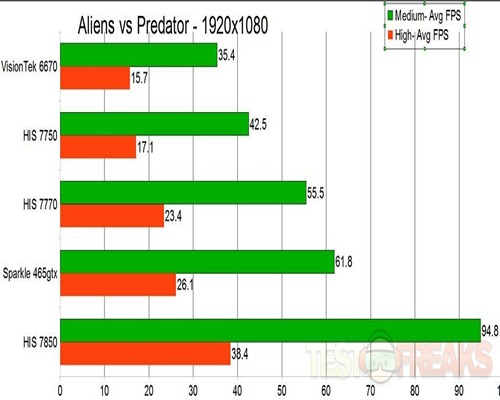 Running at the medium settings we see a huge improvement in performance, running at maximum we can play the game with a decent 38.4FPS.
Next up is Section 8 which runs off the Unreal 3 engine, settings were all maxed out at 1920×1080 resolution.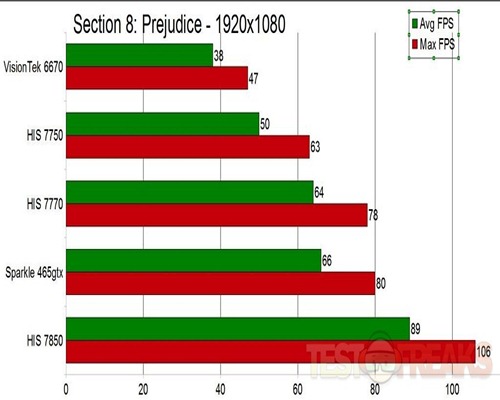 All of the cards can run Section 8, no big deal here.
The next game I played was Mafia II at a resolution of 1920×1080. I ran two different sets of tests with the settings on max but one set was with Antialiasing on and the other is Antialiasing off.
The first test is with Antialiasing on: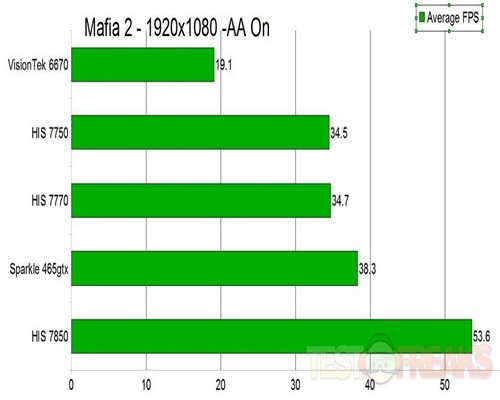 Here we see a very nice improvement in the frame rates when moving to the HIS 7850 video card, the game runs fine with maximum settings on.
Next would be with Antialiasing off: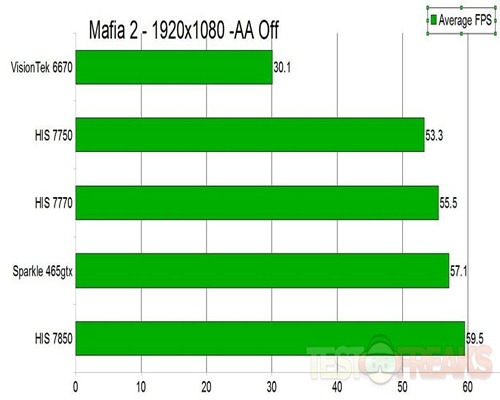 All of the cards see an improvement here, but that's expected. The game still looks decent with AA turned off.
The next game is Just Cause 2 with two tests for this one, but are at 1920×1080 resolution. In the graph you'll see two sets of results, one labeled Max and one labeled Med or medium. Max is everything on maximum setting while medium is Motion Blur is off, Texture Detail is High, Shadow Quality is Low, Antialiasing is 2x, Anisotropic Filtering is 4X, Water Detail is Low, Objects Detail is Low, Decals are On, Soft Particles are On, High-Res Shadows are Off, SSAO is Off and Point Light Specular is Off. I used the Concrete Jungle test level for all of these.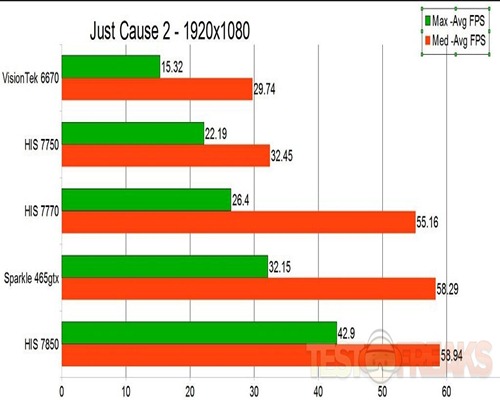 On medium it's pretty much a tie but with the settings maxed out we can see the 7850 does a very good job at Just Cause 2.
The next test is two more tests with two more graphs, and it's Dirt 3.
The first is maximum setting with everything set to High or Ultra where available, the highest settings of the game.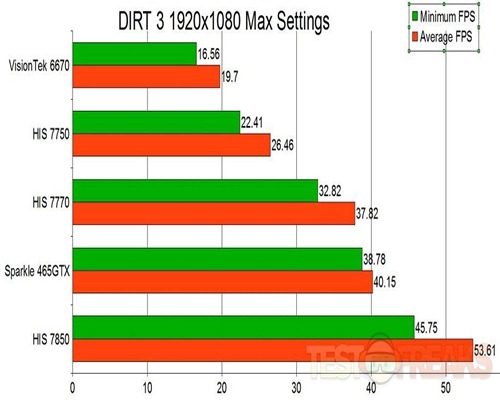 Here again we see a nice improvement when using the 7850.
Next would be on high or what I consider medium settings and at 1920×1080 resolution of course.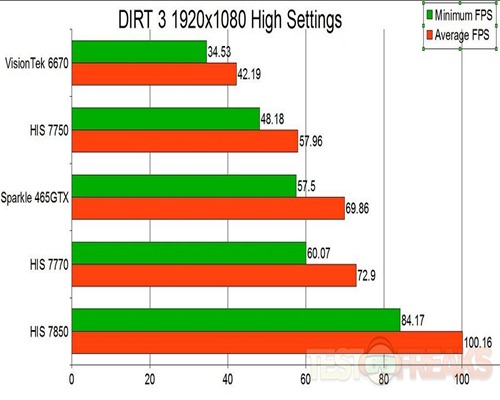 The next fastest card is the 465gtx and the 7850 easily gets almost 30 more FPS on average, that's pretty good I think.
Let's visit Batman with Arkham Asylum up first on maximum settings at 1920×1080 resolution.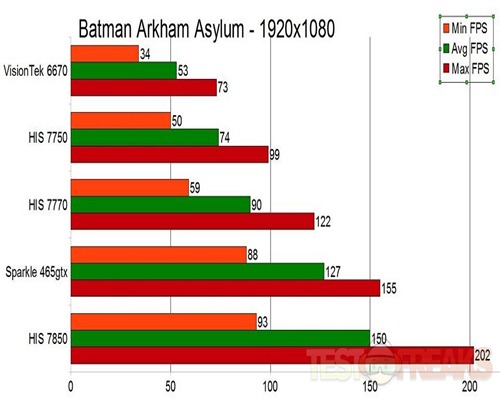 There's a drastic increase here, the game plays smooth as butter on the 7850.
Lastly we have Batman Arkham City and with two graphs one medium settings and on maximum settings.
First up is the medium settings:
Very good I think, very much playable at these settings.
Let's see how the 7850 does once we turn up all of the settings: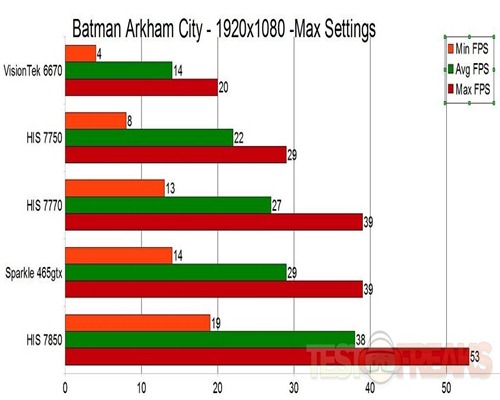 The average FPS is 38, which isn't bad but it does have a minimum FPS of 19, so there might be some slow downs here and there but overall I found the game to be very playable even at the highest settings.
AMD Eyefinity:
I don't use Eyefinity personally, I'd like to but that would mean buying new monitors with displayport connections. I did configure Eyefinity for two monitors and run a few tests to see the performance. No pretty graphs, just some data for you.
For Aliens Vs Predator here's the results at max settings at 3984×1080 resolution, I only got 24 FPS, but it was expected.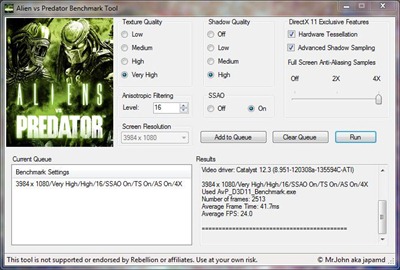 For Dirt3 I ran two sets of tests at 3976×1080 resolution. I ran Max settings and settings on High.
Max Settings:
Minimum FPS: 26.18
Average FPS: 30.80
High Settings:
Minimum FPS:54.37
Average FPS:65.65
Just Cause 2:
I then ran the same Just Cause 2 tests, maxed settings and high settings, as I ran earlier at the resolution of 3984×1080.
Max Settings: 24.19 FPS
High Settings: 54.28 FPS
Batman Arkham Asylum:
The last one I ran was supposed to be Batman Arkham City, but I couldn't get it to work in Eyefinity mode so I ran Batman Arkham Asylum instead and that worked fine. The settings were all on maximum and the resolution was 3948×1080.
Minimum FPS: 67
Average FPS: 88
Maximum FPS: 109
Overclocking:
Sadly AMD has done some changes to their latest graphics drivers and they've made it rather hard to overclock. What they did was enable ULPS or Ultra low Power State and make it very hard to disable it. Supposedly you can disable it via the iTurbo software but it didn't work for me, there's also a couple third-party utilities you can get as well that can help you out with this or you can just edit some registry settings. I hate to say it but none of these worked for me, I had to find another work around that involved adding a couple missing .DLL files to my system. These DLL files were actually present in past AMD/ATI drivers, but they've been removed from the last couple generations. I'm not sure why AMD/ATI did this, it's just a rather large inconvenience for people like me and most other enthusiasts out here and even the regular consumer. So I had a bit to do before I got any overclocking done.
The HIS 7850 run at 860mhz core and 1200mhz memory clock, so I did a bit of overclocking. The iTurbo software doesn't allow for any voltage adjustments so you're slightly limited in overclocking ability, but even without voltage adjustments I easily got the card up to a core clock of 1100mhz and the memory up to 1250mhz.
So I ran some more tests while overclocked and I found that I got some very nice improvements in the scores. The stability of the card was not affected at all, it ran perfectly fine though all tests and other recreational gaming as well.
As far as temperatures, the card ran at between 47C and 48C and then under load it only reached 72C. It was actually 71C most of the time under load and just once or twice hit 72C. I have to say that even under load the fan was virtually silent.
Let's start with 3DMark Vantage, same settings, the default Performance settings with with resolution at 1920×1080.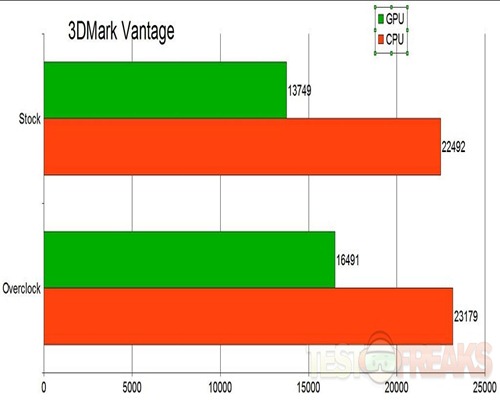 Both scores went up, the CPU score went up slightly but look at that GPU score it's almost 3000 points higher.
The next test would be 3Dmark11 again: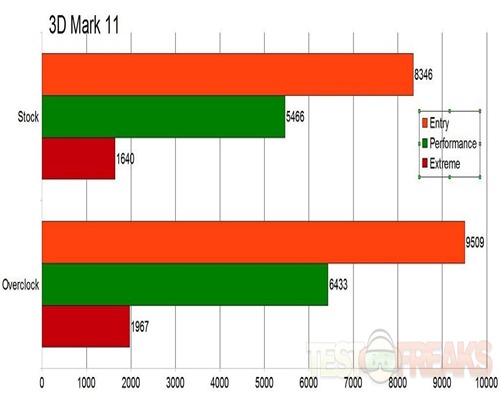 Again as you can see there's a nice performance gain with just a bit of easy overclocking.
The next test would be Aliens vs Predator with all settings maxed and at 1920×1080 resolution: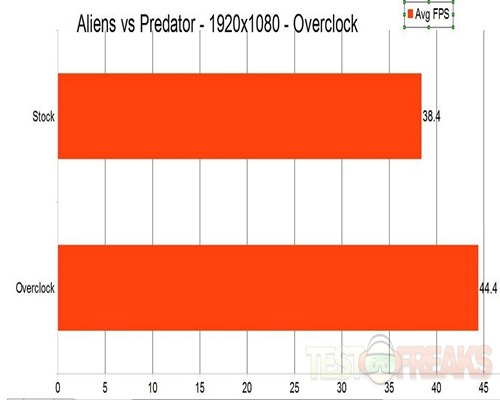 The card does fairly well even when not overclocked, but you can get a few more FPS out of it when you overclock it.
The last test I ran was Batman Arkham City at max settings with a resolution of 1920×1080.
I was hoping for a little more of a gain on the Minimum FPS but I didn't get it, still though there's a decent increase in the average and maximum FPS that I got while overclocking over the stock settings.
Price is about $240 right now, depending where you look, but for that I think it's worth it as it performs very well.
Conclusion:
Well I'm impressed by the HIS 7850 that's for sure, I'm very happy with the performance of this card. It easily bests every other card I've got on hand and most importantly it let's you play most every game out there on maximum settings and get decent frame rates. The HIS 7850 can be overclocked easily and without any additional voltage you see a very nice increase in performance. The card runs quiet and cool thanks to the cooler and fan combination that HIS attached to the card. It only uses a single power connection so it doesn't draw that's much power from your system, according to specs you'll only need 500 Watt or more power supply to run it.
The new iTurbo software that HIS has just released is a nice companion to their card, it allows you to overclock your card easily and it also let's you monitor and adjust the cards fans to keep things quiet or for maximum cooling efficiency.
For the price the HIS 7850 is well worth it, it costs less than half of a high end card but yet performs very well in most every game I tested.
Pros:
+Excellent performance
+Good overclocker
+Runs cool and quiet
+Small in size
+Software easy to use
+Low power, one PCIE connection
Cons:
-No voltage adjustments in software
| | |
| --- | --- |
| Grades: |   |
| Overall | |
| Design | |
| Performance | |
To learn more about our review policy please visit this page HERE.