A lot of video card reviews lately, and that's good thing I think. We're moving up the line of 7000 series cards and today we have the HIS Radeon 7870 Ghz Edition which obviously runs at 1Ghz core clock, along with that it comes with 2gb of DDR5 memory and it runs on the PCIE 3.0 interface for the fastest speeds. The card comes equipped with two Displayport connections along with HDMI and DVI so you can run a few monitors off of it or you can enable Eyefinity for some real gaming fun. I've put it up against some other cards I've got on hand for comparison, so let's get into it….
And as usual we start with the box pictures:
Open the box and find another box with eh HIS logo.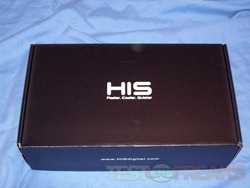 When you open it up you'll find the 7870 in a styrofoam casing.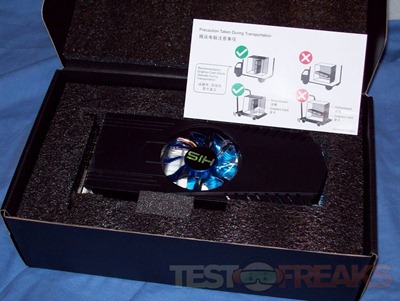 Under the styrofoam tray you'll find some accessories: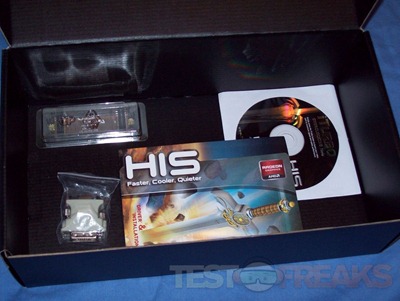 The accessories include a folder with the driver disc, instructions and a case sticker. You'll also find the crossfire bridge, DVDI to VGA adapter and the software disc.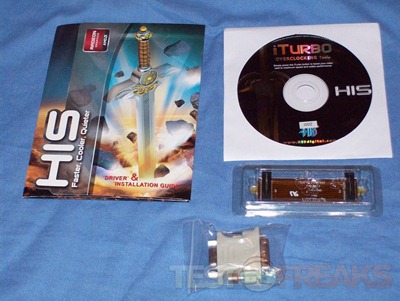 Then here's the card, it's rather large, at least it's the biggest of the 7000 series so far I've seen. I like the black and blue styling of it.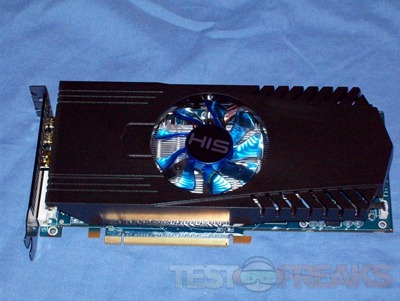 The one thing you'll notice if you look close is the heatpipe cooler that the 7870 uses.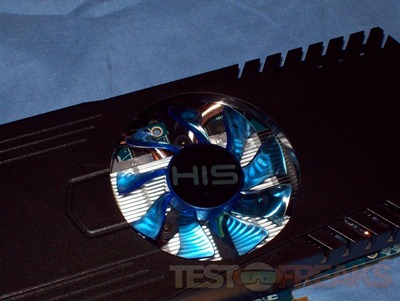 Here's a side view, the card uses two PCIE power connectors.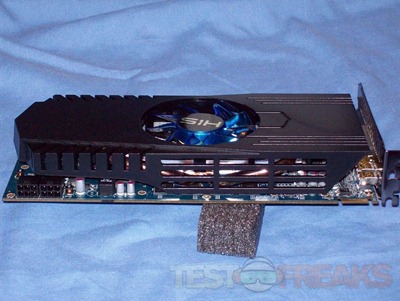 Through the venting on the side you can see the heatpipes a little better and then here's a closer look at the two power connections.
The other side is rather plain really.
The card comes with two Displayport connections along with an HDMI and a DVI connection.
Here's the back end of the card:
The PCB is blue, not much else to say..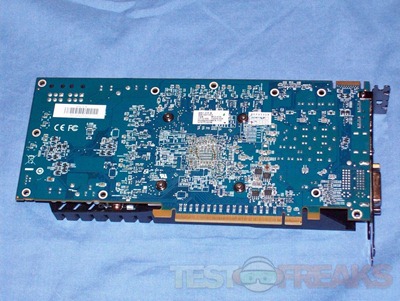 Specifications:

Not pictured above, but I've also included the 6670 and the 465 GTX for comparison below.
So let's get this started with the old favorite, 3DMark06: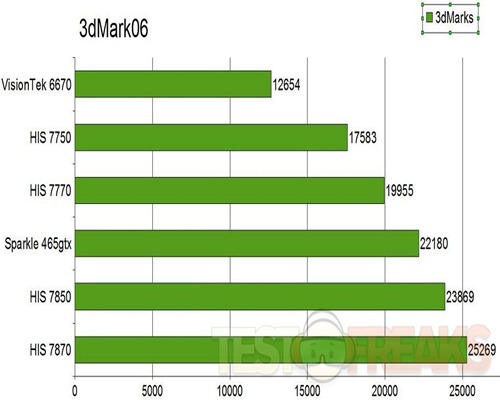 Here we can see a 1400 point increase when using the 7870, not bad.
Next up is 3Dmark Vantage running at Performance default settings but with the resolution changed to 1920×1080.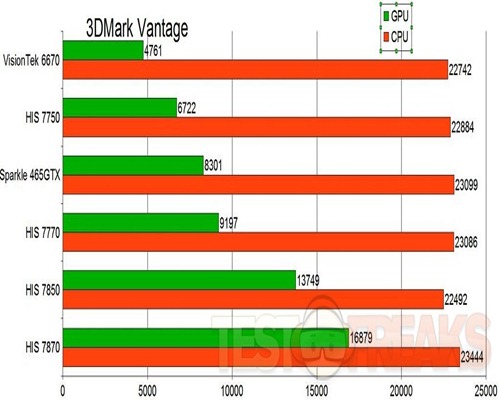 Here we see over 3000 points more using the 7870, not bad here again.
Next up is 3DMark11 running all three tests for Entry, Performance and Extreme.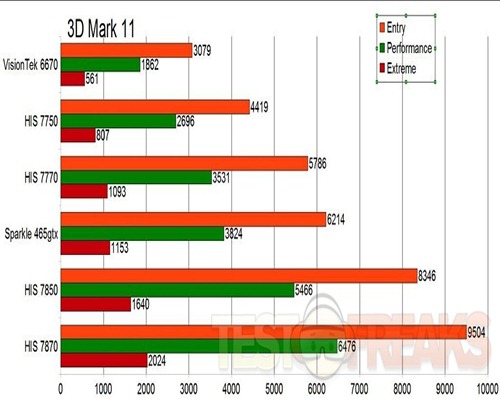 An 1100 or so increase, less than I expected but decent.
Next up is Aliens vs Predator. I ran two sets of tests at medium settings and maximum settings, both at 1920×1080 resolution.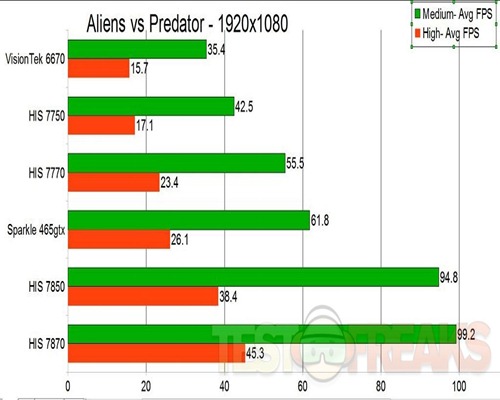 As you can see both the 7850 and the 7870 can easily handle Aliens vs Predator on high or max settings. The 7870 does a bit better though.
Next up is Section 8 which runs off the Unreal 3 engine, settings were all maxed out at 1920×1080 resolution. Yeah it's not the most taxing game but it was there.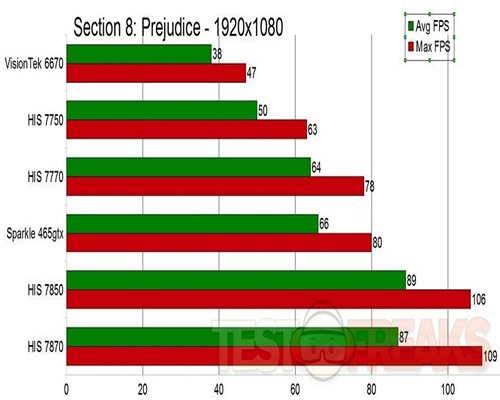 So pretty much every card can run this game as I expected and I'm sure you did too.
The next game is Mafia II at a resolution of 1920×1080. I ran two different sets of tests with the settings on max but one set was with Antialiasing on and the other is Antialiasing off.
The first test is with Antialiasing on: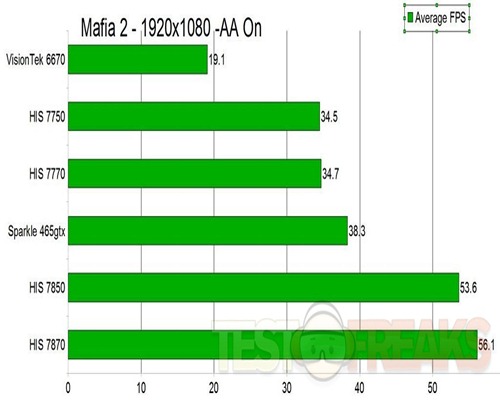 Antialiasing is hard on cards but the 7870 handled it well as did the 7850. The other cards were playable with some slowdowns.
The next graph shows AA off: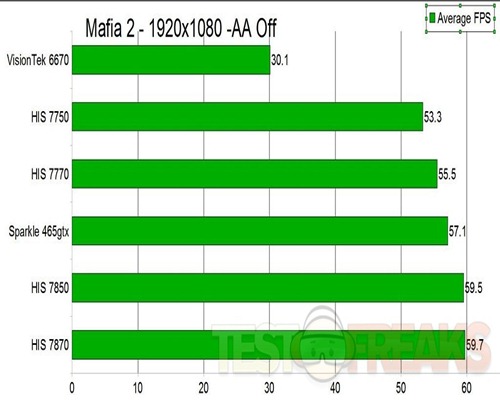 No surprises here, all of the cards can handle it well, at leas the 7750 and up can.
The next game to test is Just Cause 2 with two tests for this one, but are at 1920×1080 resolution. In the graph you'll see two sets of results, one labeled Max and one labeled Med or medium. Max is everything on maximum setting while medium is Motion Blur is off, Texture Detail is High, Shadow Quality is Low, Antialiasing is 2x, Anisotropic Filtering is 4X, Water Detail is Low, Objects Detail is Low, Decals are On, Soft Particles are On, High-Res Shadows are Off, SSAO is Off and Point Light Specular is Off. I used the Concrete Jungle test level for all of these.
On medium settings we can see the the top four cards are close but when maxed out the 7850 and the 7870 do very well with an oh so slight increase for the 7870.
The next game is Dirt 3 and it's two more tests with two more graphs.
The first is maximum setting with everything set to High or Ultra where available, the highest settings of the game.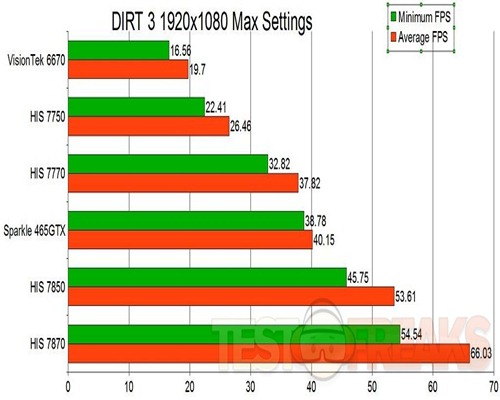 Here we see a nice increase when going from the 7850 to the 7870, still playable though with most cards.
Then here's testing with the setting on high:
A bit of an increase but is it worth it in the long run? Dirt 3 is more than playable with a lot of the cards in the chart. Then again, one game is just that, one game, you want a card that's going to run every game you want to play smoothly.
Next we have Batman Arkham Asylum on maximum settings at 1920×1080 resolution.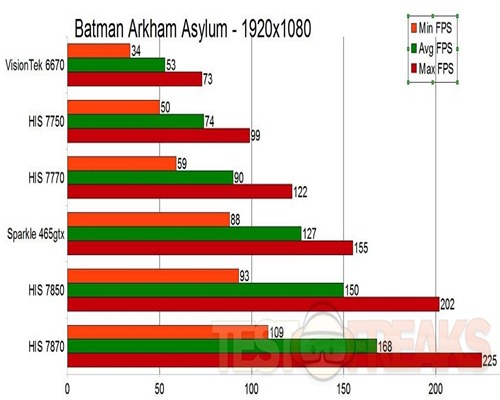 Look at that though, all over 100FPS and that 225FPS, that's ridiculous isn't it?
Last we have Batman Arkham City and with two graphs, one medium settings and one with maximum settings.
Finally I've found a card that can really handle Batman Arkham City, at least on medium settings.
Let's see how it does on maximum settings:
The average and maximum FPS are pretty good but the minimum is below that magic 30FPS number sadly, it's close though, really close.
AMD Eyefinity:
Just like with the HIS 7850, I ran the 7870 in Eyefinity mode with dual monitors.
I ran Aliens vs Predator first off at maximum settings and compared it to the 7850 both at a resolution of 3984×1080.
7850: 24 FPS
7870: 29 FPS
Still not really playable at maximum settings with Eyefinity, oh well.
Next up is Dirt 3 at 3976×1080 resolution and I ran two tests with settings on Maximum and High.
Max Settings:
7850 Minimum FPS: 26.18
7870 Minimum FPS: 35.94
7850 Average FPS: 30.80
7870 Average FPS: 41.35
High Settings:
7850 Minimum FPS:54.37
7870 Minimum FPS: 69.64
7850 Average FPS:65.65
7870 Average FPS: 83.00
There's a nice increase here it seems when moving from the 7850 to the 7870 getting almost 20 more FPS on average with settings on high.
Just Cause 2:
I then ran the same Just Cause 2 tests, maxed settings and high settings, as I ran earlier but at the resolution of 3984×1080.
7850 Max Settings: 24.19 FPS
7870 Max Settings: 32.40 FPS
7850 High Settings: 54.28 FPS
7870 High Settings: 57.20 FPS
A slight increase for both cards but not what I would call amazing.
Batman Arkham Asylum:
The settings were all on maximum and the resolution was 3948×1080.
7850 Minimum FPS: 67
7870 Minimum FPS: 75
7850 Average FPS: 88
7870 Average FPS: 99
7850 Maximum FPS: 109
7870 Maximum FPS: 124
The 7850 was more than enough to handle this game, the 7870 is overkill I think.
Temperatures/Noise:
Ambient room temperatures for most of my testing was 24C (+/- .3C). I monitored the temperature of the 7870 and the highest it hit was 79C but that was only a second or so, and under load the card basically maxed out at 78C. The fan never went above 43% no matter what I did, and yes at this speed the card was audible but not overly loud at all. I played many games and the card never really hit those temperatures, it was only when actually stressing it with OCCT GPU test did the card hit these temps. I manually set the fan speed to 100% and it was unbearably loud, I'm glad the card, under normal use never hits that speed.
Overclocking:
Sadly, try as I might I couldn't get this card to overclock and be stable. I played with the Core and Memory frequencies and even the voltages and no matter what I did I couldn't get the card stable for everything I did. Sure it would work for a few games and benchmarks and then the system would crash. I tried and tried and I just couldn't do much with this card. This happens sometimes, it's just the luck of the draw really, some cards can overclock and some can't and I apparently got one that can't. Even not overclocking I'm more than happy with the performance of this card. I explained iTurbo in the
Conclusion:
The performance of the HIS 7870 is excellent, there's no doubt about that and if you're looking for a video card that can handle your gaming needs then I suggest you seriously take a look at this one.
I'm happy with this card personally but I want the best performance I can get and for the price I think it gives me that.
The power supply issue I ran across is something that everyone should keep in mind. I don't think it's a coincidence that an AMD certified PSU fixed my BSOD issues, so if you're thinking of getting a 7870 then you might want to double check your power supply specs to make sure it's up to the task.
As far as overclocking, as I said it's the luck of the draw and and I didn't get one that can do much of anything sadly.
Pros:
+Runs quiet and cool
+Excellent performance
+PCIE 3.0 interface
+Multiple connection choices
+Big card but not too big
Cons:
-Need certified power supply apparently
-Requires dual power connections
-Card not that great at overclocking
| | |
| --- | --- |
| Grades: |   |
| Overall | |
| Design | |
| Performance | |
To learn more about our review policy please visit this page HERE.