Installation and Usage
The first thing you'll need to do is charge the HT-TM01 which is done with the included USB cable. Each LED is 25% and when they are full it's done charging or 100%. Charging time depends on how much battery is left, a full charge will take about seven hours over USB.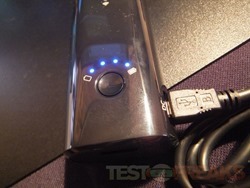 As far as the battery life it depends what you're doing with the HT-TM01. If you're using it as a router you should get about twenty hours or use, for streaming and transferring files you should get about six hours and standby time is about ten hours.
The first function and easiest to test is the battery and that's just plugging your device into the HT-TM01 and letting it charge. Charging begins automatically and you can charge most anything with it, anything that can be charged via USB of course. Some tablets like the Apple iPad can be charged over USB and some can't but I think all smartphones like the iPhone and Galaxy S4 for example can and there are plenty of other phones and things like Mp3 players that can be charged via USB. Charging is over USB so it takes the same amount of time basically as it would if it was charging over USB from your computer. How many charges you'll get out of the HooToo HT-TM01 depends on how much battery is left in the device and just how big the battery is that you're charging. HooToo included in the manual some charging times like for example you could fully charge the iPhone 4 at least two times or a Samsung Galaxy Note 2 1.5 times or the Apple iPad Mini .74 times, but these are for a fully dead battery so as you can see it just depends on a few factors.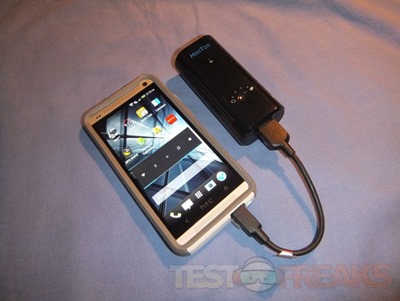 The LEDs will go out on the HT-TM01 when charging but you just press the button and they will light up to let you know the battery level.
The HT-TM01 is a multifunction device, it can be a battery backup, NAS, router, access point or bridge. For the most part I think router, access point and bridge are fairly similar in functions and how they work and what they. They provide wireless internet access via a wired connection when there isn't wireless available. let's say you're on a trip and your hotel only has a wired connection, the HT-TM01 can turn that into a wireless access point so more than one device can get online easily.
To use it as a bridge, AP or router you'll need to access it just like you would any other device of this type. Plug in the Ethernet cable and turn it on and then enter the IP address which is 10.10.10.254 and then admin with no password get you in as default. Sadly you'll need to provide your own Ethernet cable, it would have been nice if they included one for you. You can adjust everything right from the control panel in the router, you just have to go in and set it how you want or need it.
When you first access the HT-TM01 you'll be greeted with the setup wizard which you can follow or just skip and get right into things.
The main interface has icons for User, Disk, Network, Services, System and Wizard. Wizard being just the opening setup wizard which you can access again if you need or if you skipped it earlier. The User option is just changing the admin password, and that's it there.
Under Disk you'll find the USB drive you have plugged in if you do.
Under the Services option there's just one to turn Samba on and off.
Under Network you'll find the network settings of course where you can configure and change things to your needs.
There's also an Information tab too that gives you basic info about the device.