Up for review today I've got a little gadget that I think can come in quite handy especially if you travel. The product is called the HooToo TripMate HT-TM01 and it does many things that I think you might be interested in knowing all about. The HT-TM01 is a router, it's a bridge, it's an access point, it's a NAS and it's a backup battery for your devices. This little all-in-one will work as a NAS on Android or iOS via an app you can download, or you can access it right from your computer to stream or transfer files back and forth to a USB flash or USB hard drive. To use it as a router you just need to plug in an Ethernet cable and you're basically all set with a wireless network up and running in a few minutes. The battery inside is 5200mAh in capacity so, depending on the device you're charging, you can get plenty of extra talk or play time from it. So read on to learn more about what I think is a handy little gadget…
Unboxing
The packaging is just a sturdy box with a picture on the front and specs listed on the back. When you open the box you'll be greeted with the user guide.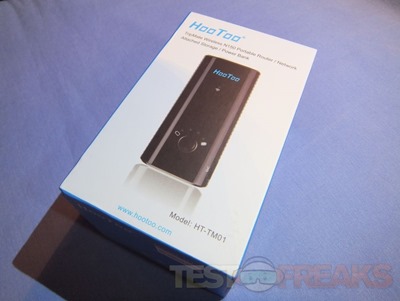 Inside you'll find the HT-TM01, UBS cable and the user guide.
The USB cable comes with a regular USB connection on one end and a microUSB connector on the other.
The HooToo HT-TM01 is a small device, pocket sized really that measures about 96mm (L) x 44mm (W) x 28mm (H) in dimensions. It is surprisingly heavy for its size, but you have to remember there's a lot in there especially the battery which is 5200mAh so it's not small by any means in terms of batteries. It's plastic and it feels sturdy and well made, but I would have liked to have seen a carrying case for it as the connections on it are just open.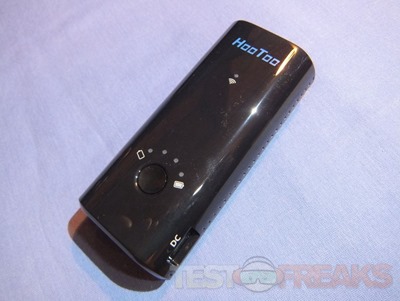 On the bottom is the multi-function button and above it are LED indicators for the battery level. The button is used to power on the device and check battery status. Towards the top is the main LED indicator that is colored both green and blue depending what you're doing.
On the bottom is a standard USB connection, this is for actually charging your devices. Next to the USB connector is a small recessed reset button in case you might need it.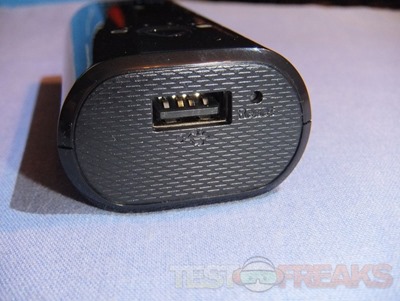 On the top is the Ethernet jack.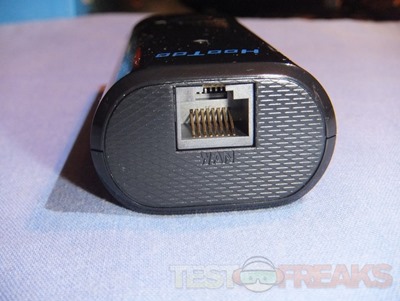 On the right side is a microUSB connection, this is for charging the HooToo HT-TM01 itself.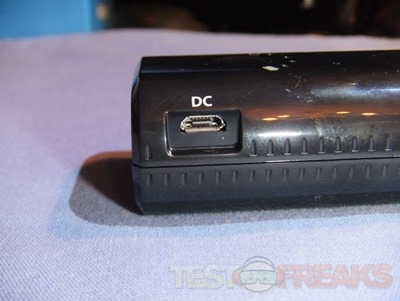 The back is just plain with some information back there, that's all.