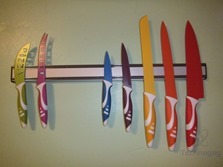 I've got plenty of knives in my kitchen, some are over 25 years old, I have them still because I take care of them and they are of high quality. I keep the knives in blade covers and I have a roll-up case as well, but more people just throw their knives in a drawer and that's just not good for your knives. I've always wanted a magnetic knife strip for my kitchen and I finally bought myself one and I'm very happy with it so I thought I'd review it and share it with you. I opted for the larger version at 20 inches long as I've got a several knives. The name is Internet's Best Magnetic Knife Rack and that's a lot to live up to and it does, it's simple to install, well made and it's very easy to use and it works well. Read on to learn more…
Specifications and Features
Internet's Best Magnetic Knife Rack | 20 Inch | Knife Storage Bar Strip | Aluminum | Metal Knives, Utensils and Kitchen Sets Holder
Internet's Best Magnetic Knife Rack will help you organize your knife set in an efficient and sleek manner. No longer take up exceptional amount of counter space with a bulky knife block, but mount the thin, sleek magnetic knife rack to the wall or cabinet to allow for more space saving ability. Each knife rack is equipped with two magnetic strips on a durable thin aluminum frame. Simply mount to a wall or cabinet with the included wall-mounting screws and dry wall anchors.
DURABLE: Equipped with two magnetic strips on a durable thin aluminum frame allowing you to save space within your kitchen and organize your knives
EASY ACCESS: With the dual magnetic strip, simply access your knife set for quicker prepping and cutting of foods
VERSATILE: Made for knife organization yet may be used in the kitchen, office, laundry room, or garage to hold other metal kitchen utensils, such as whisks, spatulas, spoons and ladles
WALL-MOUNTED: Includes wall-mounting screws and dry wall anchors
DIMENSIONS: 20" Width x .75" Depth x 1.75" Height
Price: $12.88 (from Amazon at time of review)
The Review
The bar ships in white cardboard box and that's fine as it was packaged well.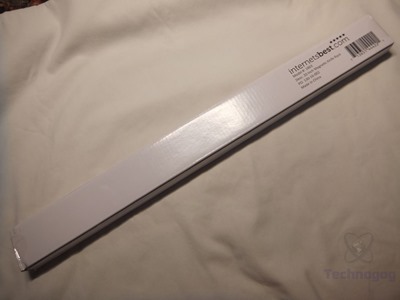 The magnetic strip I got is 20 inches long and it's made of aluminum and plastic, the main bar is metal while the end caps are plastic. There are two magnetic strips running the full length of the bar that hold your knives in place. The bar or strip feels very sturdy and solid and it looks nice in my opinion, fairly plain yes, but it should match any kitchen décor for sure.
The instructions and mounting screws are actually shipped inside of the bar as it's hollow and they include a template for you to drill the holes.
The end caps come off of the strip for mounting purposes and they include a paper template for you to drill holes. I started with the left side, you use two screws to attach the end cap to the wall through the holes in the end cap then you just have a single screw on the right side in the wall by itself. You slide the strip onto the cap mounted to the wall and hold in place while you slide the right end cap on which catches the single screw you put in the wall.
A few days ago I reviewed the Golden Chef 8 piece knife set so that's what I'm using the magnetic knife strip for as I've put my good knives away as they are for my own personal use, my kids and wife can use the others. Installation was easy for me really, but you do just have to watch the screw height of the single screw to make sure it slides on easily but still holds securely. Once attached to the wall it stays attached very well, I've very confident that the strip isn't going anywhere. I did notice that when you put a knife on the strip the magnets hold it but the knife might not be totally flat and touching each strip, you kind of have to make sure the knife is level and touches both magnetic strips to make sure it's securely attached.
Conclusion
This magnetic knife bar does exactly what I want it to do, I'm very happy with my purchase.
The price is fine, well worth the cost as it's quality made. It looks nice, and it holds my knives well.
Installation is easy, but you will need a drill and screwdriver of course to complete installation.

Pros:
+Well made
+Holds knives securely
+Aesthetically pleasing
+Easy installation
Cons:
-None
| | |
| --- | --- |
| Grading | Scores Out of 10 |
| Overall | |
| Design / Aesthetic | |
| Value / Price | |
| Performance / Usage | |
Disclosure: I purchased this product for my personal use and thought a review would benefit other consumers in making an informed purchasing decision.
To learn more about our review policy please visit this page HERE.