Ever want to access your files from a distance, but just don't want to deal with networking issues or leaving your computer possibly open to the internet and all its evils lurking out there? There are ways to be able to access your files while you're away like a NAS box or setting up remotes access but they can involve a bit of work and some knowledge is needed in terms of setting sit all up. Today for review I've got the iTwin and it's a USB device that allows you to connect two computers together so you can share and access your files while you're away from home or work. The iTwin connects any two computers together from basically anywhere in the world and it does this quickly and easily. With the iTwin you don't need any networking knowledge, just plug and play and you're sharing and accessing your files either on your home network on across the internet.

The iTwin comes in a nice little box.
When you open up the box you'll find the instruction manual and the iTwin nestled in a foam package.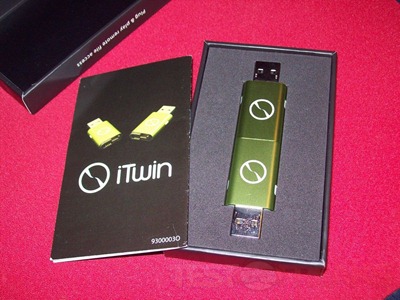 The iTwin looks like a USB drive except with two ends on it. The housing is anodized aluminum making it fairly rugged and durable.
Here's the iTwin with my Kingston DataTraveler for comparison; the iTwin is a little bigger, but not much.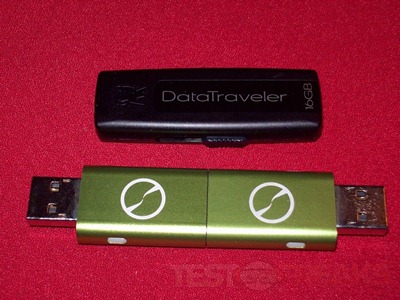 What's special about the iTwin is that it splits in half, you leave one home or at work and you take one with you. I did find the connection here is rather lose actually, but they're not meant to be together permanently just temporarily.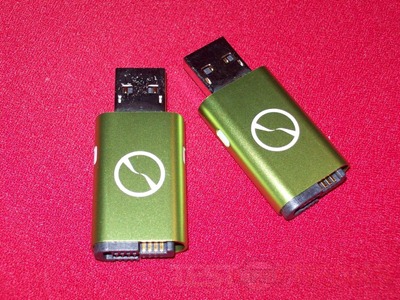 On the back of both is a special connector sort of like a puzzle piece, this syncs them together.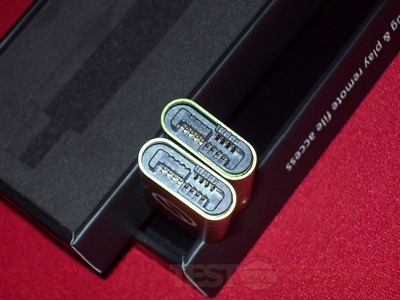 Specifications:
A Revolutionary USB Device. Remote File Access Made Easy.
Files on the go, without limits or worries
iTwin allows you to securely access your entire hard drive. It's as if you are carrying an access-key to all your files in a device that fits in the palm of your hand. And unlike portable storage, iTwin lets your data stay put safely at home (or in office).
Remotely edit shared files
Remotely edit any shared file from any location. iTwin allows you to keep a single version on one computer, with you and your chosen iTwin partner collaborating directly on this version. Say goodbye to multiple versions of files flying around by email. Say goodbye to the headaches of needless re-work. Say hello to iTwin.
Backup your data from anywhere
When you are on the road, you can use iTwin to move copies of files from your laptop over to your home or office computer. If you are traveling and taking lots of pictures, you can free up your SD card by moving files onto your laptop and transferring them back home. It keeps your data safe and secure.
One-time cost. No fees, ever
Don't pay for cloud storage. Don't pay subscription fees for online services. Don't get locked in. You have all the storage you need on your computer and home hard drive. With iTwin, share it and access it from anywhere. Create your own personal cloud. Secured by hardware-grade encryption.
Windows compatible
iTwin works with Microsoft® Windows® XP, Microsoft® Windows® Vista, Microsoft® Windows® 7, both 32-bit and 64-bit versions. It uses the familiar Windows Explorer, with drag'n'drop functionality. There's nothing to learn and nothing to configure.
Data Security
iTwin doesn't store any data on itself.  It just enables a secure connection between your two computers.  Your remote data can only be accessed if you have the physical iTwin with you.  Additionally, you can set up your iTwin to require a password.  We also allow you to remotely disable iTwin with our remote disconnect feature.  So you can rest assured that your data is safe, even if you lose your iTwin device.  If you have ever lost a portable memory device, you know that terrible feeling.  We want to make sure this never happens to you again.
Specifications:
Dimensions & weight:
Depth: 0.8cm
Width: 2.1 cm
Height: 9.0cm
Weight: 50g
Breakthrough connector
Designed by the iTwin team, the iTwin connector is completely symmetrical and the first of its kind in a consumer gadget. The connector makes the two halves of iTwin completely identical (just like identical twins). When the 2 halves are connected via this connector & plugged into a USB port, a unique encryption key is set & shared (only) between the halves.
Hardware-enabled data encryption
State-of-the-art, AES-256 encryption of all data sent & received. When the 2 halves are connected to 2 computers, they function as
encryption tokens.
Storage capacity
iTwin does not store any data on itself. Rather, it allows remote access to your data. The only storage limit is the capacity of your computer and the hard drives connected to it.
Anodized aluminum body
iTwin's casing is made of anodized aluminum, which not only provides a great finish and look, but is also highly scratch-resistant and tough. The logo and text are laser-etched for maximal sharpness. Two colors: Lime Green and Gunmetal Gray.
System requirements:
Windows XP, Vista or 7 (32 or 64 bit)
Fast broadband connection
Computer with USB port & 5MB storage space
NOTE: iTwin for Mac OS X is in the works!
Price: $99

Installing the iTwin is simple, just plug it in like you would nay other USB drive and it should pop up with the autorun to install the software.
Installation only takes less than a minute, while installing it checks for updates as well.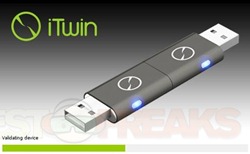 Before you finish the installation you'll need register an email address so you can disable it if need be.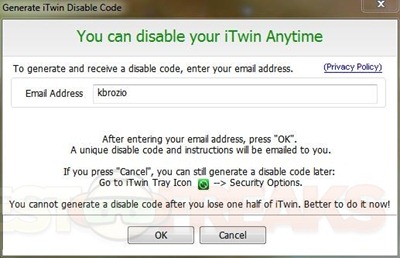 Once installed the iTwin puts an icon down in the taskbar area for quick access.
When you go to My Computer you'll see the iTwin appears to be another drive or system folder actually.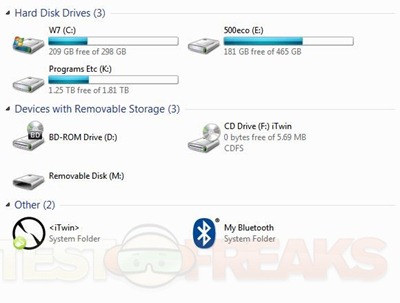 Using the iTwin is very simple, to set your files for sharing you just drag and drop them. Anything you want to be able to access while you're away you just grab the folder and drop them into the iTwin folder. You can't get any simpler than that. The folder is labeled Local Files and the each shared folder has the logo on it.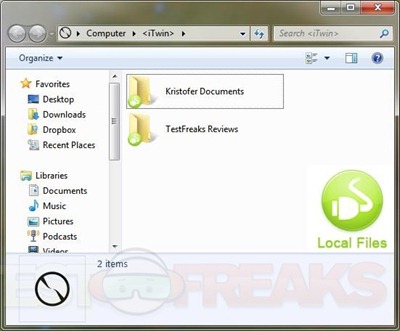 Installation is the same on the remote computer, just let it do its thing and ion about a minute you're ready to go with access to your remote computer and its files.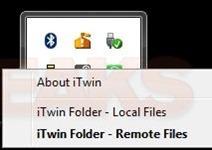 On the remote computer the folder looks a little different, at least the labels are; they're aptly named Remote Files.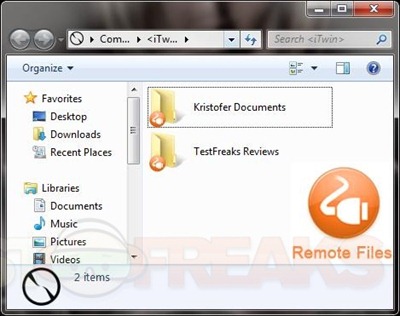 To transfer files from the computer you just drag and drop them to the computer you're on, simple and easy to do. It's a two way process, you can drag and drop both ways meaning you can update the files on the remote computer easily.
I did notice one small thing that bothers me about the remote access, you can't see the thumbnail views from the main computer while viewing remotely.
I also found that you can't stream directly from the remote computer, for example you can't listen to music or watch videos from the remote computer without downloading it first. Depending on the speed of the internet connection this could take a while.
Conclusion:
The iTwin is an inexpensive and and easy way to enable remote access to your files and folders while you're away. The iTwin works by simply plugging it in and selecting what you want to share, it couldn't be much easier really. When you're connected simply drag and drop the files you need just like you would normally.
The iTwin makes networking easy for even the most novice of computer users, you won't need any special skill of training to share files across the world.
Sure the iTwin isn't perfect, there are some changes I'd make like enabling streaming and the ability to see thumbnails, but those are small things that I can live with I think. The iTwin costs about $100 and I think it's worth it for the quick and easy access to your files and folders while you're away.
Pros:
+Very simple to use
+Quick and easy remote file access
+Inexpensive for what it can do
+Drag and drop just like your main computer
+Secure AES-256 encryption
Cons:
-Can't see thumbnails on remote view
-Can't stream music or videos directly
| | |
| --- | --- |
| Grades: | |
| Overall | |
| Design | |
| Performance | |
To learn more about our review policy please visit this page HERE.