I like sunglasses, mainly because my eyes are very light sensitive, but that's just me, really I need them and I like to try different ones. Today I've got a quick review for you of a pair of sunglasses from KentKing, these are wayfarer style and they are well made and extremely lightweight, very comfortable to wear and not very dark so you can wear them all the time. Read on to learn more…

Specifications and Features
KENTKING Designer Wayfarer Square Sunglasses for Men – Seawater Erosion Resistant – Scratch Resistant – Nylon Lenses
-Perfect for medium sized face shapes, it features a square frame and a saddle bridge for a fresh, classic look. Nickle free metal plating temple makes the surface smoothly and not easy to corrosion resistant when sweating. It retains its stability and shape for long periods of time.Give you stress-free wearing experience and prevent skin allergy.
-KENTKING sunglasses made of premium nylon lens, which is one the best material for making eyewear lens. The flexible and ultralight nylon lens provides outstanding shock proof and great light transmittance clarity of natural vision. Combined of ultra lightweight, scratch resistant and sea water erosion resistant.
-100% UV protection, all sunglasses block glare and UV from all angles, manage blue light,and then boost colors from unmatched color, clarity, and contrast.
-The square shape gives faces a concise form and makes them appear more striking. It sets a highlight in the appearance, drawing attention to itself. Sunglasses comes with a KINTKING protective carrying case with magnetic closure, high density pouch and cleaning cloth.
Price: $28.98 (from Amazon at time of review)
The Review

Let's start with a video unboxing and move on:
The KentKing sunglasses come packaged very well in a sturdy gift style box. Inside you'll find the glasses inside of a case, soft carrying case, cleaning cloth and a case sheet.
The hard case is very nice with the KentKing logo on it and it secures closed with a magnet. The inside of the case is lined with a soft material so as not to scratch the glasses. The case should do a great job at protecting the glasses inside from any damages including getting crushed while in your bag or traveling.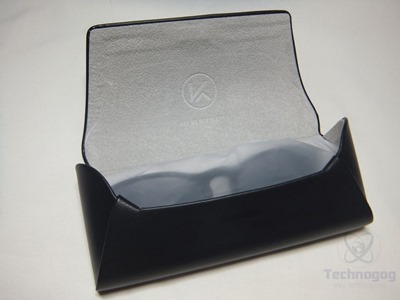 The sunglasses are black in color with a light gray lens. The arms are metal and the frames around the lens are plastic. The lenses aren't very dark at all, just enough to shade your eyes and light enough to be worn most any time even at dusk or overcast weather. The glasses are very lightweight and comfortable to wear for long periods of time. They do offer 100% UV protection and are anti-glare and they're scratch resistant. Quality wise they seem very nicely made.
Conclusion

Sunglasses are one of those products that are very subjective to review. The lenses are light, not very dark, which is something I like a lot as I can wear them all the time, even in overcast weather as I need them. I don't like the size of them, they just seem too large for my face. My wife however like them a lot, in fact I gave them to her once I was done reviewing them and she wears them all the time now.
The glasses are nicely made, them seem sturdy and durable but yet they are very lightweight and comfortable to wear for long periods of time.
It's nice that they included a hard carrying case, something which is important to me as I take care of my things. They also included a soft case and a cleaning cloth.
All in all these aren't bad objectively, but they just aren't for me personally.

Pros:
+Well made
+Lightweight and comfortable
+Includes hard carrying case and soft case
Cons:
-A bit large for me personally
| | |
| --- | --- |
| Grading | Scores Out of 10 |
| Overall | |
| Design / Aesthetic | |
| Value / Price | |
| Performance / Usage | |
Disclosure: This product was given to me for review by the company for review purposes only for free or at a discounted price.

To learn more about our review policy please visit this page HERE.