Back in October of last year I took a look at the Kingston SSDNow V Series 40gb SSD boot drive, well Kingston has upgraded their SSD boot drive with TRIM support now. Today for review I've got that new version but it's only a 30gb drive as opposed to the original 40gb capacity. So we've gained TRIM support but lost 10gb in the process?! I've decided to compare it to that original 40gb drive and even a couple others I've got on hand.  From my testing it is faster than the original that came out last year, which is a good thing, but it still lacks fast write speeds. The write speeds though are not supposed to be off the charts fast, it's meant to be a boot drive which means you boot your OS from it and use it for reading from mainly, it's meant to be paired with a standard mechanical hard drive where you would keep your programs and use that for writing to. For the price it's well worth it for those that want the speed of an SSD but don't really want to or have the cash to pay for a 'regular' SSD drive. So read on…

We'll start off with the video unboxing:
Then I've got still pictures for you as well.
Since this is the desktop upgrade kit it comes with drive rails, SATA cable and Molex to SATA power adapter along with a software CD with software to clone your drive.
The drive itself looks like an SSD drive, what more is there to say…
Specifications:
Dramatically increase the performance of existing systems.
Kingston introduces its second-generation SSDNow V Series drive to help consumers and organizations of all sizes enhance the performance of computers with a Serial ATA (SATA) interface. By improving a computer's performance and durability, SSDNow V Series drives help increase productivity and extend the life of existing computers.
Kingston SSDNow 30GB Boot Drive Features and Specifications:
—  Sequential Speed:
—  up to 180MB/sec. read
—  50MB/sec. write
—  Performance: enhances productivity; makes users more efficient
—  Innovative: 2.5″ form factor; uses NAND Flash memory components
—  Silent: runs silent and cool with no moving parts
—  Reliable: less likely to fail than a standard hard drive
—  Shock Resistant: no moving parts; handles rougher conditions than a
hard drive
—  Supports S.M.A.R.T.: Self-Monitoring, Analysis and Reporting
Technology
—  Guaranteed: three-year Kingston warranty, 24/7 tech support
—  Capacity: 30GB
—  Storage temperatures: -40 degrees C to 85 degrees C
—  Operating temperatures: 0 degrees C to 70 degrees C
—  Vibration operating: 20G Peak, 10-2000Hz, (20min/Axis)x3 Axis
—  Vibration non-operating: 20G Peak, 10-2000Hz, (12Cycle/Axis)x3 Axis, x
20min.
—  Power specs:
—  Read: 1.4W (TYP), 2.5W (MAX)
—  Write: 1.7W (TYP), 4.2W (MAX)
—  Idle, Standby, Sleep: 55mw (TYP)
—  Life expectancy: 500,000 hours MTBF
Model: SNV125-S2BD/30GB
Price:  $124.99

We'll start with SiSoft Sandra 2010 and the Physical Disks test:
Benchmark hard disks (i.e. the disk itself, not the file system).
Drive Index: is a composite figure representing an overall performance rating based on the highest read or write speed across the whole disk. Thus the higher the better.
Access Time: is the average time to read a random sector on the disk, analogous to latency response time. Thus the lower the better.
The new 30gb SSDNow V drive is a bit faster than the 40gb, faster is always better truly.
The next test would be Sandra 2010 again, but this time it's the File Systems Test:
Benchmark mounted file systems (i.e. volumes)
This is not the raw disk performance that other benchmarks test – but the speed of the volume itself that depends on many more factors like file system, operating system cache, position on disk, etc. Thus this is the performance you get at the file system level.
Drive Index:
Results Interpretation : Higher index values are better.
Random Access Time :
Results Interpretation : Lower index values are better.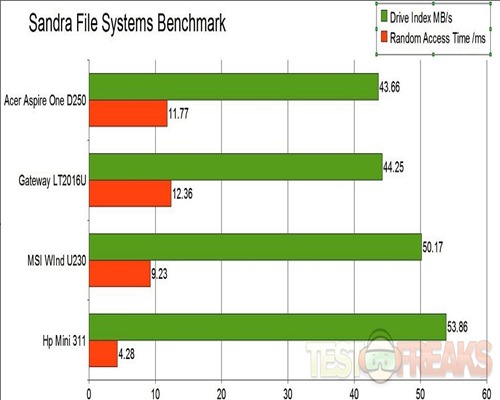 Here again we see a decent increase in speed with the new 30gb SSD drive.
I also decided to run HDTach on both drives as well and here's those results:
The read speeds are better with the new 30gb drive but the burst is a bit slower than the 40gb drive.
Next up is ATTO Disk BenchMark:
We see the write speed with the new drive are little bit faster, but still not as fast as most mechanical hard drives. The read speed though here are actually just a little bit slower on the new 30gb drive, but they're still over the 180MB/s that Kingston says you should get. We actually also got over the 50MB/s  that Kingston claims for the write speeds as well.
As a bonus here, since I had the new SATA3 or SATA6Gbps card installed I thought why not toss these two SSD drives on that interface and see what happens.
So here's ATTO again on the SATA3 interface:
Both drives show a very slight increase, with the 40gb actually hitting 200MB/s for the read speed.
The write speeds do seem rather slow but again they're supposed to be the SSDNow V drive is meant to be an inexpensive solution to speed up your system and that it should do nicely. Your boot and OS load speed will be faster, but I wouldn't use this drive as a main drive. The idea here is to put the OS on the SSD and then use a mechanical hard drive to write to and have most of your programs on.
Conclusion:
The Kinston SSDNow V Series Boot Drive is an inexpensive and easy solution to speed up your computer.
The price of SSD drives now is still very high, and unfortunately out of reach for a lot of people out there, the Kingston SSDNow V boot drive offers an inexpensive solution that brings the performance gains of an SSD down to a level most everyone can afford.
Sure the write speeds aren't the fastest, and if that's one of your complaints then you're not truly understanding the point of this product. It's not meant to be a drive that is written to, it's meant as a read of load drive to speed up your operating system.
Pros:
+Faster than Kingston specs
+TRIM Support
+Inexpensive
Cons:
-Rather slow write speeds
| | |
| --- | --- |
| Grades: | |
| Overall | |
| Design | |
| Performance | |
This product was given to technogog for review by the company for review purposes only, and is not considered by us as payment for the review, we do not, and never will, accept payment from companies to review their products. To learn more about our review policy please visit this page HERE.