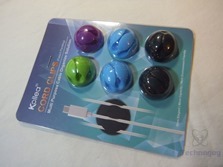 I've got a very quick review today for something that I'm not sure what category it should fall under or maybe I have to make a new category, it's cable clips or cable organizers from Kollea. The clips are small round half-circles with three slots in them and adhesive on the back, simple product that comes in handy, or at least I thought they would be handy. Read on to learn more..

Specifications and Features
Cable Clips, Kollea Pack of 6 Multipurpose Wire Cord Cable Clip Smart Organizer for Desktop & Workstation
Home or office desktops are usually cluttered by keyboards, mouse, USB, Micro or Type C devices, chargers or data cables. The Kollea Cord Clips are designed to provide stylish and more efficient cable management solution for workstation or desktop. It comes in 6 stylish clips; it is the tiny affordable solution for each family to smartly de-clutter home and office desktops, to locate each cord fast or prevent accident cable disconnection.
Material: Silicone
Cable Opening: 2mm-6mm
Dimensions: D(2.85 cm) x H (1.58 cm)
Weight: 0.2 oz (6g) each / 1.8 oz per package
Price: $9.99 (from Amazon at time of review)
The Review
The package these come in is just a clear plastic cover with a cardboard back that slips out of the plastic covering. The cardboard has information and basic instructions on the back.
In the pack I got for review are four colors, 2 black, 2 blue, 1 green and 1 purple. The clips are just under 1.25 inches in diameter and about .5 inches in height and they're a flexible rubber material with three slots in each one to hold your cables.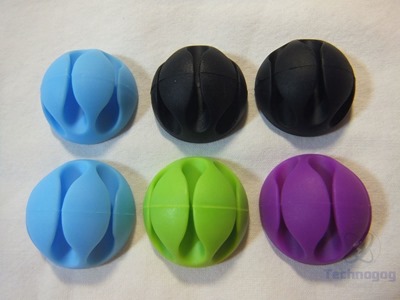 On the bottoms of each clip you'll find an adhesive disc with a cover to remove to expose the adhesive. Mounting these is easy, just remove the cover and stick where you want.
The clips are very simple to use, they're made of rubber so they flex and allow the cord to fit inside.
Conclusion
The Kollea cable clips are a neat idea but not that great in practice.
I only review things that I actually have a use for, I got these thinking I'd use them for a project where I needed to have the cables hanging basically upside down and out of the way and it didn't work out at all. I also thought I would use them for some cable organization with cables running from my routers and switches and have them stick to the wall, that didn't work out either.
The first issue is the adhesive, it's not strong enough to hold three cable upside down, and even without the cables it fell off in about a week. I have wires running up the wall behind my desk and shelves for router and switch and thought these would be great there, didn't work, they fell off after a couple days. The adhesive just isn't good at all honestly. That's the adhesive itself but the adhesive is just a double sided foam pad with one side stuck to the clip itself and then the other side you stick to the surface you want to mount it on. The first one I tried to remove the cover over the adhesive and the whole pad came off from the clip so I knew right there that there was going to be an issue. Two of these I mounted on the wall fell off but just the clip fell off as the adhesive pad stayed on the wall, not good at all.
The next issue is that they don't really hold the cables especially thin ones. Thin cables like you would find on a power adapter just slip right out as it's slightly open so they're of no use there in that situation. Other cables like USB or Ethernet will fall out just from their own weight if you try and mount these vertically on a wall or upside down. You would need to use a bunch of these to support the weight of the cables but then the adhesive would probably come undone anyway so that won't work. You could use another type of glue for a more permanent solution but just make sure you want them to stay there and you shouldn't have to use glue, they should stick with the adhesive they come with.
These should work if you mounted them for example on a desk and flat to hold your cables in place, but then I'm not sure about the adhesive in that situation either as I'm not sure they'll last as the adhesive isn't that good.
These are a nice idea but they're very limited as to what you can really do with them as they don't hold cables well and the adhesive isn't very sticky or long lasting. I wanted to like these, I wanted to use them for a few things but as is I really can't without the addition of some type of glue to make them stick and stay where I put them. As is they're very limited as to what you can do with them and what types or thicknesses of wires you can use with them.
Pros:
+Colorful
+Simple to use
Cons:
-Adhesive doesn't stick all that well
-Need to be mounted flat and upright
-Thin cords really can't be used with these as they won't stay
-Adhesive pad detaches from clip
-Most cords easily pop out
| | |
| --- | --- |
| Grading | Scores Out of 10 |
| Overall | |
| Design / Aesthetic | |
| Value / Price | |
| Performance / Usage | |
To learn more about our review policy please visit this page HERE.