During a recent vacation I had the opportunity to test two rugged Apple iDevice accessories. One was the NuGuard KX for the iPad mini case while the second was today's review item. The fr? for iPhone 5 is the latest case from Lifeproof. It is designed to keep the iPhone 5 safe from water, dirt, snow and shock, something Lifeproof calls the four proofs.
Last September I was able to review the Lifeproof case for the iPhone 4/4S, which is almost identical to the fr? other than the name rebranding. Looking over the specs of the two cases, we can see they are almost equal in terms of protection. Lifeproof cases are not as thick as other "rugged" iPhone cases but provide comparable protection.
Unboxing
The Lifeproof fr? for iPhone 5 comes packaged in a black cardboard box with a fold up front cover. On this cover is a picture of the device protecting an iPhone 5. The inside flap reveals seven reasons to choose Lifeproof fr?, below the device is visualized through a clear plastic window in the main part of the box.
On the back we see a listing of features of the case, while the side list its contents.
Opening the package we find the Lifeproof fr? case, a microfiber cleaning cloth, two headphone jack covers, one jack cover keeper, headphone adapter along with an instructional booklet on setting up and installing the case.
Lifeproof offers the fr? for iPhone 5 in ten color combinations. For today's review we will be looking at the cyan/black version. The fr? measures 5.4" x 2.6" x 0.5" / 137.5 mm x 67.1 mm x 12.2 mm and weighs1.05 oz / 29.8 g.
Like its iPhone 4 predecessor this case is composed of two segments. The front section contains the scratch resistant waterproof screen protector along with an opening for the headphone jack that is protected by a screw on cover. Keeping this screw tightened down will keep the case safe from dust, dirt and water. Removing the screw allows the headphone adapter to be inserted into place.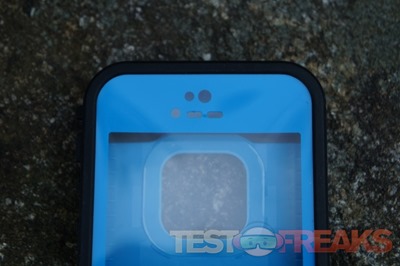 The case material covers the volume, mute switch and power controls. A membrane protects the speakers while two channels in the front help transmit sound from the case.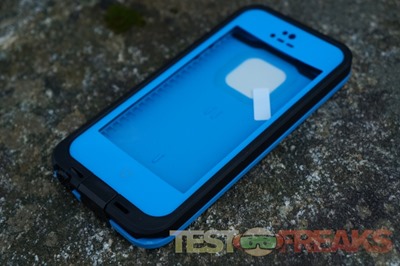 The back panel of the case has an O-ring on the periphery with windowed openings for the camera along with the Apple logo on the back of the iPhone 5. At the bottom is the charge port door seal. Closing this covers the Lightning connector
Putting together these two components hermetically seal the iPhone 5 within the case to keep the Apple phone safe from harm.
To take full advantage of one's Lifeproof case, the company offers accessories such as a arm band, belt clip, floatation device, bike mounts among others.