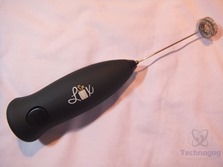 Up for review today I've got another for the kitchen and it's another milk frother but this one is different as it features a double coil instead of the single coil like most other frothers have. The double coil makes frothing or whipping quicker and it produces a fluffier end product. This frother is from a company called Lux Essentials and it's great, it works well and I'm really impressed by what it can do. A frother can be used for so much more than just making foam for your morning coffee and if you're in the market for a frother, this is the one you want to get. Read on to learn more…

Specifications and Features
LUX Essentials Deluxe Double Coil Milk Frother Latte Maker Cappuccino Frother
-NEW Double Coil Design for Quicker, More Effective Frothing and Rubberized Handle for Easy Use!
-MAKE Your Own Specialty Drinks in Minutes!
-GREAT for Milk, Creamer, Eggs!
-EASY To Use, Easy to Clean, Easy On/Off Control!
-PERFECT for Any Coffee or Tea Lover – Use for Cold or Hot Beverages!
The Lux Essentials Deluxe Milk Frother is Newly Designed for More Frothing Power. It is Made of High Quality Stainless Steel and has a Rubberized Coating Over Plastic For Durability and Ease of Use. Easy to Clean in Warm, Soapy Water (Do Not Immerse In Water). Requires 2 AA Batteries (Not Included). At Lux, We Believe that Every Day Is Worth Celebrating. Your Satisfaction is Paramount. Your Purchase Comes With a 100% Money Back Guarantee. May Your Cup Always Be Half Full.
Price: $12.00 (from Amazon at time of review)
The Review
Let's start with the video unboxing:
The frother comes in a small white box with the Lux Essentials log on it. No instructions come with it, but you really don't need any, at least I don't.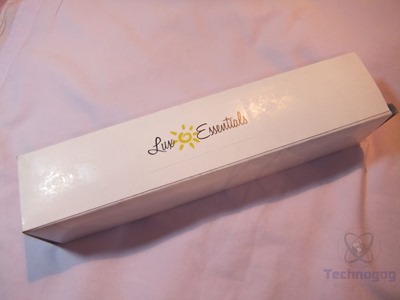 The frother is well made and it's about 8.75 inches long with the handle being about 5.25" of that length and the rest being the metal shaft and whipping coil. The handle is black with the Lux Essentials logo on it and it's rubberized for grip. It's plastic making it very lightweight even with the batteries installed, the back end is extra wide to allow the frother to stand up and not fall over.
What makes this frother different from others I've owned and reviewed is the fact that that is has a double coil on the end of the shaft which makes whipping and mixing much faster.
The power button is located on the handle and it's a simply push button for on and off. Push it once and it comes on, push again and it goes off, there's only one speed, high, which is fine for me.
The frother is powered by two AA batteries that go into the battery compartment located on the bottom of the handle. I should note that the battery compartment is a bit hard to get open but that's fine really as it won't accidentally come open and have the batteries falling out.
I have three frothers now actually and the other two I have are only single coil so I was really curious as to how much of a difference the double coil would make with the Lux Essentials frother and it really does make a difference.
I whipped both 2% and whole milk with the frother and it really is much faster than a single coil frother, I'd say close to half the time for the same amount of milk and it seems to make the froth fluffier initially.   What I mean by initially is that the froth forms faster than it does with a single coil frother, you see the froth form almost instantly when you start whipping the milk. I'd have to say it takes about half the time to whip the same amount of milk with the double coil than it does with a single coil.
The frother is quiet, not loud at all really, a low hum similar to an electric toothebrush I would have to say.
I did try to whip or scramble eggs with it and it works but it's almost as if it's struggling with it, so you can do it with the frother.
Conclusion
I have to say that I'm truly impressed by the Lux Essentials frother. I wasn't sure about the double coil, I thought is was maybe just a gimmick but it really does make a huge difference, it's faster and it seems to product a fluffier foam that a single coil frother does.
I love to experiment and play around with things in the kitchen and my family just loves having a frother in the house now. I've used this frother quit a bit lately creating different types of foams using flavored oils and extracts and a little sugar and my family loves it. The frother creates almost a mousse like consistency so it's great for not only whipped milk for you coffee but you can use it for dessert toppings too. It's great for your morning coffee yes but you can do so much more with it, just use your imagination.
If you need or want a frother then I can highly recommend getting the Lux Essentials deluxe double coil frother, it's inexpensive and well worth it.
Pros:
+Works great
+Double coil really does make a difference
+Seems well made
+Relatively quiet
Cons:
-None at all
| | |
| --- | --- |
| Grading | Scores Out of 10 |
| Overall | |
| Design / Aesthetic | |
| Value / Price | |
| Performance / Usage | |

Disclosure: This product was given to us for review by the company for review purposes only, and is not considered by us as payment for the review.
To learn more about our review policy please visit this page HERE.