We're back in the kitchen for today's review and I've got the MeasuPro digital thermometer but this one is very much different than the other's I've reviewed. This thermometer has a probe that stays in your meat while the display stays outside on your stove and monitors the temperature and then let's you know when it's done. It's a great product overall but it might be a bit overwhelming for some people. Read on to learn more..
Specifications and Features
MeasuPro Digital Oven, Meat and Cooking Thermometer with Stainless Steel Probe, Programmable, Instant Read, White
-MeasuPro cooking thermometer offers a list of meats programmed with the min. cooking temp according to the USDA recommendations. View the video under the additional photos for complete features.
-Select between Celsius and Fahrenheit modes. Features a long 36 inch oven-safe probe. Readings are ultra-fast and accurate.
-Program meat thermometer temperatures according to preference or select from the programmed meat options with pre-set temps. Also has 4 options of meat doneness.
-Includes a list of foods with the USDA recommended min. temp. Compact flip-top display with a magnetic back and LCD display. Oven thermometer will beep when food hits the set temp.
-Uses 1 AAA battery. Measuring range for meat thermometer is 32°F to 392°F / 0°C to 200°C.
Price: $23.99 (from Amazon at time of review)
The Review
Let's start out with a video unboxing and then continue on:
The packaging is everyone's favorite sealed plastic clamshell style.
Once you get the package open you'll find a battery, user guide, thermometer and probe.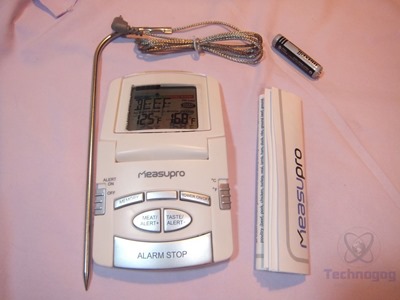 Included is the probe which is attached a a braided steel cable that seems very durable, it's thin enough so that you can close the oven with the probe inside as that's the idea of it.
The thermometer itself is made of plastic and it's in two parts really with a hinge in the middle separating the control panel from the LCD display. There are numerous buttons on the control panel for power, Celsius and Fahrenheit, memory, alert on and off, meat, taste and alarm stop. There's a jack on the side that resembles an audio jack which is where you plug the probe into.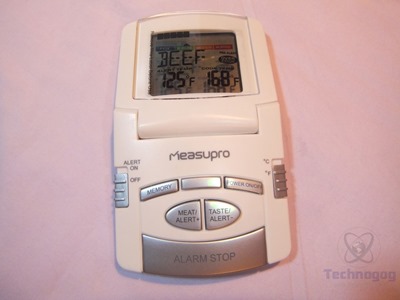 On the back or bottom you'll find two magnets along with the battery compartment. The magnets allow you to attach the thermometer to your stove if it's magnetic.
The display can be titled up and locked into place so it sort of resembles a laptop.
To use the thermometer for cooking you can select the type of meat you're cooking and then you can select the temperature or how you want it done, like rare, medium and well for example.
For testing I cooked a roast with potatoes and tossed some bacon on there as well. I picked more of a medium doneness and it worked fine. I checked the temperature with one of my other thermometers and it was basically the same result, just a degree difference, but this can happen as it's hard to get it in the exact same spot, but for me it's close enough and works well.
When you're cooking there is actually a pre-alarm that will go off when it's close to the selected doneness so you can check it.
Conclusion
As an ex-chef I like this product but it might be a bit overwhelming for the average person. My wife doesn't cook much and this is meant to make things easier, but she wouldn't use it as it's too complicated for her. That's just how she is and sadly that's how a lot of people are.
It is a decent product overall though, and I like it a lot, but I don't really think I would use it that much honestly. I think it's just easier to use my instant read thermometer.
Objectively it's a great product, personally I think it's a bit over complicated for the average person and they wouldn't use it.
Pros:
+Pre-alarm
+Folds making it easy to see and save space when not in use
+Durable yet thin braided cord
+Magnets to stick to stove
+Simple to use
Pre-set temps for you
+Visual settings
+Well made overall
Cons:
-Might be a bit overwhelming for the average person
| | |
| --- | --- |
| Grading | Scores Out of 10 |
| Overall | |
| Design / Aesthetic | |
| Value / Price | |
| Performance / Usage | |

Disclosure: This product was given to us for review by the company for review purposes only, and is not considered by us as payment for the review.
To learn more about our review policy please visit this page HERE.