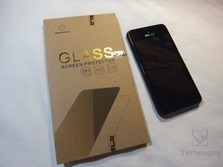 I believe in having screen protectors on all of my devices with screens as it's just worth it for the added protection it gives. You can get the common plastic ones but recently glass protectors have become available and they offer more protection than plastic does. I got my son a new phone, the Blu Advance 4.0 L, and it needed a protector so I bought a glass one from a company called Mr Shield. The whole process was just too much work, no instructions were included, and it just wasn't worth the hassle in my opinion. Read on to learn more…
Specifications and Features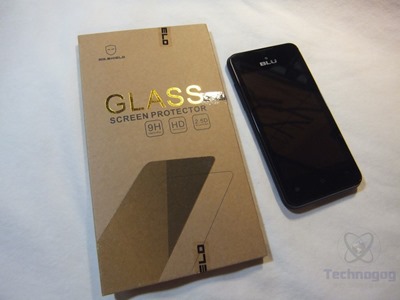 When you open the box or package you'll find the screen protector wrapped in a thin layer of styrofoam and set into a recess in the box with a foam border for further protection since it's glass.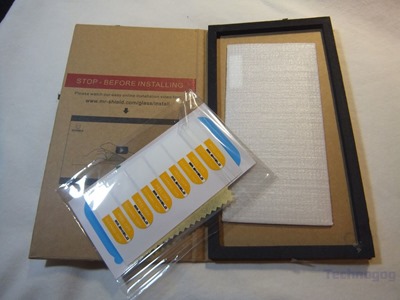 Inside you'll find the protector but also an alcohol prep pad to clean the screen, cleaning cloth, a set of six application stickers and two blue stickers that are to be used to remove lint from the screen. You may have noticed there isn't instructions listed there in the contents that's because you must go to their website and watch the video to learn how to apply it. I guess it's a good way to get views for their website but it's not what I would call convenient. I would have instructions included in the package and then also have a link to their website so if you wanted to you could watch the video but I don't think it's right to force people to do it.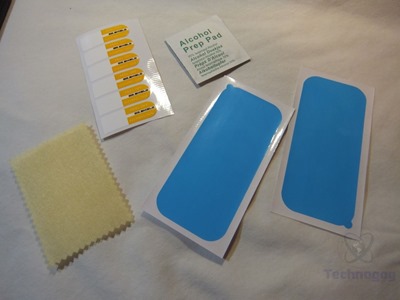 So I went to the website and followed the instructions to apply the screen protector on the phone and it was nowhere near as easy as the video made it out to be. I've had numerous phones and tablets over the years and I like to have screen protectors on everything I own for protection. I put them on my MP3 player, phones and tablets and then on my kids stuff as well so I know how to apply them but this was more difficult than it had to be.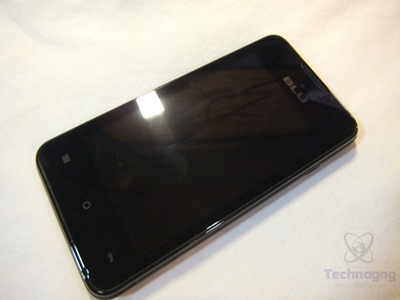 The instructions tell you to lie the screen protector on the phone in position and then use the small stickers and put them on the side so it's almost like a door. The idea here is to lift it up, clean the screen and then remove the backing and just set it down and it should be in the correct position but that didn't work out well at all.
I used the alcohol pad and cleaning cloth and the screen looked nice and clean but then I saw some lint and figured I would use the included blue lint remover sheets which are basically just tape. I tried to use the lint remover and it left adhesive residue all over the screen that I just cleaned, I mean a lot of residue was on the screen, everywhere I touched the screen it left sticky and slimy residue and it looked nasty. So I had to clean the screen yet again and luckily I have a small spray bottle of alcohol handy for just such things as they only included one alcohol prep pad and I used it already. I cleaned the screen and attempted to continue to application process, removed the backing and set the protector in place like the instructions said to and it was not even close to being lined up correctly. Then I had to attempt to re-align the protector which is not easy as it's a piece of glass and it would not come off easy as I had to be very careful to pry it up so it wouldn't crack and break, I could hear it stressing and crackling as I was prying but luckily it didn't break.
I got the screen protector back on and lined up correctly, it fit the Blu Advance 4.0 L phone perfectly once lined up, there is no room for error at all. It was just too much work really to get this screen protector in place.
Conclusion
I've installed a lot of screen protectors over the years, glass and plastic, and I've never had this much of a problem doing it.
The lack of instructions can't be forgiven really, I can see having instructions in there with a link to a video with more info but having no instructions at all is just unforgiveable in my opinion. The instructions they do give you in the video are more complicated then they need to be, you don't need to really do the stickers and setting it in place.
The included lint remover is a nice idea but a horrible implementation, it left sticky, nasty, adhesive residue on the phone screen and I had to re-clean it again.
Applying this screen protector just required too much work and effort.
Pros:
+Inexpensive
+Glass should be better than plastic
Cons:
-Difficult to put on even when following instructions
-Difficult to re-position
-No instructions included, must watch video
-Lint removing tape left adhesive residue on screen
| | |
| --- | --- |
| Grading | Scores Out of 10 |
| Overall | |
| Design / Aesthetic | |
| Value / Price | |
| Performance / Usage | |
Disclosure: I purchased this product for my personal use and thought a review would benefit other consumers in making an informed purchasing decision.
To learn more about our review policy please visit this page HERE.