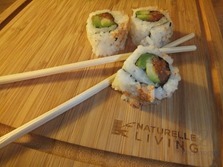 Today we're back in the kitchen with a review of the Naturelle Living Bamboo cutting board. This board is very nice looking, you could use it as a serving tray if you wanted to really. It's well made and cutting on it is nice really. Read on to learn more…
Specifications and Features
Large, Thick Bamboo Cutting Board, 15 x 9.5 Inch Vertical Grain with Drip Groove and Handle. Wood Kitchen Cutting Boards by Naturelle Living
-Large enough for your cutting and chopping needs, small enough for your cupboard. Attractive vertical grain design makes a beautiful addition to your kitchen.
-One of the best cutting boards for meat, cheese, bread, vegetables and more. Handles all food preparation needs with ease.
-Safe for your knives and a natural alternative to wood. Bamboo is much stronger than hard woods and more environmentally friendly.
-Ergonomic handle for easy moving or hanging. Drip groove catches cutting juices for easy clean-up. Measures 15 x 9.5 x 0.7 inches. Make sure to handwash with warm water and do not put in dishwasher.
-100% satisfaction guaranteed: if this cutting board does not meet your expectation, we'll send you a new one for free. No questions asked.
Price: $14.99 (from Amazon at time of review)
The Review
Let's start off with a quick video introduction and then move on:
The board just ships covered in plastic with a information card.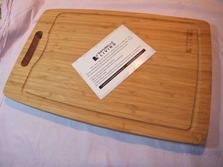 The top or main cutting surface has a liquid or juice groove  and in the corner you'll find the Naturelle Living logo burned in. The board is textured as it's wood after all so it's not perfectly smooth and flat, but that's fine. The board is very attractive looking and you could use it for a serving tray or board if you wanted to. It's bamboo so it looks very different from other wooden cutting boards, and I like the looks of it a lot. The board is fairly large at 15 x 9.5 x 0.7 inches in dimensions, not too big and not too small, at least for my uses.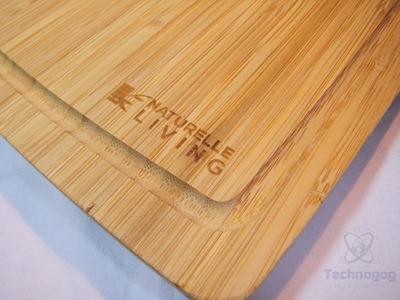 The bottom of the board is just flat, no groove here, but you could use this side for cutting if you wanted to. The board does have a nice large carrying handle at the top.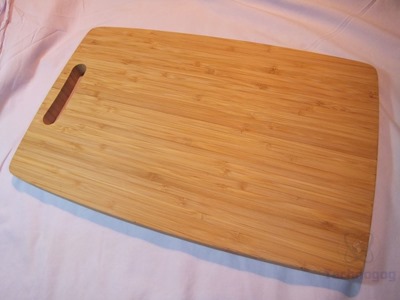 For testing I used the board for all sort of things, cutting meat and vegetables, and it worked just fine. It's soft on your knives so it won't damage them and it's simple to clean, just hand wash with a little soap and water. Like any wooden cutting board you don't want to let it soak in water though as it can damage it.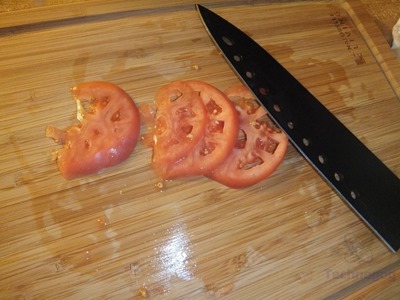 Conclusion
So it's a cutting board, but not just any cutting board, this one is bamboo and it's safe for knives and the bamboo is stronger than other woods and it's also supposedly more eco-friendly.
I like the Naturelle Living cutting board as it looks great and it's well made and it's just a joy to work with.
Pros:
+Great looking
+Nice enough to be used for serving
+Well made
+Thick
Cons:
-None that I could find
| | |
| --- | --- |
| Grading | Scores Out of 10 |
| Overall | |
| Design / Aesthetic | |
| Value / Price | |
| Performance / Usage | |

Disclosure: This product was given to us for review by the company for review purposes only, and is not considered by us as payment for the review.
To learn more about our review policy please visit this page HERE.