Depending on the type of computer you use, a USB hub may not be a luxury but a necessity. For laptop and Apple Mac users USB ports can become full rather quickly. A well-designed USB hub can provide additional ports while only occupying one USB port on the host machine. For instance most iMacs have only three USB ports located on the back of the machine which is usually too few and also a pain to access.
These ports can be tied up quickly with a hard drive used as a Time Machine backup, an iPod/iPhone charging cable and a printer. This means attaching additional USB-based devices requires reaching around back of the iMac and removing one of the connected devices and plugging in the new one. A royal pain in the you know what for most folks.
One way to remedy this is to attach a USB hub. The folks from OWC/NewerTechnology were kind enough to send over their 7 port USB 2.0 Hub with 3.5 amp power supply for review. Each port has a full 500 mA per port meaning devices such as scanners, optical drives, external drives, digital cameras and external drives can be simultaneously connected to your PC/Mac via the Hub.
The Hub features USB 2.0 speeds of up to 60 MB/S and is backwards compatible with USB 1.1 as well as working with USB 3.0 devices. The Hub can daisy chain up 127 USB devices using additional hubs.
The 7 Port USB 2.0 Hub with 3.5 Amp Power Supply comes in a clear plastic blister package with the Hub visualized on the front. On the back is a list of features and specs along with pictures of the front and back of the hub on the sides of the package.
Opening the package reveals the 7 port USB hub along with a 3.5 amp power adapter and a double shielded USB 2.0/1.1 A-B connecting cable.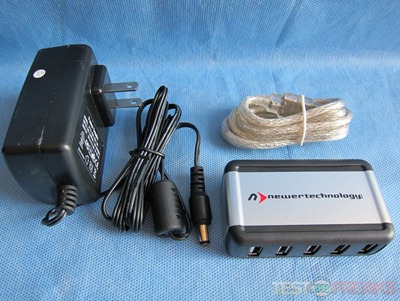 The hub is composed of gray plastic with a silver aluminum band in the middle with the NewerTechnology logo on top. On the front are five vertical USB ports on the back are two additional USB ports along with a USB 2.0 uplink type (B) port for connecting the hub to your PC or Mac; adjacent to this port is the AC input.
Specifications:

To test the transfer speeds of the hub, I used ATTO Benchmark with some Kingston USB 3.0 Drives to see whether there was a performance hit. Looking at the graphs you can see the hub has minimal effect on the USB devices performance.
Conclusion:

If you are looking for an affordable way to add USB connections to your desktop PC, laptop or Mac than the 7 Port USB 2.0 Hub with 3.5 Amp Power Supply from NewerTechnology is a great solution. This hub is very affordable coming in at just under $20. Other hubs in this price range usually only offer four USB ports, so seven ports for this price is a very good deal. Since it is a powered hub it can work with pretty much any USB device without putting a strain on the host system. I know I will be using this hub on my iMac for a very long time.
Pros:
+Powered USB hub
+7 USB ports
+Low profile
Cons:
-None
| | |
| --- | --- |
| Grades: |   |
| Overall | |
| Design | |
| Performance | |
To learn more about our review policy please visit this page HERE.