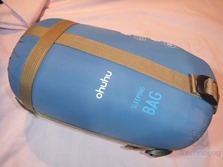 Today for review we're going outdoors as I've got a sleeping bag from a company called Ohuhu. The bag is lightweight as it's made for warm weather with temperatures no lower than about 48f so it should be fine for most of the year camping except in the very cold, and it also depends where you are. The bag comes with it's own compression bag and it's tiny when it's in the carrying bag, and I mean tiny, I was amazed when I pulled the sleeping bag out of the carrying bag. Read on to learn more…
Specifications and Features
Ohuhu 75″x 34″ Sleeping Bag with a Carrying Bag for Temperatures 48 F to 59 F
-Waterproof and comfortable – Nylon outer & 100% polyester inner filling.
-Light Weight (780g/1.72lbs) & Foldable Design (Folded Size: 4.7″ x 11.4″) makes your camping experience more easy and convenient.
-Potable and space-saving, easy to roll up into the carrying bag.
-Temperature limitation: 48F, Comfortable Temperature: 59F.
-Zip at the left side – You can get a double sleeping bag if you also purchase the one has its zip at the right sight.
Stay warm on those cool nights camping under the stars with this Ohuhu 75″x 34″ Sleeping Bag!
It's light-weight and comes with a free carry bag, so don't worry about carrying any bulky or lumpy blankets in your pack when you're on the move. Going camping soon but don't have your sleeping bag yet? This is the perfect solution for staying warm on cool outdoor nights. Get ready for your adventure, and order your Ohuhu Single Sleeping Bag today!
Specification:
-Dimensions: 75 x 34 inch
-Package: 4.7 x 11.4 inch
-Shape: Square
-Outer: Nylon
-Liner: T/C
-Fill: 100% Polyester
-Fill weight: 100g/m2
Package Includes:
-1 x Sleeping Bag
-1 x Carry Case
Price: $34.99 (from Amazon at time of review)
The Review
Let's start with a video tour of the sleeping bag:
The Ohuhu sleeping bag comes in a compression bag and it's tiny and lightweight. When it's in the carrying bag it's only about 12 x 5 inches which is amazing.
The bag I got for review is blue and a light tan or light yellow in color. The outside is blue and it's made of nylon, the outside is waterproof so you can use it in all weather. The specs say the bag is 75" x 34" in size but it's slightly smaller than that. I'm 6 foot tall, and I fit just fine in the bag with room to move around as well and be comfortable.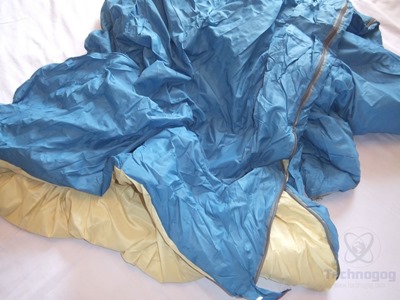 The bag has dual zippers on the inside and outside making it  easy to get in and out of. The zippers are sturdy and should do a good job. There's also a velcro patch at the top of the bag that goes over the zippers so thing like your hair don't get caught in it.
The inside of the bag is made of polyester and it's filled with polyester as well. The inside is nice and soft and is very comfortable to sleep in or on.
This sleeping bag is lightweight and not made for cold weather, there is padding in it yes, the padding is the insulation after all, but not much as it's a warm weather bag. If you're going to be sleeping on the ground you'll need a pad for sure.
As far as the weather, you should be fine in the rated temperature range of 48F to 59F. The rated temperature limit is 48F, while the comfort temp is 59F. Chances are you'll have clothes on in the bag, so you should be more than warm enough at those temperatures I would think.
Getting it back in the carrying bag can be a bit of a hassle as it's much larger than the bag. I learned don't try and roll it up and be neat about, that doesn't really work. I figured out that you just grab and end and start stuffing it into the bag and amazingly it will go in and you'll be ready to travel.
Conclusion
For the price I think this bag is well worth it, it should fit most people just fine. I'm 6 foot and it's fine for me even though it's slightly smaller than the specs say.
The bag is comfortable for he most part, you might need a pad under it as it is thin since it's made for warmer weather. The material inside though is soft and feels nice.
The carrying bag is nice, but getting the sleeping bag back inside of it can be a hassle, but if you do it right it can be easy. The carrying bag makes traveling with the sleeping bag easier for sure, it really makes the sleeping bag small and portable. When the sleeping bag is in the carrying bag you can put it really anywhere as it's so small and it won't take up much room or really add a lot of weight to your carry.
Pros:
+Very small when compressed
+Decent quality
+Lightweight
Cons:
-Slightly smaller than specs say
-Not very thick or padded
-Can be a chore getting it back in carry bag
| | |
| --- | --- |
| Grading | Scores Out of 10 |
| Overall | |
| Design / Aesthetic | |
| Value / Price | |
| Performance / Usage | |

Disclosure: This product was given to us for review by the company for review purposes only, and is not considered by us as payment for the review.
To learn more about our review policy please visit this page HERE.