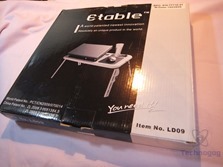 Up for review today I've got something a little different from the latest reviews, it's something for your laptop or tablet that can be very useful. The product is from Ohuhu and it's a foldable and portable lapdesk or laptop stand but it also has a couple fans built into it to help keep you laptop cool. The table can be folded in half and taken with you to be used wherever you need to go. it's not a bad product overall, it can be useful for sure. Read on to learn more..
Specifications and Features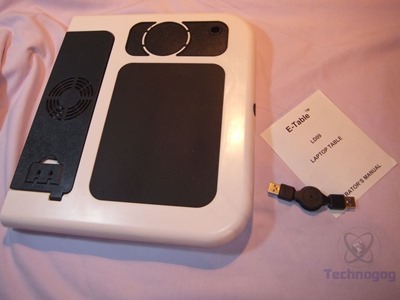 The USB cable is double ended and expandable, it's spring loaded, you pull the ends and they come out, pull the ends again and they spring back in.
On the edge is a small button that locks the two sections of the table together, you just push the button and it opens easily.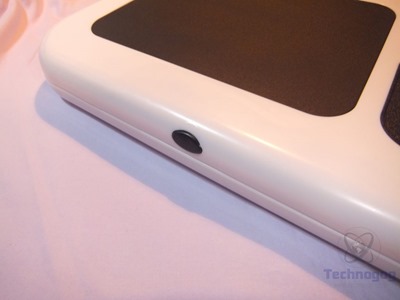 The tray is black and white and it's plastic. The left side actually as two sections that are adjustable and fans to keep things cool. The ride side has a space for a cup and pen and an area for your mouse or whatever you might want to put there.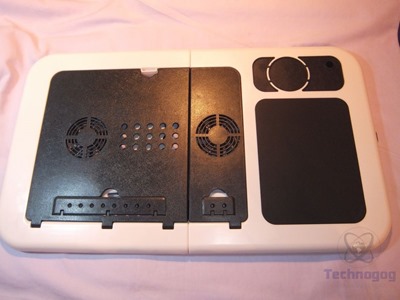 On the bottom you'll find the four legs along with two fans to keep your laptop or even tablet cool.
The four legs have locks on them that you flip up to lock them in place so the tablet will stay up and no collapse.
The legs are also expandable or adjustable, you can just slide them up and down to adjust the height for you. There's a lock lever on the leg that you push to adjust them and lock them into place.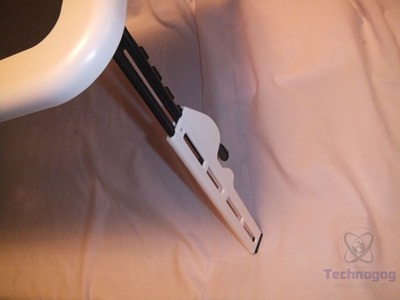 To power the fans you'll use the USB cable and on the bottom of the lapdesk is the USB port to power the fans.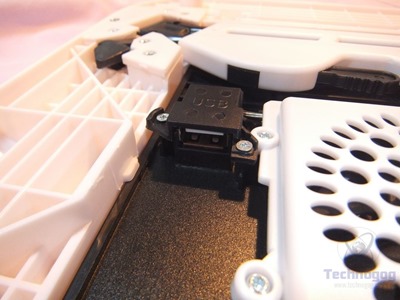 The stand section comes up from the table and can be adjusted and locked into place thanks to a leg on the back of the tray.
On the bottom of the tray are two sections that fold out to keep your laptop or tablet from sliding down.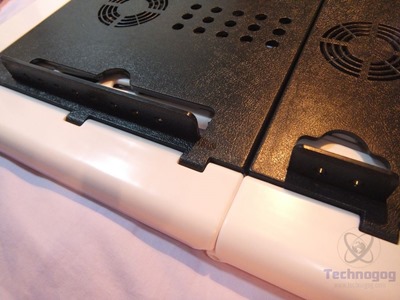 To use the tablet you just unfold the legs, lock them into place and basically that's it, and it's a table. To use it for your laptop or tablet you'll need to adjust the stand section of course.
I used the lapdesk with a couple tablets and my laptop and it worked fine.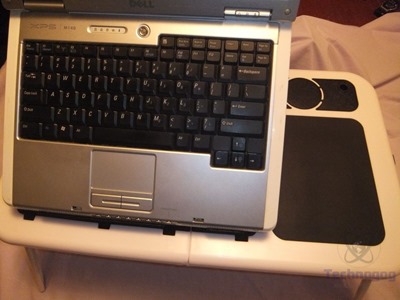 The fans do work and they're not perfectly silent but they're not overly loud either.
Conclusion
The Ohuhu foldable laptop table can be useful for sure, it's got several great features.
The legs can easily be adjusted to make sure it's at a comfortable working level.
The table has sections for a cup, pen holder and even a space for your mouse but then there's a whole section divided into two so you can use tablets and small and large laptops.
The fans are a nice addition to keep the laptop cool and they're fairly quiet, not loud enough to disturb you for sure.
The table, for the most part, is stable, but it can be slightly wobbly at times. There is a cup holder but I wouldn't' put a cup on as the table isn't stable enough in my opinion. For your laptop or tablet and mouse etc, it's fine, I just wouldn't use it for a drink.
Pros:
+Very useful
+Portable and foldable
+Can use tablet or laptops
+Fans to keep things cool
+Adjustable legs
Cons:
-Can be slightly wobbly at times
| | |
| --- | --- |
| Grading | Scores Out of 10 |
| Overall | |
| Design / Aesthetic | |
| Value / Price | |
| Performance / Usage | |
Disclosure: This product was given to us for review by the company for review purposes only, and is not considered by us as payment for the review.
To learn more about our review policy please visit this page HERE.