Heroclix is a toy but it's also a game, what would be considered a tabletop style game that's reminiscent of Dungeons and Dragons really with paper maps. The maps don't have to be paper of course, but that's the most basic version of it, I've seen full elaborate 3d maps that you can build to have a more realistic gaming experience. The main part of Heroclix is the miniature figures which have a base that clicks when you turn them to reveal values for traits and powers etc of the characters that the miniatures portray. Heroclix is a very popular toy line and it's one that's not only a game but it's considered a collectible as there are are rare ones to be had or found and they can get expensive at times. Today I have a quick review of what I consider to ne a mystery bag or Heroclix, it's a one pound bag that contains at least sixty miniatures and you don't know what you're going to get until it arrives. As far as value, yes it's worth it, or at least it can be depending on what's in the bag and what you may already own. Read on to learn more..

Specifications and Features
1 Pound of Heroclix Miniatures – At Least 60 Random Heroclix Miniatures! By Golden Groundhog
This lot of Heroclix will include at least 60 miniatures from a variety of sets. Figures will be in near mint condition and may include stat card! This is a lot produced
by Golden Groundhog!
At least 60 Assorted Heroclix Figures
Will include Marvel and DC miniatures
May include stat card, rare, uncommon and common figures
Great Variety & Value!
All figures in Near Mint Condition
Price: $29.95 (from Amazon at time of review)
The Review
Let's start with a video unpacking as it were:
The packaging is just a clear plastic zip style bag with a label on it, nothing special, but it doesn't need to be.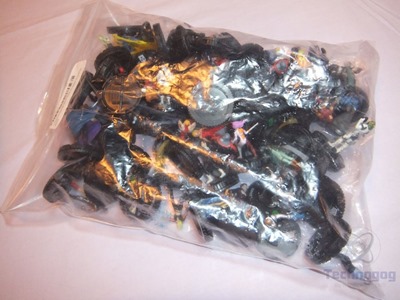 The bag is sold as one pound of assorted figures so you never know what you're going to get. The specs say you should get at least 60 miniatures in the bag and I got exactly 60.
I was curious as to pricing and I checked a popular auction site and for example I found Gamora selling for one dollar, but I found Batman selling for five dollars and Joker selling for three dollars. You might find some that are worth it, and if you add them up it seems you're getting more in value that what you actually paid for the bag.
The details on the Heroclix figures are very nice for the most part, it is a good representation of what these characters look like, some are better than others though.
Some of the miniatures have effects for their powers which look really good, these ones are my favorites. They make a great presentation and they make them look like they're in action and just more exciting. A lot of them have accessories like guns and such but some of them have large guns and large swords too.
I did find a doubles in the mix, eight of them had doubles, it was expected to have some doubles of course.
I should note out of the 60 miniatures I found three broken ones. Two of them were easily fixed with some super glue but the third was actually missing an arm and it was no where to be found. One of the them the head was missing but I found it in the bag, the second one had the 'decorations' broke but still attached partially, a little glue fixed them both.
Conclusion
This Heroclix one pound bag might make a great starter kit for someone who's just getting into them or it can obviously make a great gift for someone who's already enjoying the game as it can contain rare miniatures.
I should also mention that you don't get any cards with them.
So yes you'll get some doubles and there may be some broken, but overall it's worth it for everything that you do get or could get I should say.
I like mystery bags and that's pretty much what this is in way, yes you know you're getting Herroclix but you just don't know which ones you're getting until they arrive.
Pros:
+All were mint near mint condition (except for the three broken ones)
+Excellent value
+Nice assortment
Cons:
-Some might be broken
-Doubles of some
| | |
| --- | --- |
| Grading | Scores Out of 10 |
| Overall | |
| Design / Aesthetic | |
| Value / Price | |
| Performance / Usage | |

Disclosure: This product was given to us for review by the company for review purposes only, and is not considered by us as payment for the review.
To learn more about our review policy please visit this page HERE.