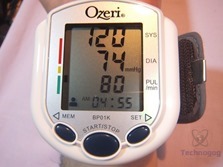 Up for review today I've got something for the home and health category and it's a blood pressure monitor from a company called Ozeri and it's the BP01K and it's portable and from my testing very accurate. The monitor also let's you know heart health and it has a hypertension indicator built-in. The BP01K will automatically inflate and monitor and check your blood pressure with the touch of a button, it's very simple to use and it works great. Read on to learn more..
Specifications and Features
Ozeri BP01K CardioTech Pro Series Digital Blood Pressure Monitor with Heart Health and Hypertension Indicator
CardioTech products offer clinically proven technology and are used by physicians and hospitals around the world. Unlike traditional blood pressure monitors that inflate to 170 mmHg or higher by default, the Ozeri CardioTech Blood Pressure Monitor is an advanced wrist cuff monitor with MWI (Measure While Inflate) technology that automatically inflates to the appropriate level (no adjustments required) while reducing measurement time. This advanced capability adds convenience and ease of use to those with conditions (such as arrhythmia) that lead to fluctuating blood pressure. With ample memory, the Ozeri CardioTech Blood Pressure Monitor stores up to 180 blood pressure readings with date and time Memory recall (90 readings x 2 users), and automatically classifies each blood pressure reading according to World Health Organization hypertension guidelines. It also calculates average blood pressure readings based on the 3 most recent readings, and detects irregular heart (Arrhythmia) for an improved understanding of your heart's health. Based on a wrist cuff design, the Ozeri CardioTech Blood Pressure Monitor is especially helpful for users with above average arm sizes and it stores compactly in a carrying case for travel. Compact, portable and simple-to-use, the Ozeri CardioTech Blood Pressure Monitor is backed by a 5 year warranty, and ships with 2 AAA batteries included, a carrying case and user manual.
-Portable, accurate, and simple-to-use with clinically proven technology.
-Fully automatic inflation and dynamic measurement technology that varies the inflation process according to real-time blood pressure detection to reduce measurement time and increase user comfort.
-Stores 180 blood pressure readings (90 x 2 users) with date and time recordings.
-Automatic Irregular heartbeat (Arrhythmia) detection and WHO Hypertension Indicator.
-Push-button access to Average blood pressure calculation.
Product Dimensions: 3 x 3.5 x 3.5 inches ; 4.8 ounces
Price: $32.94 (from Amazon at time of review)
The Review
Let's start with a video unboxing and then continue on:
The packaging for the BP01K is nice looking and has lots of info on it. When you open the box you'll find a plastic carrying case and a user guide. Inside of the carrying case is the blood pressure monitor that is wrapped in bubble wrap for protection.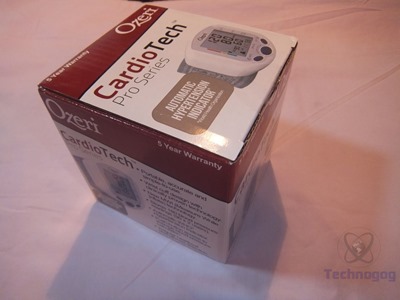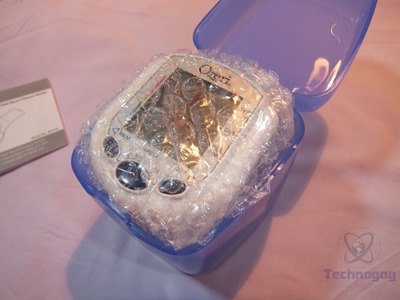 Once you get everything all unpacked you'll find the plastic case, user guide, batteries and the monitor itself.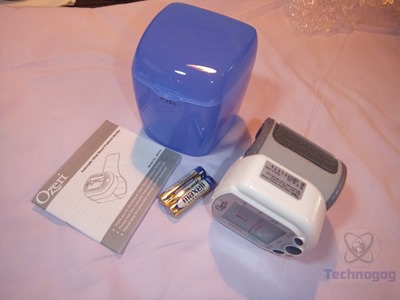 The monitor is basically an inflatable cuff with velcro on it and a display. On the side of the cuff is basic directions for use so you have them handy.
The monitor comes with a very large front that is mostly display. Below the display you'll find three buttons for Mem or memory, Start/Stop and Set.
The battery compartment is located on the top corner, you pop the lid off and insert the batteries and you're done.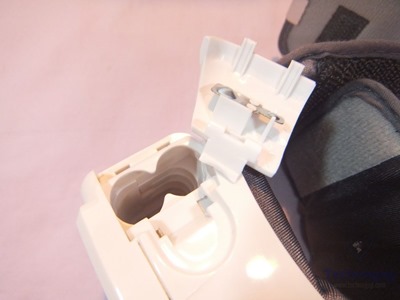 To use the BP01K you'll need to use it correctly meaning you have to follow the instructions so you get a correct reading. I tested it on myself and it seems to work fine but I don't have much of a health background.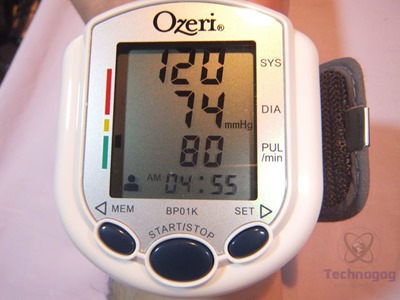 My wife is a registered nurse so I used her and her skills for comparison and she used her manual blood pressure cuff and stethoscope to take my blood pressure and the result was virtually the same. It was like one to two points off, but getting the exact result was not expected as things change from moment to moment when it comes to our bodies. My wife has used similar ones before, and she this one works the same and seems just as good as the others on the market, including those gotten through official medical companies. Basically now you can get quality health equipment for much cheaper through retails outlets and I think that's a good thing for everyone.
As far as price, can you really put a price on your health? Seriously though, it's inexpensive I think for what it is and what it can do.
Conclusion
The Ozeri BP01K CardioTech Pro Series Digital Blood Pressure Monitor is a good product I think.
My wife is a nurse and I used her and her skills for the comparison to her medical equipment and experience and the results were virtually the same with her equipment and the BP01K and that's good enough for me.
The BP01K is well made and it includes a nice heavy duty plastic carrying case which will protect the monitor when not in use and or travelling.
If you're looking for  a way to check your blood pressure at home then this is a good choice for you.
Pros:
+Includes carrying case
+Simple to use
+Accurate
+Well made
Cons:
-None at all
| | |
| --- | --- |
| Grading | Scores Out of 10 |
| Overall | |
| Design / Aesthetic | |
| Value / Price | |
| Performance / Usage | |

Disclosure: This product was given to us for review by the company for review purposes only, and is not considered by us as payment for the review.
To learn more about our review policy please visit this page HERE.