Usage and Testing
So for testing I put my laptop and some accessories into the Choroka K2 bag.
I immediately noticed that there's just a lot of room inside the main compartment for lots of accessories and any other stuff. I put my laptop into the section for it and I also carry around a laptop pad as well which is more of a solid surface as it's plastic.
Here's a view with the laptop stand not in the bag, as you can see there's a lot of room in there.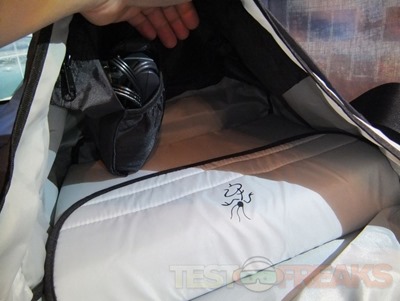 One of the pockets was more than big enough to hold the charger and cables for it securely.
The laptop compartment itself was more than big enough to accommodate my 15" laptop, it holds my laptop in place snugly and I feel secure having it in there.
I really like the fact that the Cocoon protective structure is on both the top and bottom as it should provide more than adequate protection for the laptop inside.
The large velcro strips on the laptop compartment do an excellent job of holding it shut so you won't have to worry about your laptop coming out.
One thing I feel I should note or highlight about this bag is that it comes with a lifetime warranty! I think that's amazing for a laptop bag really.
Two small things that I'd change about this bag are to make the shoulder strap removable and to have the laptop compartment section removable as well.  I know many laptop bags don't offer the removable section for the laptop, I guess I'm spoiled as I have a Tom Bihn bag where I can just grab the laptop section only and go if need be, I think it's nice to be able to do that when you really don't need to take everything with you. Not being able to remove the shoulder strap isn't that big of deal either, it's more of something I like to be able to do if I want to.
One last thing and yes it's more of a personal preference or observation but I think the material that the bag is made of is noisy. Just moving the bag around the material makes a lot of noise, it's a crunching, crackling sound that's just overly loud. I guess it might not bother some people but it bothers me for some reason. Just going in to get something seems to make a lot of noise.