Inside of the Bag
So we saw the outside of the Choroka K2, let's open it up and see what's inside.
When you open the bag the first thing you'll notice is that it's bright, very bright, but it's designed that way so you can see things inside better. The bottom section or back of the bag is the laptop case and the front has lots more pockets for all of your stuff.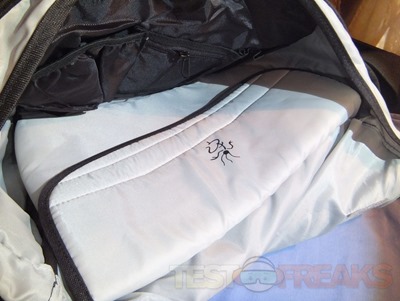 On the top you'll see one large zipper that goes the length of the bag.
Inside you'll find a large section with a clip for keys or whatever along with two mesh pockets as well.
In front of that pocket you'll find three more pockets. The one on the left has elastic on it and it's padded for thing like your cellphone or MP3 player. The one in the center has a zipper to keep the stuff in and then the one of the right is just a plain small pocket.
It's hard to see in the picture but between the zippered pocket and the right pocket are two places for your pens or pencils.
The laptop compartment is secured closed with two large strips of velcro.
When you look inside you'll see something different that looks like ridges. This is the Cocoon system from Pakuma to protect your laptop. Those ridges have memory foam inside of them and they are on the top and bottom so it should offer good protection for your laptop.  It's made with the ridges so that air can get in and around your laptop to help cool it down.