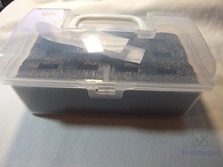 We all need somewhere to put our stuff and today for review I've got a little box for that stuff, specifically it's made for USB flash drives and memory cards etc as inside you'll find a thick layer of anti-static foam. The box is small and it has 12 slots inside, but the box is sturdy and it should do a good job of protecting whatever you put inside. Read on to learn more…
Specifications and Features
Memory Thumb Flash USB Drive and Accessories Organizer Storage Case Box with Antistatic Foam
External hard drives are slowly going away. Every day – flash drives get more powerful, provide more storage space and get more affordable! While there are cloud options for storing your data, there are no guarantees it won't get lost or stolen. With USB flash drives you can rest assure your data is only accessibly by you and is always available without the need for internet connection. Now you'd probably like your stuff organized and this is where memory thumb flash USB drive organizer box comes in! It's a convenient box with carry handle and a closing lid where your USB flash drives can be stored securely, protecting the USB connector tips and overall protection from dust in a transparent box!
-Great for family memories storage, IT professionals, designers, journalists, kids, ANYONE!
-Secure Anti-Static Foam – 12 slots!
-Portable (Length: 6.5″, Width: 3.75″, Height: 3″), convenient storage case with lid and carry handle!
-Organize and store USB thumb drives, SD memory cards, small computer, audio and electronics peripherals!
-Mark em' – White matte 1″ x 0.375″ sticky labels (Product ID: OL5400) included (12-14 pieces)
Price: $29.99 (from Amazon at time of review)
The Review
Let's start with a video, it's a mini review of sorts and then move on:
The box is clear plastic so you can see what's inside and it's about 6.6 x 3.75 x 3 inches in dimensions so it's not big at all. The box is made of plastic and it seems sturdy enough as it's not really carrying a large load, just USB drives and memory etc.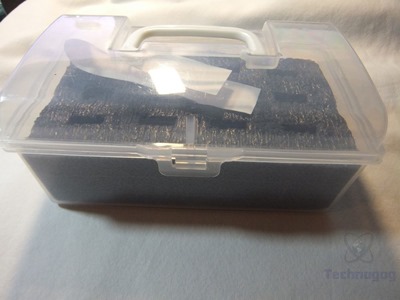 On the top is white handle that folds down for storage and it seems fine for what it needs to do.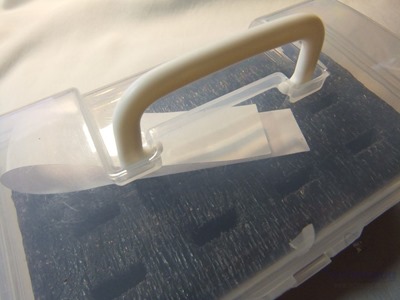 Included is a sheet of 14 rectangular labels that you can use to label the slots inside so you know which is which if you have multiple of the same things.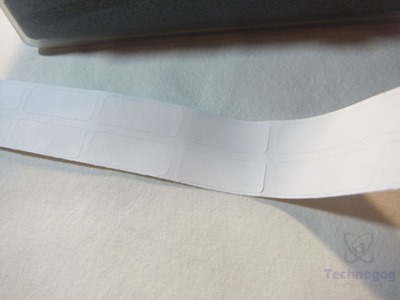 The foam inside is anti-static to further protect whatever you decide to store in it. The foam is very thick and there are 12 rectangular slots about the size of the average USB drive, but other things will fit in the slots too.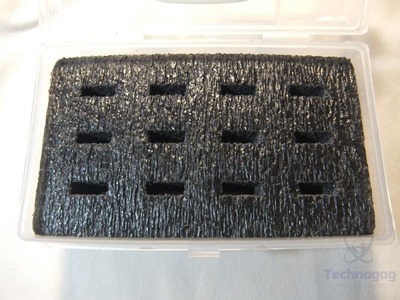 The bottom of the box has the product label and then four small feet at each corner.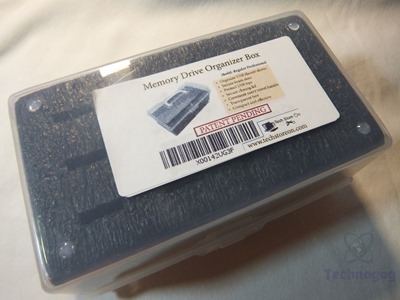 For testing I put stuff in it, I put several things in it besides just USB drives. Memory cards fit, USB Bluetooth dongles and even a USB to micro USB adapter fit fine. What you put in here is really up to you but you do have to watch the total height as if something is too high the lid won't close.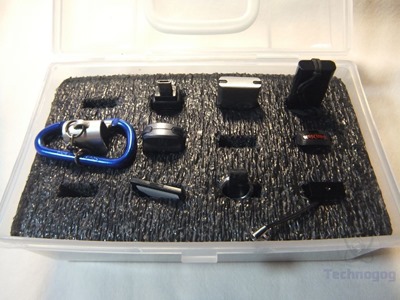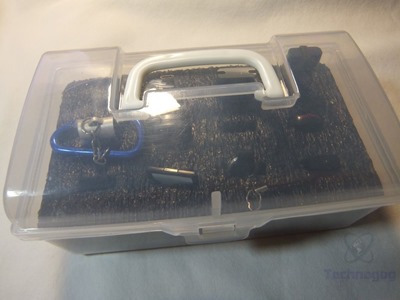 Conclusion
This box is what it is, it's small and it seems really useful for storing your flash drives and memory and many other things as well.
I like this little box a lot, I think it's useful for sure but it's just a bit overpriced in my opinion.
Pros:
+Useful
+Multiple uses
+Small and portable
+Decent protection all around
Cons:
-Rather expensive for what it is
| | |
| --- | --- |
| Grading | Scores Out of 10 |
| Overall | |
| Design / Aesthetic | |
| Value / Price | |
| Performance / Usage | |
Disclosure: This product was given to me for review by the company for review purposes only for free or at a discounted price.
To learn more about our review policy please visit this page HERE.