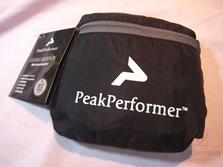 Bags, bags, and more bags, everyone needs one it seems, we all have them no matter what you do or are doing. Up for review today I have a foldable or packable backpack from a company called Peak Performer and it's made of ripstop nylon making it fairly durable. The bag packs into a tiny pack about 7"x7" but then unfolds to more than twice that into a full backpack so you can easily take it with you and have it whenever you need it. Read on to learn more…
Specifications and Features
Lightweight Backpack for Travel, Camping, Hiking, School, Gym, Sports/ Men & Women Packable Daypack
-LIGHTWEIGHT and SPACIOUS (25 Liters Capacity). Much lighter than standard backpacks (only 7.4 ounces), it has all the usual compartments, plus two side pockets for water bottle or umbrella. Specially designed to carry enough items that you may need, it is an excellent choice for everyday trips or simply when you need an extra bag.
-COMFORTABLE & EASY TO CARRY to enrich your outdoor experiences. Perfect for short hiking or biking trips, vacation, school, camping, gym, beach, city walks or shopping. Comfortable Shoulder Straps – Easy to adjust the length and lock firmly – Must have on every trip!
-BUILT TO LAST. Made with High Quality ripstop nylon and most durable 2-way Abrasion Resistant SBS metal zipper. Stress points are reinforced with strong stitches, for long-lasting performance. Dimensions (Unfolded 16.5″x 11.8″x 5″, Folded 7″x 6″).
-CLEVER PACKABLE DESIGN. Have fun & Enjoy your trips! Versatile pack for men, women or children, simply folds into zippered inner pocket to fit anywhere.
Price: $18.75 (from Amazon at time of  review)
The Review
Let's start with a video overview of this bag and then move on:
The backpack just comes packaged in a plastic bag, but that's fine as it's not exactly something fragile, it's just cloth after all.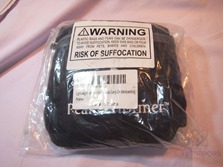 The backpack is foldable or packable and it has it's own carrying case with handle which actually turns into a pocket inside of the bag. When folded it's about 7"x6"x2.5" and it weighs about 7 ounces so it's small and very portable.
When you unfold the bag it's about 17"x12" in dimensions and that's basically the inside dimensions as well, specs say it has a 25L capacity which I never understood liquid measurements for a bag or backpack, but whatever. The bag is primarily black in color and made of ripstop nylon but it does have gray accents and four little neon green tags, two on the front one on each side.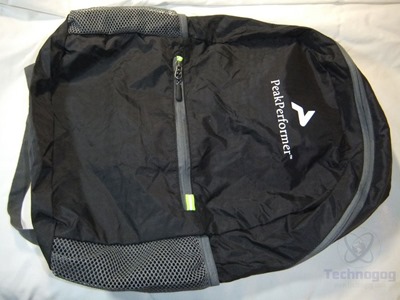 There is one zippered pocket on the front and it's about 10"x7" in size so it should be able to hold things like your phone and whatever else.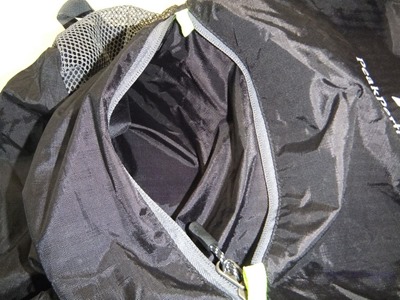 On both sides you'll find elastic mesh pockets for water bottles. There is also a double zipper for the main compartment with plastic tags to make it easier to pull or grab. The zippers seem well made overall.
The inner compartment just has one pocket and that's the bag itself, or when it was folded the bag unfolds and then forms the inside pocket that hangs at the top of the bag inside.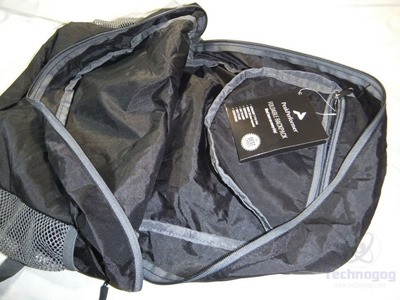 The inner pockets is about 5.5"x7" in size which would be fine for wallet or phone or whatever you want.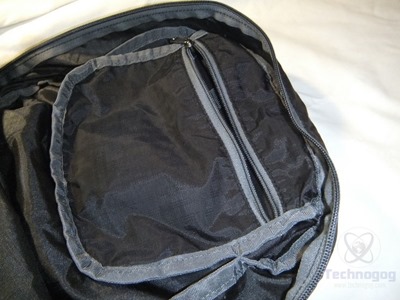 On the back you'll find two lightly padded and adjustable mesh straps with nice heavy duty buckles. The straps should be fine for a day trip or a short hike but they're not padded enough for extended use I would think.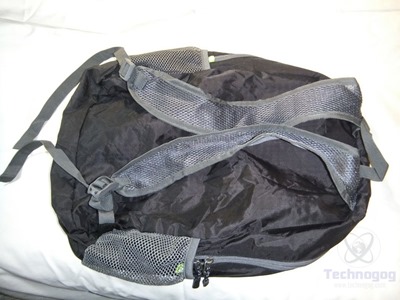 Conclusion
The Peak Performer back is a decent choice for a day on the go, or even to use it for light traveling like an overnight stay. It's the type of bag I would toss in my car and leave it there until I eventually needed it, it's always nice to have an extra backpack floating around and one this small doesn't take up much room.
The bag is made of ripstop nylon and it seems fairly durable overall with well made zippers that have nice pulls on them. The bag looks nice, it's mostly black with gray and then the tiny neon green tags.
The only small complaint I could have is the lack of pockets, there's really only two of them and then the large main compartment, other than that it's fine.
Pros:
+Two water bottle holders
+Small, compact and easily portable when folded
+Seems well made overall
+Very lightweight
Cons:
-Only two pockets and main compartment
| | |
| --- | --- |
| Grading | Scores Out of 10 |
| Overall | |
| Design / Aesthetic | |
| Value / Price | |
| Performance / Usage | |

Disclosure: This product was given to us for review by the company for review purposes only, and is not considered by us as payment for the review.
To learn more about our review policy please visit this page HERE.