Typing on a tablet or smartphone is not an issue until you need to input a large amount of text. This is where a Bluetooth keyboard can come in handy. Of course carrying around one of these keyboards can be a hassle. Today's review item is a portable Bluetooth keyboard.
Rapoo have created a 5.6 mm ultra thin slim keyboard called the E6300 BT Ultra-slim Keyboard for iPad. Although it is labeled as for iPad it can work with any Bluetooth-enabled smartphones or tablets.
It is composed of brushed metal and can run for one month off a two-hour charge.
Unboxing
The E6300 BT Ultra-slim Keyboard for iPad arrives in a clear plastic box with the keyboard clearly visualized through half the right side of the box. On the back is a list of features and package contents.
Inside the package we find the Bluetooth keyboard, a micro-USB cable, and quick start guide. The Rapoo E6300 comes in black and white versions. For today's review we will look at the white model. The keyboard weighs approximately 5 ounces and measures 8" x 3.1" x 0.2".
The entire top of the keyboard is composed of 80 plastic keys. The top row doubles as function and multimedia control keys. On the white keyboard the function controlled keys have a blue highlight color. Four additional function keys are found with the directional arrows that have Page Up, Page Down, Home and End options highlighted in blue.
There are a mix of standard size keys, which comprises the QWERTY keys and smaller keys for the other options. Like most keyboards, the 'F' and 'J' keys have orientation marks.
On the bottom of the keyboard we see four rubber feet. A plastic section on the back provides a forward pitch for the keyboard. Her we find the battery along with a power switch, pairing button and a pair of LEDs for power and Bluetooth connectivity. At the back end is a micro USB connector for charging the E6300 BT Ultra-slim Keyboard.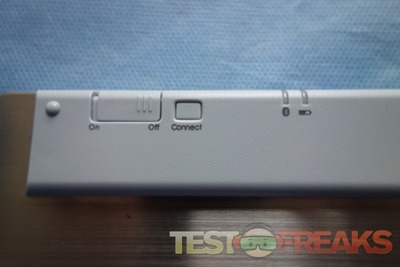 Specifications and Features
E6300 BT Ultra-slim Keyboard for iPad
IF Design Award Winner
Specially designed for iPad iPad hotkeys, easy access to what you want.
(Note: Except iPad hotkeys, the keyboard supports Mac or the PCs with Bluetooth function)
5.6mm ultra-thin the slim body is of brushed metal material, with X-key technology used. It is only 5.6mm at the thinnest.
Can be used for one month after being charged for 2 hours
Price: $39.99 (from Amazon at time of review)
Usage and Testing
To set up the E6300 BT Ultra-slim Keyboard for iPad you'll need to charge it using the micro USB cable via an AC adapter or a PC/Mac USB port.
Once fully charged, switch the keyboard to the on position and then press the connect button. On the iPad or iPhone go into the settings menu, select the Bluetooth section to pair the keyboard with your Apple device. The keyboard will send out a numeric code to enter on the keyboard to pair the two devices.
Besides the iPad, the E6300 BT Ultra-slim Keyboard for iPad can be used with any Bluetooth enabled computer.
The first thing you'll notice is the size disparity of the Rapoo keyboard versus a standard Apple Bluetooth model. It is also incredibly lightweight making it easy to throw into one's bag for travel.
Rappo designed the E6300 BT Ultra-slim Keyboard with iPad specific keys. For instance there is a home key that acts like the physical button on the iPad. A magnifying glass icon opens the search window on the iOS device.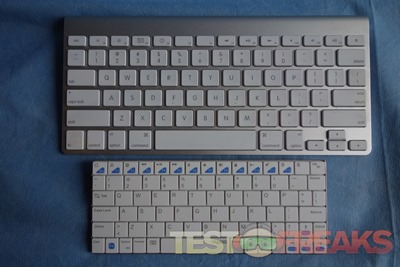 If you ever have used a netbook then this keyboard spacing should seem familiar as the keys are very tightly bunched together. Even compared to the recently reviewed Griffin Folio Keyboard, the E6300 BT Ultra-slim Keyboard keys are much smaller and tighter spaced.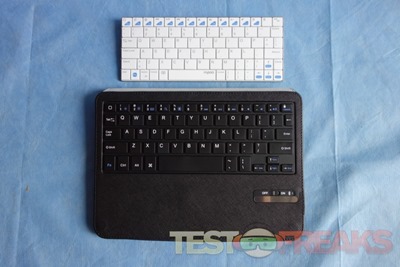 For those with larger fingers such as myself this layout puts us at a disadvantage. The tight key spacing also impacts touch typists. I used the E6300 BT Ultra-slim Keyboard for iPad for parts of this review and my typing speed was greatly diminished, as I had to keep looking down at the keyboard. One nice feature on the Rapoo keyboard is the inclusion of a backspace and delete key.
The Rapoo E6300 BT Ultra-slim Keyboard for iPad is compact enough to try thumb typing but even my large hands could not type without hitting other keys using it in that manner. The best way to successfully use the E6300 BT Ultra-slim Keyboard is via two finger typing although this is also the slowest.
Conclusion
The Rapoo 6300 BT Ultra-slim Keyboard for iPad is a well-designed keyboard. It is solidly built with a long lasting Lithium battery and a sleek design. However, it is probably too compact for most hands. Unless you have really small hands then don't expect to touch type at an efficient rate on this keyboard. It is best used as a two finger-typing keyboard as it packs a lot of keys into a small form factor.
Its compact size is the main selling point but this also its biggest weakness as a keyboard. Losing typing speed takes away a lot of the benefit from a physical keyboard being used with an iPad. If you don't mind that concession then the 6300 BT Ultra-slim Keyboard for iPad is a good choice for an easy to travel with Bluetooth keyboard.
Pros:
+Portable
+Lightweight
+Holds a charge for a long time
+Sleek design
Cons:
-Hard to use with large hands
-Not great for touch typists
| | |
| --- | --- |
| Grades: | |
| Overall | |
| Design / Aesthetic | |
| Value / Price | |
| Performance / Usage | |
To learn more about our review policy please visit this page HERE.