Up for review today I have the Samsung YA-BS300 which is a mini Bluetooth speaker that can be used with most any audio device including those that aren't Bluetooth enabled thanks to a line-in port. The BS300 has controls on it so you can control your media right from the speaker over Bluetooth, and it also has phone controls as the BS300 can act like a speakerphone as well as a regular speaker. The BS300 has four sound enhancement modes to help improve your listening experience. The speaker is very well made, it has a metal housing and even comes with a handy stand so you can set it up right on your desk. Read on to learn more about a great little product…
Samsung Mini Bluetooth Stereo Speaker YA-BS300 Review
The Samsung YA-BS300 comes in a really nice box actually, it's heavy clear plastic. You can see the full speaker on the front and then some specs and features are listed on the back for you.
Inside of the box you'll find five things, the speaker, double ended audio cable, USB cable, stand and the user manual.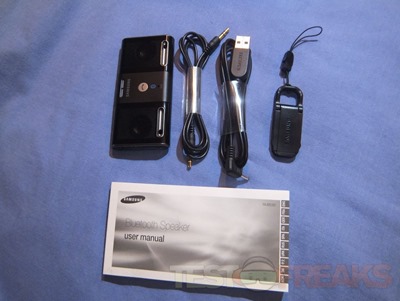 The stand is fairly basic, it's just a piece of plastic that opens up. It does have a string on it with a spring clip in the middle so you can attach the stand to the speaker and then unclip it as needed.
The speaker is Bluetooth, but it can be used via the included cable for a direct line in connection using the standard 3.5mm audio jacks.  The USB cable is for charging the internal battery which should last for about four hours, so not an entire day but if you're using it at your desk you can just keep it plugged in or plug it in as needed. The battery will supposedly also provide 150 hours of standby time.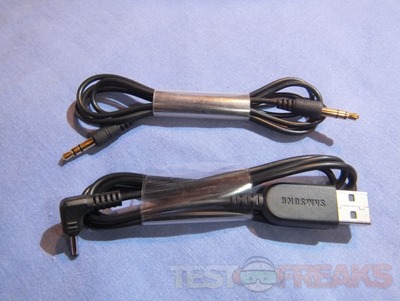 Here's the speaker itself and I have to say I was really impressed with it when I first took it out of the box. It's very well made and rather heavy for how small it is. The dimensions are about 3.75" in length by 1.75" in height and .5" in thickness. It weighs about 2.19 ounces. The front and the back are metal while the sides are plastic. There are two large speakers on the right and left with bass ports below them. In the center is two LEDs at the top, a phone button and the microphone at the bottom.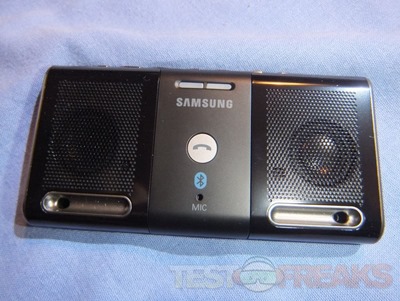 On the top of the speaker you'll find all of the controls. From the left to right it's power, play/pause, back/forward, volume up/down, and the DNSe button. There's also a tiny hole to reset the speaker if need be.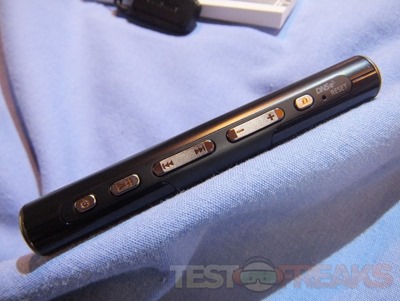 On the left side is the power in connection and a small metal ring to attach the stand to.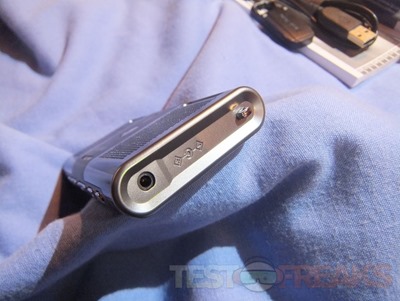 On the right side is the line-in jack.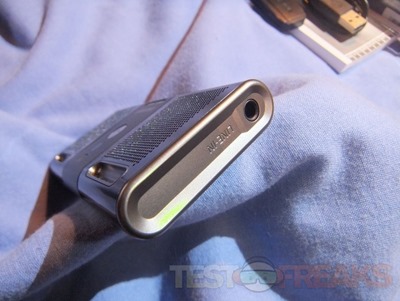 There's not much to the back of it, just the ID label really.