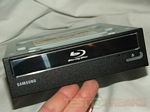 Today for review I've got another Samsung product, it's another optical drive, but it's one that goes in your computer. Specifically it's the SH-B123L 12X BD-Rom/DVD Writer, or it's a Blu-Ray drive with DVD writer functionality as well. This drive at 12X is supposedly one of the fastest in production right now, making it rather special. the drive itself has a unique look to it that I like, it's not cluttered with logos and badges like other drives, and the drive tray front is actually mirrored with the Blu-Ray logo on it. The drive is physically small in size making it perfect for compact cases like an HTPC would have, it's quiet and it's a decent product…

The box of course has the specs and features listed on it as you might expect.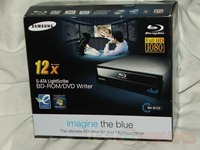 Inside you'll find the drive well packaged and protected.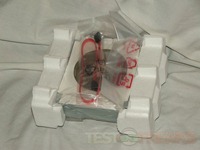 Included with the drive is an SATA cable, screws, user manual and a software disc with a whole bunch of Cyberlink software on it.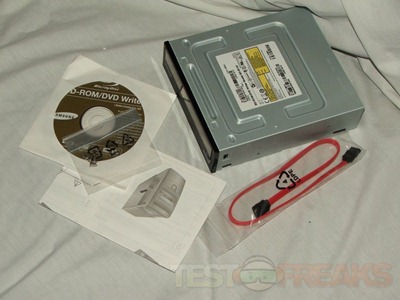 The drive is small in length, which is great for fitting into smaller cases like those of an HTPC. I like smaller sized drives as you never have a problem fitting them in a PC case.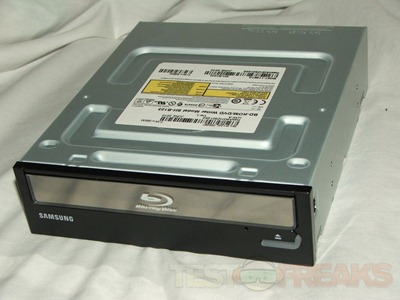 The front of the drive surprised me actually, most drives have all kinds of logos on them, but this one just has Samsung in the bottom left corner and the Blu-Ray logo in the center of the tray. On the bottom right corner is the eject button that lights up blue. There's also a small hole to manually eject the discs right near the eject button. I like the look of the mirror on the tray as well, it's different and just adds something to it.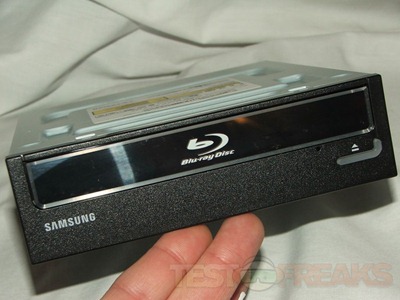 The back is plain, just the data and power connections are there.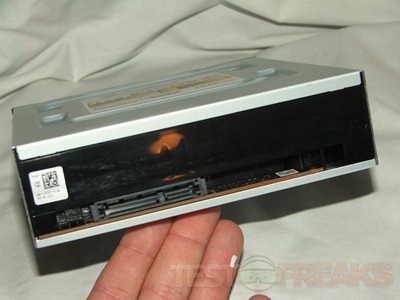 Specifications:

Samsung 12X BD-Rom/DVD Writer
Model: SH-B123L
The new BD combo guarantees high reliability in BD play performance by utilizing two lenses and a two laser diode structure, which provide stable BD read, and DVD and CD read/ write performance. SACT (Spherical Aberration Compensation Technology) improves the quality of the read function on BD drives if the protective layer does not have a uniform thickness. In addition, PSCT (Precision Step Control Technology) optimizes position control for the optical pick-up feature that requires small track pitch of BD drives. Samsung's Firmware Live Update ensures users that they always have the latest BD drive firmware version.
Samsung's BD drive, designed with an edgier look that sets it apart from conventional ODDs, features a chic mirror front door, blue LED and high-tech front bezel of the internal BD. The light and tiny casing not only reduces internal heat, but also contributes to low CO2 emissions by improving loading efficiency.
The BD Combo provides a variety of speeds across different data media types including: 12X BD-ROM read, 8x BD R/RE/DL read, 48X CD-ROM, 40X CD-RW, 16X DVD±R recording, 12X DVD-RAM recording, 8X DVD±R Dual Layer recording, 8X DVD+RW recording and 6X DVD-RW recording.
Access Time: CD 150ms (Random), DVD 150ms (Random), BD-ROM 210ms(Random)
Data transfer mode: SATA 1.5Gbps
Interface: Serial-ATA
Buffer Memory: 2M
Size (W * H * L): 148.2(W) x 170(D) x 42(H) With out BEZEL
Buffer underrun Protection: Yes
Light Scribe: Yes

There's nothing to installation,  just install like you would any other optical drive. The drive is small which I like, it will be able to easily fit in smaller case like an HTPC case, which this drive would be perfect for really.
The first thing I did after installation was to check for firmware updates, and yes there was one, so I went and updated it.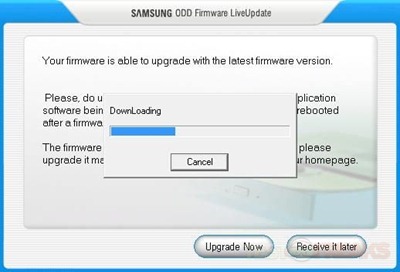 Then I installed the Cyberlink suite of software that was on the included disc.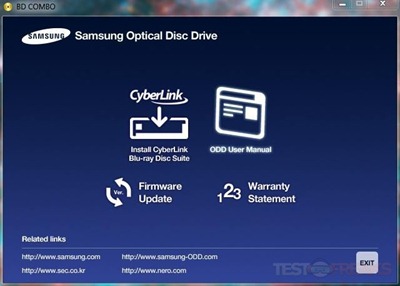 Once installation completes you'll need to restart the computer, then you can see what was installed and you'll see quite a few things we installed!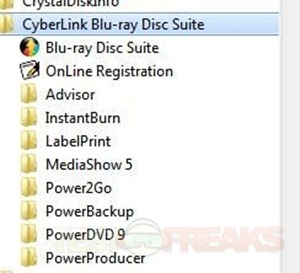 Out of all of that the only thing I find useful is PowerDVD, I use it for watching Blu-Rays, but it's also great for capturing frames of videos as well for reviews! Of course that's not the say the other programs aren't useful, they are really, but I'm set in my ways and I use what I know and like.
For comparison I've got two other BD-Rom/DVD Writers, one from LG (CH08LS10) and one from LiteOn (iHES206). I should note the LiteOn is a 6X drive and the LG is rated for 8X speeds with Blu-Rays.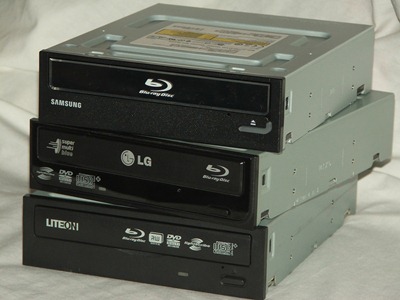 For testing I used both SiSoft Sandra Optical Disc benchmark and Nero DiscSpeed. I tested the read speeds of Blu-rays and regular DVDs, and writing DVDs.
There's only one SiSoft Sandra test so let's get that out of the way, this is just a DVD read test.
Drive Index: is a composite figure representing an overall performance rating based on the highest read or write speed across the whole disk. Thus the higher the better.
Access Time: is the average time to read a random sector on the disk, analogous to latency response time. Thus the lower the better.
Benchmark Results
Drive Index : Results Interpretation : Higher index values are better.
Access Time : Results Interpretation : Lower index values are better.
Well according to this test, the Samsung is rather slow, but it has decent access time.
Let's move on to the Nero DiscSpeed test:
We'll start with the Blu-Ray read test:
The average speeds for all of them are rather low really. If you remember what I mentioned earlier though, the LG is an 8X drive while the LiteOn is a 6x drive, neither of those hit their rated speeds either.
For that test you should use a dual layer Blu-ray but I just found out I don't have any, so the ones I have are single layer or about 25gigs. I honestly don't own many Blu-Ray discs, I use Netflix to rent them if I want to watch. I did try more than one Blu-Ray, and the results were very similar for all of the drives.
Here's the screen shots from the tests:
Not sure if it would have mattered or not had I used a dual layer Blu-Ray disc as from what I understand it actually slows down when it hits the second layer. Still though, the Samsung is the fastest of those I have on hand.
Next up is the DVD read test: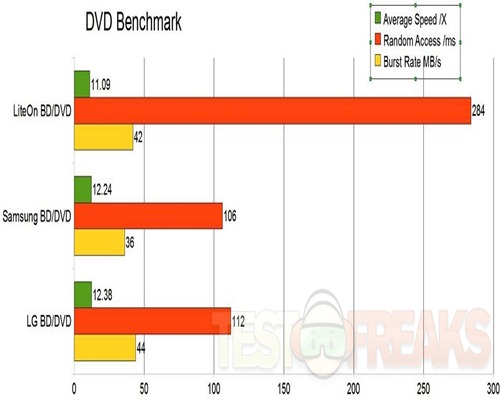 As far as speed goes, the Samsung comes in a very close second to the LG drive.
Here's those screen shots as well:
The LiteOn drive just drops at the end, not sure why..
The final test is the DVD Creation: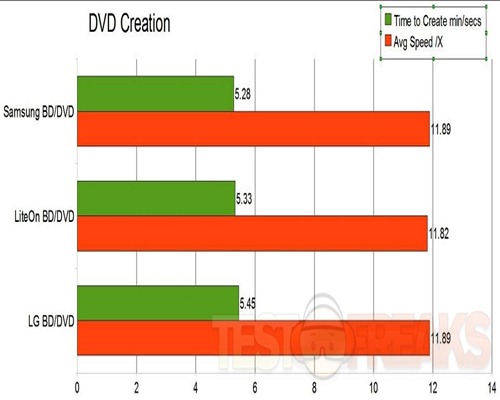 I used 16X DVD+R discs for the tests. The speeds were all similar but the actual time it took was different with the Samsung coming in the fastest by about 5 seconds.
I had no problems playing Blu-rays with the PowerDVD software, and I like it as it's fairly easy to use and it works fine.
Something I never noticed before with my other BD drives is upscaling of regular DVDs, I assume they all do don't they? At least the newer ones, the LG and LiteOn drives are hooked up to 1080P capable display, one is a monitor and the other is my 47" HDTV so I know they upscale. On the box for this Samsung drive though, it does mention specifically that it upscales to 1080P.
The drive though is quiet, and in fact this will replace the LiteOn that is in my HTPC right now. I like the looks of it, the mirrored tray is nice looking really.
Conclusion:
The new Samsung 12x BD-Rom/DVD Writer is nice looking and quiet, and when you combine that with it's small size, it's perfect for HTPC use.
The drive is fast at reading Blu-Rays, at least faster than those I have on hand right now. Yes it didn't hit the rated 12X speed, but that speed is when using a perfect pressed disc, so there's a few reasons it may not have hit the rated speed. I don't fault it too much for not hitting the 12X speed, the other drives in the tests didn't hit their rated speeds either.
The included CyberLink software is a nice bundle really, it includes pretty much everything you'll ever need really for burning, creating and watching movies.
Pros:
+Small size
+Looks great
+Includes lots of software
+Quiet
Cons:
-Didn't hit the rated speeds
| | |
| --- | --- |
| Grades: | |
| Overall | |
| Design | |
| Performance | |
To learn more about our review policy please visit this page HERE.