The microSD card has become synonymous with
It's a microSD card, it's black and it has information on it, if you've seen one microSD card you've pretty much seen them all…
On to the testing and I'm just continuing on from the last microSD card review:
32gb Kingston Class4
1gb Kingston microSD
16gb Kingston Class2
8gb Kingston Class4
4gb Sandisk Class4
2gb Kingston microSD
4gb Transcend Class6
16gb ADATA Class10
Kingston 64gb Class 10
SanDisk 32gb Class 4
So now I've got screen captures and a graph for you. I've only got one other 32gb class 4 card on hand and it's a Kingston.
So here's a quick comparison between the two using CrystalDiskMark:
The SanDisk is better by a bit, I guess even slightly faster is better in most cases.
Class 4 cards should get a minimum of 4 MB/sec so the SanDisk 32gb card does go above that, which is very nice.
Next up is the results from ATTO:
So you don't have to click on all of those screen captures I've made up a pretty graph for you, ordering is slowest to fastest using the Read speeds.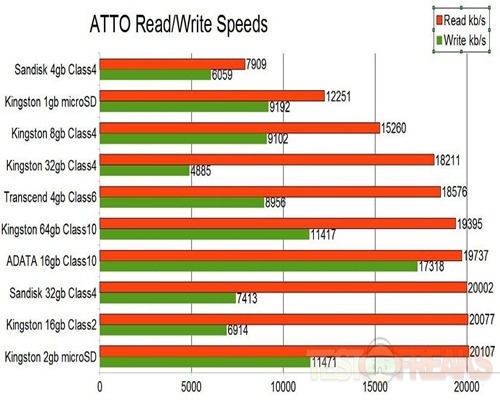 The top three cards are pretty close as far as Read speeds are concerned, and the SanDisk comes in third place. It seems as though the SanDisk card falls to the lower half if you look at the write speeds but it's still not bad I guess.
Conclusion:
It's a microSD card, there's not much to really say about it.
The card does perform above the rated specs which is something nice to see for sure.
The one issue I have with this card is the price, coming in at almost $50, it's a bit expensive when compared to other 32gb card on the market today.
Pros:
+Performs over rated speeds
Cons:
-A bit pricey
| | |
| --- | --- |
| Grades: |   |
| Overall | |
| Design | |
| Performance | |
To learn more about our review policy please visit this page HERE.