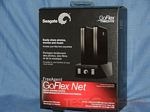 Up on the review block today I've got another part of the GoFlex system from Seagate, this one is the GoFlex Net which enables you to use your GoFlex hard drive on your network. It's much more than that tough, you can use it in conjunction with the Pogoplug service to stream music and video, and transfer files anywhere in the world and even to your mobile phone. The GoFlex Net also enables you to stream video and music to the FreeAgent Theater, your Xbox360 or your PS3 as well. Read on to learn more..

Let's start with the unboxing video:
>
Not much is included with the dock except for an ethernet cable, power supply and quick start guide.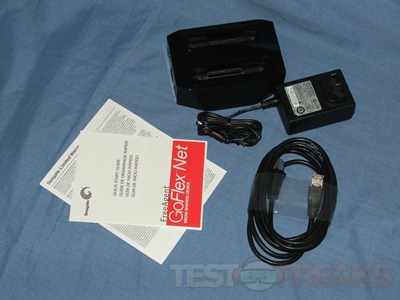 The GoFlex net itself just looks like a little block of black plastic with two holes in the top. There are inserts in the slots that comes out for different sized drives. On the front you'll see the Seagate logo and an LED indicator above and one on each side.
On the back you'll find ethernet port, USB port and the power connection.
Specifications:
FreeAgent GoFlex Net Media Sharing Device
Model STAK100
Share and access your files anywhere, anytime. Turn your GoFlex ultra-portable and USB drives into Internet-connected storage devices.
* Share your photos, music, and movies over the Internet without uploading
* Access your digital files from any computer on your home network—PC or Mac—and from anywhere in the world
* Listen to your music, watch your movies and access your content from iPhone, iPad, Blackberry or Android mobile devices
* Works seamlessly with GoFlex ultra–portable drives and any USB storage device
Easily access your content anytime, anywhere
* Gives you access to files on any external USB drive that's connected to your GoFlex Net from any computer on your local network, and from anywhere in the world via the Internet or a smart phone
* Delivers built-in award-winning Pogoplug functionality so you can access and share files anywhere in the world. Simply log in from any web browser for easy access to your files at home—no special software is needed, no hidden fees
* Includes free iPhone, Blackberry and Android apps that let you listen to your music, view and upload your pictures and watch your movies
* Ensures fast file transfers within your home network via Gigabit Ethernet connection—perfect for multi-PC households
More storage space for all of your important files
Easily add more storage to your home network so you have room for all of your favorite files.
* Lets you instantly connect two GoFlex ultra-portable drives via the integrated docking slots, and one additional USB storage device via the USB port for virtually unlimited storage
* Reduces clutter because there aren't any cables to fumble with—simply slide your GoFlex or GoFlex Pro ultra-portable drive into your GoFlex Net
* Transforms your GoFlex or GoFlex Pro drive from a direct attached storage device to a network storage device enabling access across every PC in your home
Price: $99.99
Price: $96.87 (From Amazon at time of review)

Here are two pictures of the GoFlex with the drive in it and with my Seagate BlackArmor drive attached via USB as well. You can see the white LED is lit up to indicate the drive is plugged in. The white LED bars are actually for capacity as well 1 bar is 0-25% full, 1 and 2 on is 25-50% full, 1,2 and 3 on 51-85% full and then 1-4 on would be 86-100% full. It's not perfect, but it gives you a general idea of the capacity of the drive.
Once you've got the GoFlex Net attached to your network you can then go online and create your account. It uses the PogoPlug system that the FreeAgent DockStar uses, so if you're familiar with that then you'll have no issues here, and even if you've never used it it's simple, just follow the instructions.
Once you've got that up and running you can now access your GoFlex Net from anywhere with an internet connection, or even with your phone if you want.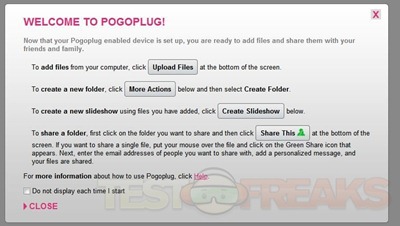 Here's what the interface looks like while you're on the site, the first is just the GoFelx hard drive, and the second picture is with my Seagate BlackArmor attached and it's contents:
On the left side of the interface is the navigation, the first is My Library, basically your stuff. In the middle section you'll see categories for Today, Last Week, Last Month then there's Files I Share and Shared with Me. The next choice is Active Copy, then below that is the drives you've got connected, clicking on one opens it.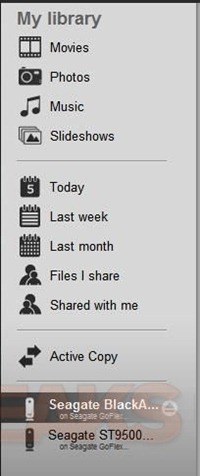 To really get use out of it you'll need to grab the PogoPlug software and install it.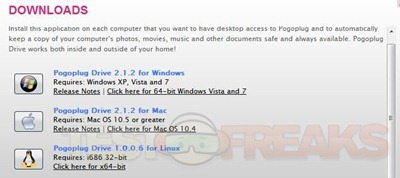 Then if you really want to get creative you can grab it for your phone as well and access all of your stuff while you're away. Streaming videos and music quickly and easily.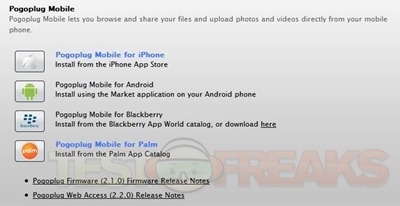 Here's the desktop interface, it's more for just copying files to the drive.
When you've got it installed you'll see the PogoPlug under My Computer, and what it does is combine both drives actually.
So I did some transferring of files to check the speeds, you can't access via FTP so I just did it the old fashioned way via drag and drop. I used a single 900mb video file, a single 3gig ISO file and files and folders totaling 3 gigs as well. My network is gigabit so I did expect faster speeds, but these are adequate for streaming HD videos with no issues.
I did install the Android software on my Motorola Backflip and it quickly and easily connected just using the id and password.
I really had no problems streaming music to my phone, it worked perfectly.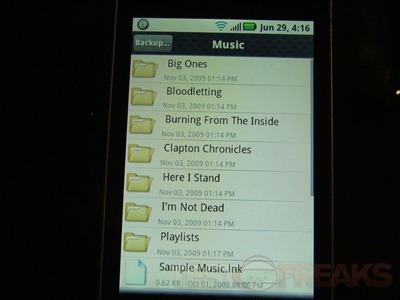 The GoFlex Net works very well at what it's supposed to do, I really like the streaming directly to your phone of music, no more need to take an MP3 player with you really, leave it at home and that's one less thing to carry. Of course depending on your phone though I can see it possibly draining your battery a bit faster than normal.  Oh and I should mention it does not play WMA files for audio.
The streaming video part though is a bit quirky sometimes it says file not supported, then the next time it plays, but then sometimes it only plays about 10 seconds and stops. Let me correct that, I paused writing this review and checked the Pogoplug site and found that you have to enable transcending on the the Pogoplug site which seems to take a long time. For every video you want to be able to stream you have to transcode it…  So that can be a very long process at over 3 minutes transcoding I'm only at 23%, and the video is 179Mb with a length of 1 minute and 13 seconds. Can you imagine transcoding an entire 2 hour movie? We're talking over 10 minutes for a video that is a little over 1 minute long.. is it even worth it?! It would probably be quicker to download the video to your phone and watch it that way..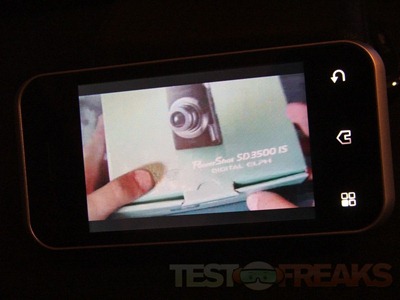 On the same page where the transcoding settings are, you'll need to check the boxes to enable streaming to Xbox360, PS3 and FreeAgent Theater. That of course won't require transcoding thankfully.
The rest of it for pictures and music is fine, no issues there.
For the most part the GoFlex Net is simple device really, and that's a good thing as everyone should be able to use it just fine, or with little instructions.
Conclusion:
The GoFlex Net is a nice addition to any network. I like this whole interchangeable storage system that the GoFlex offers.
The GoFlex net is especially unique and useful in that it allows you to use a USB drive as well as the GoFlex, so you can take the GoFlex drive out to use elsewhere and you can still use the GoFlex net.
The Pogoplug software or web interface is easy to use, and the ability to access via most mobile phones is very useful. The only issue with that is that you can't stream directly to your mobiles without transcoding the videos first and that can take a very long time.
The transfer speeds are ok, but not exactly great, they're good enough to stream HD video so that's what should count.
The device is fine for use with the Pogoplug and for use with our mobile for music and files transfer, the only problem occurs when you want to stream videos..
Pros:
+Very simple to setup and easy to use
+Small device fits most anywhere
+Pogoplug service works well
+Stream music and transfer files to your mobile easily
Cons:
-Streaming video to mobile device isn't exactly easy
-Average file transfers
| | |
| --- | --- |
| Grades: | |
| Overall | |
| Design | |
| Performance | |
To learn more about our review policy please visit this page HERE.