Today for review I've got a quick one for you of a decent tablet or netbook case from Slappa called the Rubber Sole. The case is made of a rubberized material that repels water so what you do decide to put inside will be protected from the elements. The Rubber Sole is padded for protection as well, and you can fit a tablet or netbook up to ten inches in size inside of the case. There is a single pocket on the outside of the case in case you need to take some papers or cables with you. All in all it's not a bad case. Read on….

So there's no special packaging for this product, just a plastic bag but that's all that's really needed as it's not breakable or fragile.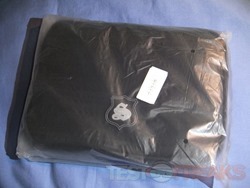 The case is black in color, it's sort of a semi-glossy finish.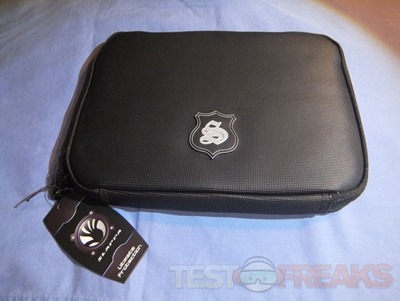 The case is a textured rubberized PVC material, it looks like a grid pattern close up and it does repel water. There's a rather large rubber Slappa logo on the front. Personally I think I'd like the case without the big rubber patch on the front, but that's just me.
The back is plain, except for the zippered pocket.
The pocket isn't exactly large, but you could use it for papers, pencils or cables.
The case has dual zippers on it that unzip most of the way around so you can open up the case and lay it flat really.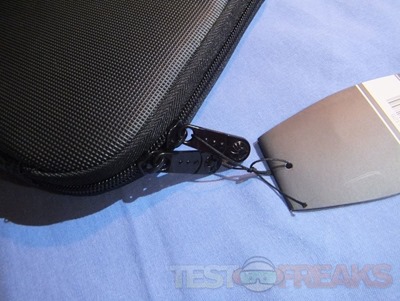 When you open it up you'll be greeted with a very large Slappa crest inside on the top half.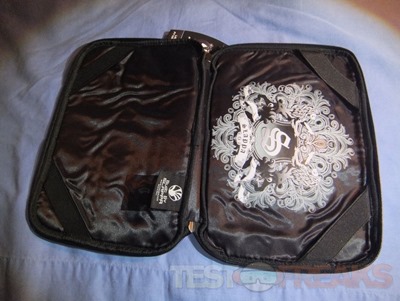 For some reason the first thing I thought of when I saw the crest was the Saints Row video games.
The top and bottom of the case have elastic straps to help hold the devices in place. The inside is a soft material and it's padded for protection.
Specifications and Features

Slappa Black Rubber Sole Netbook or iPad Case
The Rubber Sole iPad, netbook and laptop sleeve use a dimple textured rubberized PVC that feels good to touch and protects your laptop from water, while our super-cush padding helps protect your device from bumps and bangs. The 270 degree zippers allow the sleeve to open around 3 of the 4 sides, making access easy and showcases our SLAPPA crest print on a soft nylon twill lining.
2 molded alloy zipper pullers, injected rubber patch and a storage pocket on the rear outer panel (for cords/papers) round out this highly protective, good looking sleeve.
Key Features
– Checked rubber outer shell (water repellant)
– 2 industrial strength zippers with molded alloy pullers
– Manufacturer-direct 360 Day Extended Warranty
– Rear pocket for battery, cord storage
– Custom SLAPPA crest printed inner lining
– Molded rubber logo patch
Compatibility
This case is designed to fit most netbooks up to 10.2″, however netbooks with enlarged or extended batteries may not fit. If in doubt, please check the dimensions of your netbook.
The Apple iPad also fits nicely inside this case.
-10″ Sleeve Dimensions: 10.8″(w)x7.9″(h)x1.2″(d)
– Laptop Compartment Dimensions: 10.7″(w) x 7.7″(h)
– Back Pocket Dimensions: 10.2″(w) x 7.3″(h)
– Weight (empty): 1 lb
Price: £17.95 / $27.14
Manufacturer Product page: http://www.slappa.com/Rubber-Sole-Computer-Sleeve
You can use the Rubber Sole case with either a tablet or a netbook up to 10" in size.
So I grabbed three tablets, 10.1", 9.7" and 8" in size to try it out with the case.
The 10" one is my Acer Iconia A500, and it fits just fine, slightly tight but it closes
The elastic straps do a great job of holding the tablet in place.
The next was the Le Pan TC970, it's a bit smaller so it fits perfectly fine in the rubber sole.
The last tablet was the Idolian Mini Studio, which is an eight inch tablet and this of course fit just fine.
I was a little worried that it might not quite fit, but the straps are thick enough to even hold this small tablet in place.
The Mini Studio is a about the size of the iPad mini so you could use the Slappa Rubber sole as as an iPad Case really. It's made to be used with anything up to the 10" size, but I wouldn't go any smaller than eight inches as it might not hold it in place well.
So the case is fine really, the elastic holds my tablets in place to keep them from shifting around and the soft inside material won't harm the screen or the tablet itself.
Conclusion
Objectively I can't find anything wrong with the Slappa Rubber Sole case, it's well made, it offers good protection from bumps and even the weather. The case should fit most any tablet or netbook up to ten inches in size. It's a decent case overall.
Personally the case is just a bit too flashy for me, not sure if flashy is the correct word here, but I don't care for the big rubber logo on the front. The inside crest is a bit overwhelming as well, but it is inside so it won't be seen all of the time, still I could do without it. It's a personal preference thing I guess. My kid saw it and thought it looked cool with that badge on the front, me not so much.
Pros:
+Fits most tablet and netbooks
+Nicely made
+Does include pocket for accessories etc
+Repels water
Cons:
-Big rubber logo on front of case
| | |
| --- | --- |
| Grades: | 10 out of 10 |
| Overall | |
| Design / Aesthetic | |
| Value / Price | |
| Performance / Usage | |
To learn more about our review policy please visit this page HERE.