The mouse is the one thing that most of use take for granted, not for how it's used but for what can happen to you with long terms usage. For those of us that use a mouse everyday for hours on end we can be susceptible to RSI or repetitive stress injury. Sure there are companies out there that have come out with ergonomic mice, but only one claims to be the world's first truly ergonomic mouse and that's the Whirl from Smartfish. The mouse is wireless and it sits on top of pivoting platform so you hand moves more naturally when you're using thus possibly reducing the risk of RSI to the user. The Whirl has been designed in collaboration with the #1 orthopedic hospital in the states, so they might know what they're talking about.

No special packaging for the Whirl, just a white box.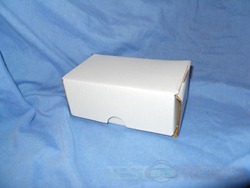 Smartfish was kind enough to include batteries for you, the Whirl uses two AA size for power. Included in the box as well is a brief user manual.
The Whirl is made to be ergonomic so it features what they call ErgoMotion. The mouse sits on top of of a pivot, so looking at it from a side view shows this and it looks unlike any other mouse out there. The Whirl is plastic and it's fairly lightweight for the size. The idea of the pivot is to let the mouse move more naturally allowing for a more comfortable and ergonomic mousing experience.
The Whirl I got for review is basically black in color, but if you look closely it has a very faint metallic finish to it, and it's glossy and smooth. The Smartfish logo is on the back of the mouse as well.
The Whirl has the right and left click buttons along with a rubberized scroll wheel.
The bottom of the Whirl has six feet, an on/off switch and a space to store the USB receiver.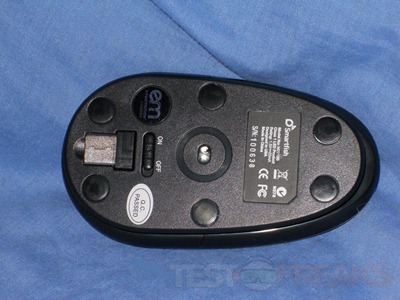 The battery compartment is underneath and honestly it's rather hard to get at.
Specifications:
Whirl Laser Mouse w/ Anti-Gravity Comfort Pivot
Smartfish Introduces anti-gravity comfort for your computer mouse— the Whirl Desktop's patented ErgoMotion pivot system makes your mouse feel like it's "floating on air!"
The Only Mouse with Gravity Defying Comfort Pivot Technology
For Desktop use, it's time to get rid of that old-fashioned "laser mouse" and upgrade to the comfort of the Whirl Desktop Mouse with ErgoMotion — the world's first truly ergonomic desktop mouse. No other desktop mouse provides the fluid, air-like comfort of the patented ErgoMotion pivot system.
ErgoMotion — A Technology Movement
ErgoMotion is a revolutionary technology that applies motion to experiences, a solution that actually reduces the risks of Repetitive Stress Injury (RSI). The ErgoMotion Laser Mouse challenges other "fixed position" mice by utilizing a patented pivot base that adapts to your natural hand and wrist movements. The mouse conforms to your unique positions, alleviating discomfort and encouraging productivity while you work. ErgoMotion is a breakthrough technology that has been designed in collaboration with the Hospital for Special Surgery (HSS) in New York — the #1 rated Orthopedics Hospital.
Wireless Connection
The ErgoMotion Mouse connects wirelessly to your computer using 2.4GHz USB nano-transceiver. No software is required. The nano-transceiver is an intelligent plug-and-play device that provides instant and uninterrupted connection, wire free. The nano-transceiver is also small enough to leave plugged into your laptop so you are ready to mouse all the time, wherever you are. Saving battery life is easy enough by switching the power on/off while traveling.
Laser Tracking
The ErgoMotion Mouse uses a high-resolution laser for precise mousing control. The 800dpi laser provides superior response over traditional optical tracking, allowing you to mouse on practically on any surface without a mousepad.
Ambidextrous Design
The Smartfish ErgoMotion Mouse is a symmetrical design created for both left and right-handed users alike, making the ErgoMotion Mouse the most comfortable device for everyone.
Price: $49.95

As I mentioned I already reviewed the portable or laptop version of the Smartfish Whirl, so here's both for comparison. I like the smaller one much better personally.
So the first thing I noticed is that it's a rather large mouse, at least it feels that way under the hand. The mouse isn't physically that much larger than others, but the shape makes it feel much larger than it is.
The Whirl takes a lot of time to get accustomed to really. The pivot puts it up much higher than any other mice so you've got to lift you hand and wrist off the surface of your desk or pad. When I use my mouse I don't lift my hand or wrist off the pad really, I just slide the mouse back and forth where I need it to go. I've got he sensitivity set rather high so I can travel long distances without much movement of the mouse. It's just the way I do it.
The Whirl forces you to be more ergonomic with your mouse movements, the idea is to protect your wrist, arms and back from repetitive stress injuries. The Whirl essentially makes you have to re-learn how to use a mouse so there's a lot of learning involved with it, or I should say un-learning. You'll need to rethink how you use your mouse, with patience and time I'm sure most people will become accustomed to it, but sadly I'm not one of them as I'm just too set in my
The feet on the Whirl allow it to really just glide across most surfaces, I'm using the Mionix Propus 380 and the Whirl just slide across it like ice. Using it on a cloth pad is similar but not as smooth, using it on my desk is close to using it on the plastic surfaced pad. It tracks excellent on all surfaces though, no skips or jumps at all.
Conclusion:
I guess if you're willing to put time into getting accustomed to the Whirl then it might be a benefit to people that use a mouse all day. It's certainly going to take a lot to get accustomed to and there is a learning and unlearning period involved with using it.
I don't think I'd use the Whirl for gaming as it doesn't have any other buttons other than the standard ones, and there's no way to adjust sensitivity either. Using it as an everyday mouse is fine I guess but I really miss side buttons for forward and back.
As is I don't think it's a bad mouse, but I think I would need a few months with it really to judge it. In the week or so I've been using it I still haven't been able to really get accustomed to it, it's going to take a lot longer for me or anyone really I think to get comfortable using a mouse like this.
Pros:
+Excellent tracking
+Glides across good mousepad
+Supposedly better for you than a regular mouse
Cons:
-Feels awkward at first
-No side buttons
-Feels larger than it is
| | |
| --- | --- |
| Grades: | |
| Overall | |
| Design | |
| Performance | |
To learn more about our review policy please visit this page HERE.