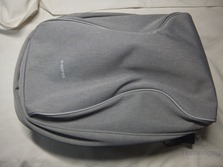 Up for review today I've got a laptop backpack from a company called So.Chi-O and it's called the Urbanite S10. This bag has a plethora of pockets and compartments for all your stuff but what's really unique is that the bag itself is made of a water and scratch resistant material and it even has anti-theft features. This is a nice bag really, it's rugged and durable and very well padded. Read on to learn more…
Specifications and Features
Urbanite S10 bag by So.Chi-O – Water and Scratch Resistant Anti Theft Laptop Backpack for Men and Women
This Urbanite S10 laptop backpack by So.Chi-O takes away all your hassle and worries that come with urban commuting. Suitable for both male and female, this lightweight laptop bag is packed with well-thought features to give you the peace of mind.
Anti-Theft Features:
The unique design of the bag allows every access point to be kept out-of-sight to prevent theft – from the covered main zipper to the well-hidden external pockets. The Urbanite S10 looks like a bag without openings. The dual zip also comes with a complimentary number padlock that acts as a secondary protection against any unauthorized attempt to open your bag.
Durable and Water Resistant:
Made from 200*300D scratch-resistant polyester oxford fabric, the Urbanite S10 is highly durable and will continue to look like new for a long time. This same material is also water-resistant so you can simply wipe away any water from its surface. A complimentary rain cover is provided for additional waterproofing during heavy downpour to ensure your belongings remain dry.
Safety Features:
This bag is designed with 2 reflective stripes running down along the back. This provides additional security when cycling or walking along a road at night.
Spacious with Neat Compartments:
The Urbanite S10 comes with individual padded sleeves for your laptop and tablet held in place by an adjustable velcro strap. The rest of the backpack is spacious and well compartmentalized so your belongings stay neat and easily accessible.
Ergonomic Features:
The "S" back design with breathable foam makes this bag perfectly soft, fit and comfortable.
Note:
This bag is scratch-resistant but not slash-proof.
This bag is water-resistant but not water-proof. A rain cover is included to waterproof the bag during heavy downpour.
Price: $35.00 (from Amazon at time of review)
The Review
Let's start with an unboxing and product tour video and then move on:
The bag ships in just a zip style plastic bag, but it's not exactly fragile so the packaging is fine.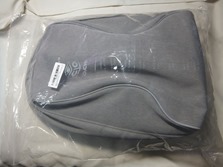 The Urbanite S10 bag is unique looking, it's gray in color with the So.Chi-O logo on the front. The bag is scratch and water resistant, it's made from a scratch resistant polyester oxford fabric which is also water resistant but not waterproof or slash proof. The material reminds me of denim but stiffer, it has a similar look and feel to it. The bag measures about 17 by 11.5 inches in dimensions and it's about 7 inches thick. My measurements are approximate as it's a cloth material that is constantly moving and it's not really a square shape.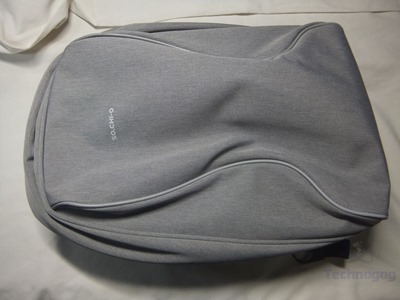 The bag has thickly padded straps that are adjustable easily with rings at the bottom you can just pull to make them tighter. The right strap has an elastic band on it that can be used for your phone or mp3 player or whatever.
The straps are attached to what resemble wings on the side of the bag. The left wing has a small zippered pocket, big enough for a phone I would think. The right side has a small hole in it that goes all the way through to the inside of the bag so you can pass through a headphone cable.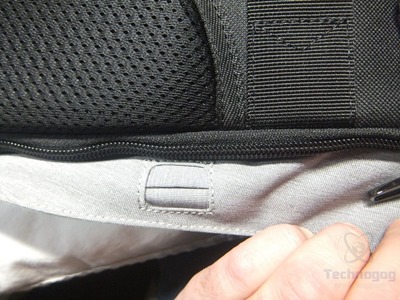 The back section of the bag is a bit stiff, there's no frame inside but you can feel a sheet of plastic inside to help keep its shape. There is also two larger pas on the right and left side where the bag would meet your shoulders. In the middle is a nylon strap which I'm not sure of its use honestly, a handle maybe, that's what I'd use it for anyway. The pads and shoulder straps have holes in them for ventilation to keep you cool while wearing the bag.
On the bottom of the back of the bag is a rectangular padded section with a zipper on it, it's another pocket and inside of it you'll find a rain cover and TSA approved lock which fits into the main zippers of the bag.
The main compartment or main zippers are sturdy and have large metal pulls on them. The zippers have holes in them that cross together so you can fit the lock into them to secure the bag. The zippers are actually hidden from view by a flap of material from that bag so they can't easily be seen or accessed.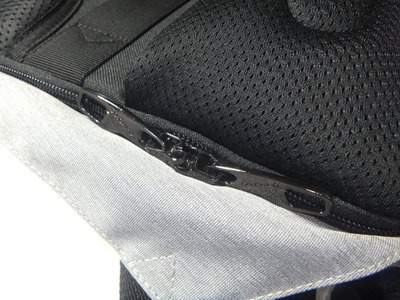 The Urbanite S10 bag opens up all the way flat so you can access the pockets and to make it easier to pack and unpack.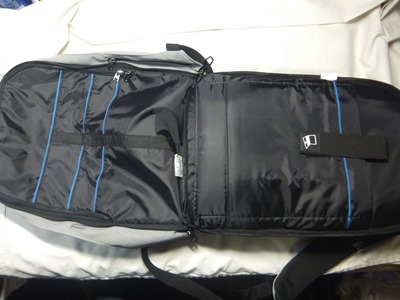 On the front side of the bag you'll find five pockets, four small and one large. The large pocket is about 11 by 10.5 inches, the smaller pockets are 6 x 4.5 inches each. Behind those pockets a zippered section, the main section of the bag really which is about 11 inches by 17 inches and it's about 3.5 inches deep. This section has a small zippered pocket which is about 5 inches by 8 inches, four elastic bands for pens and pencils and then two padded pockets as well.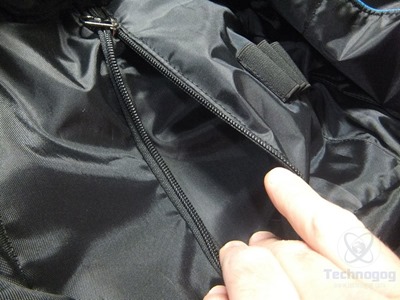 On the back side of the bag is the laptop compartment and another pocket that could be used for folder or notebooks. The main laptop compartment is held closed by an elastic strap with velcro. The laptop compartment itself is padded on the front and back and the back section has these bright bubbles that offer excellent protection for your laptop or even tablet.
Conclusion
I have to say this is a nice bag, I'm impressed really with it, especially the price, I've owned, reviewed and bought more expensive bags than this and this bag is easily comparable to much more expensive bags.
The So.Chi-O Urbanite S-10 bag has plenty of pockets for all your stuff and lots of padding to protect that stuff and good padding on the back to protect you as well.
I very much like the fact that the bag is water and scratch resistant but I really like the anti-theft features including the little TSA lock.
If you're in the market for a new laptop or even school bag this one should be at the top of your list of ones to consider.
Pros:
+Quality made and durable bag
+Scratch and water resistant
+Lots of pockets for all your stuff
+Inexpensive
+Includes rain cover and lock
+Lots of padding
Cons:
-None that I could find
| | |
| --- | --- |
| Grading | Scores Out of 10 |
| Overall | |
| Design / Aesthetic | |
| Value / Price | |
| Performance / Usage | |
Disclosure: This product was given to me for review by the company for review purposes only for free or at a discounted price.
To learn more about our review policy please visit this page HERE.