Sony makes all kinds of products as we know and I've got one of them for review today that I found very useful and a decent product overall. Today for review I have the Sony SBH 20 wireless Bluetooth headset which is what it sounds like, it's Bluetooth making it wireless and it has a headset. The SBH 20 unit itself is just a small square with audio controls on it along with a microphone and 3.5mm audio jack, but Sony did include a decent sounding pair of headphones to go with it. The SBH 20 is Bluetooth yes, but it also features NFC to make pairing very easy if your phone or other device is NFC enabled. I have the HTC One and it is NFC enabled but the SBH 20 is the first device I've gotten with NFC and it does work great and it does make life that much easier really. The SBH 20 isn't perfect, there are some small issues with it, but overall it's great little device that actually has multiple uses. So read on to learn more….

Unboxing
How about we start off with a video unboxing? So go ahead and watch and then see below for the 'standard' pictorial unboxing.
The Sony SBH 20 headset comes in an angle shaped box with a clear window showing the product and then some specs and features listed.
Included in the box is a USB/microUSB cable, along with USB power adapter, headphones, user guides, extra silicone covers for the headphones and the SBH 20 itself.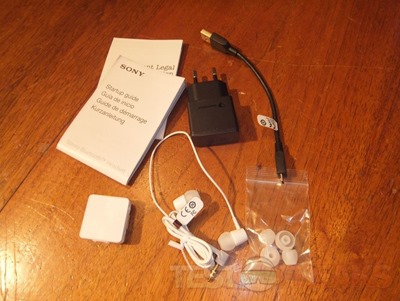 The power adapter I got is European, but it's not a big deal as the SBH 20 charges over standard microUSB so personally I would most likely never use it anyway. I think I used the one that came with my phone once only as I've got a microUSB cable permanently connected to my computer for such things.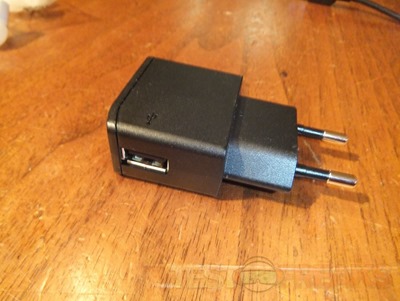 The headphones come with three different sizes of silicone earbud covers, one of which is already installed on the headset and the other two are in a separate bag.
The SBH 20 main unit is a small white square measuring about 1.25" on each side and slightly more than .25" thick without the clip. I should note that you can get it in several colors, white, black, pink, orange and turquoise and the earbud covers match the color of the unit. The Sony site has listed measurements of 33.3 x 33.3 x 12.3 mm and it weighs in at 12.3 grams. In bright light the front of the SBH 20 unit looks plain, it just looks blank really.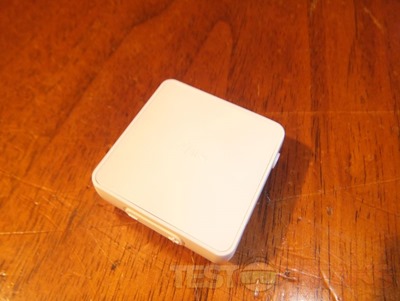 Yes the buttons are hard to see, the picture below is with no flash, and still hard to see. It would have been very nice if Sony had colored them or even just an outline in black to make them stand out of bit to add some contrast to make them better viewable. If they lit up, now that would be awesome, but that's probably asking for too much…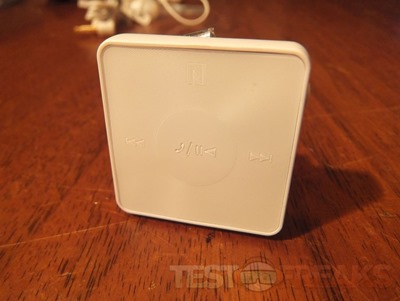 On the left side you'll find the main power switch, microphone, indicator LED and 3.5mm audio jack. The SBH 20 comes with headphones but you can use any that you might want.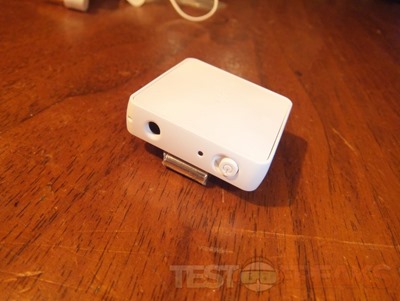 On the top is the volume buttons.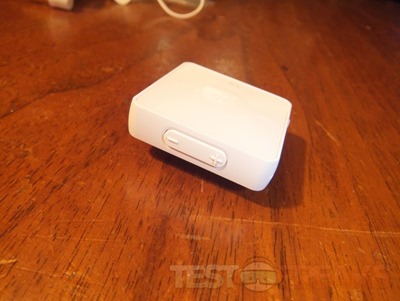 On the right side is the microUSB port for charging which has a rubber cover over it to keep dirt and the weather and anything else out.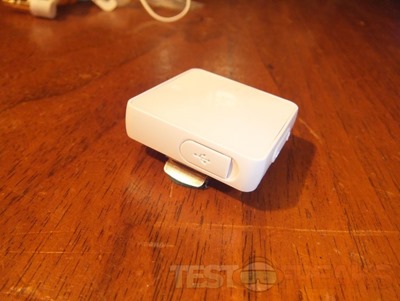 On the back you'll find a nice metal clip that rotates all around so you can position it wherever and however you need to for access.