For the past several years I have used Eye-Fi SD cards to easily transfer my pictures wirelessly from my cameras to Mac or PC. Recently Eye-Fi released a new model called the Mobi, which we have received for today's review.
This wireless SD card easily transmits photos and videos directly to one's smartphone or tablet. It is aimed for the more casual photographers as it lacks some features in other Eye-Fi cards. Unlike the more expensive Eye-Fi Pro X2 it cannot send pictures to a computer or transmits RAW files.
Having the ability to wirelessly transmit photos is quite a timesaver. Although removing an SD card from one's camera and then plugging it into a card reader is not so difficult, it still involves time and effort that can be easily avoided. Getting those same pictures onto one's tablet or smartphone requires even more machinations.
The Eye-Fi Mobi involves a much simpler set up than its predecessors. A unique code found on the packaging used in conjunction with the Eye-Fi app are all you need to get started.
The Eye-Fi Mobi arrives on a hang style cardboard with the SD card mounted on the front in a protective case. This cardboard opens up to reveal the Mobi's features such as quick setup, free apps on the Google Play and Apple App Store, built-in Wi-Fi technology and ability to share photos and videos via common social media sites such as Instagram, Facebook and Twitter.
On the back are descriptions in four additional languages along with system requirements, supported file formats and the QR code for the Eye-Fi website.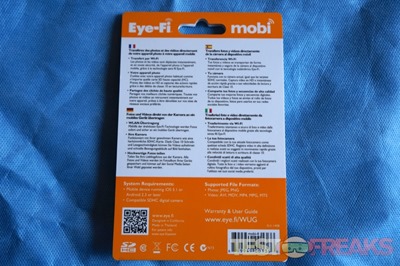 The Mobi is an SDHC Class 10 card, which means it is capable HD video recording. Eye-Fi offers two versions of the Mobi – 8GB and 16 GB. For today's review we will look at the 8 GB model.
The only item found in the packaging are the Eye-Fi Mobi card and the protective case. On the back of the protective case are installation instructions to and the printed activation code.
The Mobi works through "Direct Mode" which creates an ad-hoc (peer to peer) network between the card and the user's smartphone or tablet. This allows photos to be beamed to iOS or Android devices. Video can be transmitted as well as photos but the video file must be less than 2 GB in file size. Supported video file formats include .avi, .mp4, .mov, .mts, .m4v, .mpg, .flv, and .wmv.
Specifications and Features
Your best shots. Now mobile.
Mobi instantly delivers your best photos & videos from your camera to your smartphone or tablet.
No wireless network required. Mobi creates its own WiFi so it works anywhere you are.
1. Camera –Digital camera with SDHC card slot.
2. Device –WiFi enabled smartphone or tablet with either iOS or Android.
3. App –Free Eye-Fi app installed on your mobile device. App Store, Google Play or Kindle Fire.
4. Code –10-digit activation code found on back of Mobi card case.
Simple to setup. Simple to use.
Just install the free Eye-Fi app on your smartphone or tablet to connect the card.
Once paired, the card transfers photos & videos whenever new content is detected by your device. And, once the transfer completes, the card disconnects its WiFi to save your battery.
Quality photos for
better sharing.
Smartphones fall short for life's many moments that require zooming, high-speed shooting, low light and other features that make digital cameras superior.
Mobi provides photo lovers a no compromises solution: great quality pictures and videos of a digital camera and instant access on the smartphone to enjoy and share.
Your favorite apps.
Editing and sharing are fun and easy because higher quality images are delivered to the camera roll on your smartphone — ready for Facebook, Instagram, Camera Awesome, a quick text or email.
Any sharing, editing or viewing apps you love on your smartphone and tablet are now easily enjoyed with your best photos and videos.
Price $49.94 (from Amazon at time of review)
Set up could not be easier; simply insert the Mobi card into your camera and then enter the activation code into the free iOS or Android Eye-Fi app. For iOS devices this will store a profile for the Eye-Fi Direct Mode network configuration. This setup process is much simpler than setting up the Eye-Fi Pro X2 or previous Eye-Fi cards.
To get started transferring photos, simply join the Eye-Fi network from your list of wireless access points on your mobile device. For testing I used the Eye-Fi Mobi with a Sony NEX-F3K, Canon T2i, iPad Mini and iPhone 5.
When Direct Mode was turned on the images from the cameras were transferred very quickly with 3-4 seconds between shots that were averaging 5 MB in file size. Video transferred easily as well, but took longer depending on the size of the video file.
Once transfers are done the card turns off the Wi-Fi to spare camera battery life. A consequence of this is that the iOS device had to manually reconnect from the Wi-Fi settings menu. On a few occasions the Eye-Fi network was not detected and I had to restart the camera to have it retransmit a signal and be recognized.
Currently the Eye-Fi Mobi does not allow to manually selecting images to wirelessly transmit; all images and videos (under 2GB) are transferred. Plus once images are transferred from the Mobi to a mobile device then those images cannot be retransmitted to another tablet or smartphone. To send those pictures to another device you will need to Photostream, email, or manually transfer them via a computer connection.
When the Eye-Fi app starts up it launches with tips enabled for using the app. On the top left corner is the connection status, while on the top right are icons for Settings and Share options. At the bottom of the app is a progress bar for when videos and photos are uploaded. To hide these tips in the future, click the checkbox on the bottom left.
The app will ask permission to access your photo library, which places copies of all transferred pictures and videos into your device's native library. Editing or deleting the photos can only be done in the native iOS Photo app, not within the Eye-Fi app. Hopefully with future app updates this will change.
The Eye-Fi app is functional but seems rather limited in its scope. While one can email, post to Twitter and Facebook, copy and print from within the app this is nothing that couldn't be done from the native iOS Photo app. Overall the app is functional but not very impressive.
Conclusion

The Eye-Fi Mobi seems to be aimed at the smartphone shooters more than advanced photographers. This Wi-Fi enabled SD card makes it simple to get one's photos and videos onto smartphones and tablets thus easily sent to sites such as Instagram, Facebook and Twitter. It is simple to install and use making it very user friendly. The Mobi has fast transfer speeds giving the photographer instant gratification after capturing a photo.
Another advantage of the Mobi is the cheaper price point. The 8 GB comes in at $50 and the 16 GB at $80 compared to the $100 Eye-Fi X2 Pro.
More advanced photographers and professionals may want to stick to the Eye-Fi Pro X2 as advanced features are missing such as RAW support and the ability to directly transfer images to PC or Mac are missing from the Mobi.
Pros:
+Fast transfers
+Easy setup
+Affordable
Cons:
-Transfers limited to mobile devices
-Loses connections frequently
-Eye-Fi app is rather limited
| | |
| --- | --- |
| Grades: | |
| Overall | |
| Design / Aesthetic | |
| Value / Price | |
| Performance / Usage | |
To learn more about our review policy please visit this page HERE.