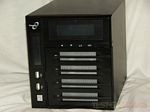 Today for review I've got another NAS box, this one though is from Thecus and it's their new N4200 model that features an Intel Dual Core Atom CPU and a nice 1 gig of ram. The N4200 has some other great features as well like the built-in battery backup system, along with dual displays on the front for monitoring system status and even for changing some of the settings without having to login to the admin section. The N4200 is fast, one of the fastest NAS boxes I've taken a look at, but it's got plenty of other features going for it as well.. So read on to learn more…

Well let's start off with the unboxing video:
The box is big and heavy, but the Thecus N4200 is heavy.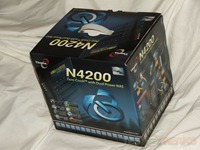 Inside you'll find the NAS itself, driver and software CDs, ethernet cable, keys, screws, documentation, power supply and the backup battery.
Here's a closer look at the battery itself, on one end you'll find the connector.
The N4200 is a rather large black box, it's metal housing  with a plastic front bezel.
On the front you'll actually find two display, an OLED display on the top and another status display on the left side above the USB ports and the power button on the bottom. Directly below the display are four control buttons.
Below the display is actually a door with metal mesh to provide ventilation for the hard drives inside. Behind the door are four hard drive racks that can be locked with the included keys.
The hard drives racks are metal and well made.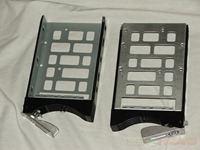 On the back you'll find a large cooling fan, four USB ports, two eSATA ports, two ethernet ports, reset button, and the power connection. Right above the fan is a large slot where the battery fits in.
On the bottom you'll find four rubber feet and some ventilation holes.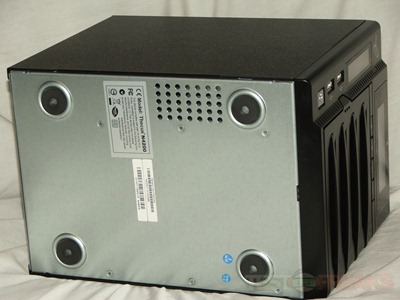 Specifications:
Zero-Crash with Dual Power NAS
In the digital age, people are creating and accessing digital content like never before. As such, they require a storage device that is powerful enough to store and serve this content, but friendly enough to manage quickly and effortlessly. Today, digital storage leader Thecus Technology is proud to announce the Thecus N4200. Fast, secure, and incredibly easy-to-use, the N4200 is the ideal home NAS for the digital lifestyle.
Feature:
*Dual Core CPU for Snappy System Performance
Two heads are better than one, which is why the N4200's dual core Intel® CPU can deliver increased system response and handle multiple clients quickly and efficiently. Enjoy the performance and power of the N4200 with Intel Inside.
*Unmatched Reliability with Dual DOM Design
A Disk On Module (DOM) contains all of the system's critical software. If it stops working for any reason, your system firmware could be inaccessible – or worse. With the N4200's Dual DOM Design, a secondary DOM automatically reprograms the primary DOM if it fails, meaning your data is always safe and accessible.
*Easy Administration with Dual Displays
Featuring two separate displays, the N4200 is incredibly friendly to use. The LCD displays critical system information, including hard disk and network status, while the OLED allows you to change a number of different system settings, such as WAN, LAN, Link Aggregation, languages and more.
*Dual Power for Untouchable Data Integrity
Sudden power failures can spell trouble for your data. If the power goes out during a firmware upgrade, your entire system could be at risk. Enter the N4200's Battery Backup Module (BBM). With the equipped lithium-ion BBM, all unwritten data is automatically saved into hard disks, ensuring both data and system integrity at all times.
*Increased Flexibility with Dual HDD Profile Support
The N4200 features Thecus' unique combo SATA hard disk bays, which can accommodate both 2.5″ and 3.5″ SATA hard disks! Choose 2.5″ drives for lower power consumption and quieter operation, or 3.5″ drives for extra capacity and performance. With the N4200, the choice is yours.
Specs:
Processor: Intel Atom Processor D510
System Memory: 1 GB DDR-2 SDRAM
LAN Interface: RJ-45×2 : 10/100/1000 BASE-TX Auto MDI/MDI-X
LCD indicator:
-HDD Power, Activity (Yellow) / Fail (Red)
-LAN_WAN Activity (Green) /
-USB_COPY_Busy (Blue)
-USB_COPY_ Fail (Red)
OLED Module:
-2.8" OLED display
-4 buttons (ENTER, ESC, UP, DOWN)
-Multi-lingual supported
Power Supply: External power adapter 19V input (support 2TB and above HDDx4 )
Disk Interface: SATA x4 for internal, 2x eSATA for external
Expansion Slot: PCI-e x1
USB Interface: USB 2.0 host port x6(Front x2, Back x4) (A Type)
Thermal/Fan control:
-Thermal sensor on system and processor temperature
-System fan speed controlled by temperature
Real-time clock: Battery backup system clock
Buttons:
-Power button
-Reset to factory default button
Chassis: Metal chassis
Li-ion Battery: Built-in battery backup module (BBM)
Price: $780.27 (Price from Amazon at time of review)

The first thing to do  is install the battery and connect the power cable.
Before you power it on you'll need to install the hard drives, I used four identical Western Digital Caviar Black 750gb drives. Just use the included screws to attach the drives to the racks and them slide them into their bays and you're set.
Pop in the disc and install the Thecus Setup Wizard software. I have the Thecus N3200 Pro running on my network as well, so both show up in the wizard. You can use the wizard to get the setup done, or you can highlight the N4200 and click 'Start Browser' to actually go straight to the box and get start that way, I much prefer setting up everything from the Admin interface, but I've got quite a bit of experience with NAS boxes or Network Attached Storage units…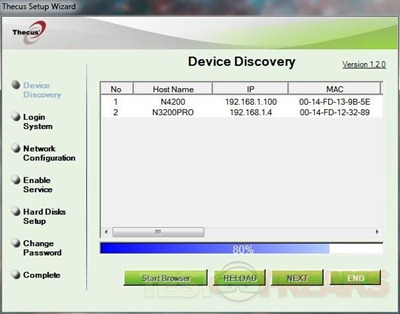 Opening up the browser takes you to a magical looking web interface with floating balls for icons. This is the same interface that the end user and the admin will see. The first one with the key in it is to log in to the admin interface.
Once you're in you're greeted with two main navigation windows, on the left is the tree style and then the right has several options or favorites which are essentially shortcuts. You can add or remove them as you see fit. On the main interface there are also four shortcuts at the very bottom under the left pane navigation tree, they're just four icons of quick access.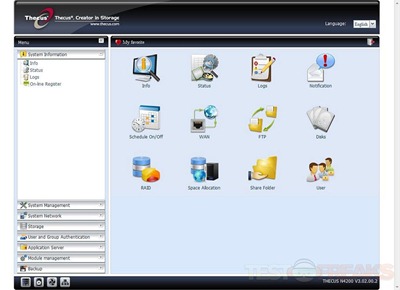 I've set it up as Raid 5, as I prefer this configuration because you get the security of the backup drive but you get more space really. Three drives are used for storage and the fourth one is used as the backup basically.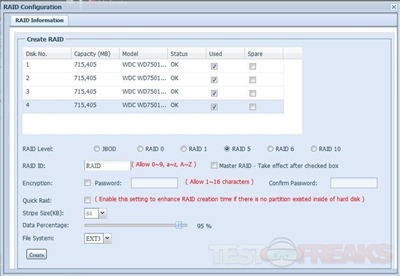 It took about four hours to get the Raid Array built, much less than I expected. There's an estimated time or percentage on the display, but it was faster than that.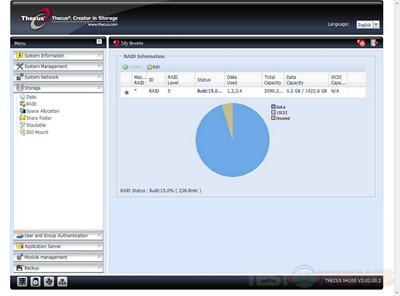 The N4200 has plenty of options, if I were to show each one individually I'd have just way too many screenshots, but I did expand each section of the tree to look at it separately so you cna get a good idea of what to expect.
The first is the System Information, it's just status, info, logs and the ability to register your nas box online

Next up is system management and there's plenty of options here. There kind of just basic things like time, notifications, firmware updates, schedules, UPS settings, Wake up, SNMP and some Admin utilities.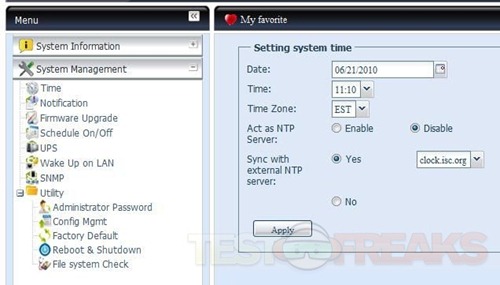 Next up is the System Network settings. Here you'll obviously find network settings and options to turn services on or off and configure them.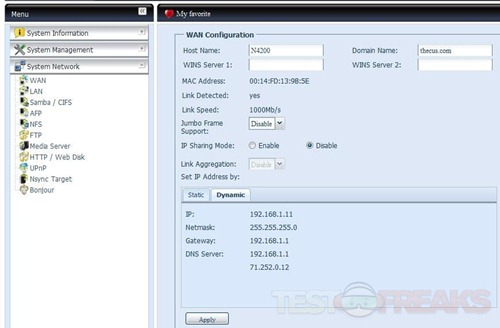 The next set of choices would be for Storage, it's rather self-explanatory as it deals with the hard drives and their configurations along with setting up share folders and mounting ISO images to the Thecus N4200.

The next option is User and Group Authentication, and this deals with setting up users and groups as you might expect it to..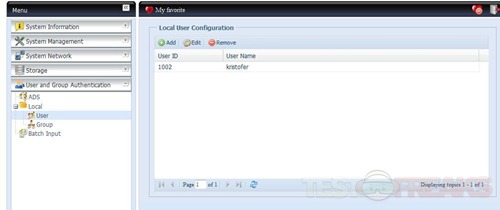 Next is Application Server, just two things here for setting up iTunes and Printer sharing. I already have a printer on my network, the Epson WorkForce 610, so I don't need to add it, but if you wanted to share other printers you could just use the option.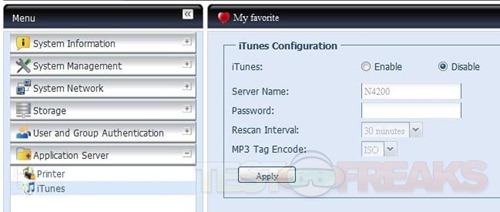 The next set of choices would be pertaining to Module Management. You might be wondering what a Module is, well Thecus offers modules to go with many of their NAS boxes, they're basically programs that add more functionally to the boxes. For example you can add the IP camera Module, the Twonky Media Server Module and the Mail Server Module if you wanted to. Then you could just hook up some IP cams and have a security system, you'd have a nice media server and your very own mail server.  Those are just a few a modules available, there are plenty more on the Thecus site that you can download and just add right in.

Then next up we have the Backup section which includes Nsync and the Dual DOM Backup feature.

Well that's the admin side, here's a quick look at the User Side of the Web Disk:

Then there's the Photo Album, I don't have any photos in there right now, but you get the idea.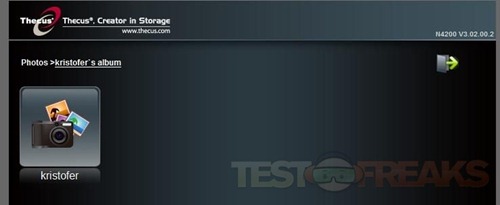 Let's jump to the front, there are two display panels, the one on the left is just for status of the drives and network basically.
The top display is an OLED one that displays information but you can actually use to change some of the settings, it's password protected so you'll have the enter a 5 digit numerical code to access the admin functions.
I recently reviewed the Synology DS210+, and it's fast, I've been using the Thecus N3200 Pro for quite some time now, so for right now I've got those two for comparison to the N4200, but I also tossed in the Qnap TS-259 Pro and the TS-459 Pro as well.
The transfers are all done on my home gigabit network via FTP, I use FTP because it gives a good performance indicator of the NAS boxes and it shows me the time it took along with the average speed as well. So in the charts below you'll see the overall average speeds of the boxes listed for transfer to and from the NAS boxes, essentially reading and writing. I'm transferring these things to the Seagate 2TB Barracuda XT SATA6 Desktop Hard Drive ST32000641AS which is a fairly fast drive.
For my testing I test the transfer speeds and times to and from my computer to the NAS boxes of three different things, Small Video File Transfer (900Mb), Large File Transfer (3.GB), and a Files and Folders Transfer which is a total of 3.GB with 874 files within 199 folders.
The charts are getting a bit big, so I highlighted the N4200 to make thing easier.
We'll start with the Files and Folders test with the time it took and the average speed of the transfers to and from the NAS boxes:
So the Thecus N4200 is fast here, it clearly bests the other boxes, especially in the Transfer From Test, look at that average speed there.
Then here's the Single large file test:
The Thecus N420 slowed down a bit on the Transfer from, but it was the fastest at transferring to the box, which is what you really want as you're using the box to store files on. The Transfer From speed isn't too bad really, they're all fairly close.
The final test is the small file transfer test:
Here again we see virtually the same ordering, the Transfer To or write speed is very fast, and the transfer From speed slows down a bit, still though it's not bad.
The speeds are one thing to look at but look at the times, we're talking 1-2 seconds difference between the boxes really. The test first though we see the Thecus N4200 gets the Transfer From task done almost 20 seconds faster than the closest competitor, that's a pretty big difference really, not just the 1-2 seconds.
As we can see the Thecus N4200 is a fast little black box, but one of the big features of this NAS is the built-in battery backup, the power goes out and everything is saved to disc that you were working on without the worry about losing any data. One of the other great security features is the Dual DOM design whereas the DOM contains all the systems critical software and if something happens that your makes firmware inaccessible, a secondary DOM automatically reprograms the original with the backup so you will minimize down time. It truly is a Zero-Crash NAS box, firmware gets corrupt, not problem, power goes out, again no problem for the Thecus N4200.
I did run into one small issue with the file transfers, specifically when transferring to the box, every once in a while I would get a transfer failed and it would have to start all over again. It didn't do it all of the time though, and it never did it when transferring from the box and it was only on larger single files like those 3gigs and over. An easy fix for this is that when transferring via FTP you just set to to resume when transferring files of the same name that are smaller and it automatically continues from where it stopped. it didn't seem to do it via HTTP transfer though.
Another small issue that is more of a personal preference is that Thecus changed the way they handled users and groups, you can't just go in and set permissions now like I could on the N3200 Pro, the N4200 uses Windows Active Directory Services for it. I like the old way, select the user, hit edit, set permissions and hit save, you're all done. I'm accustomed to doing things one way, but I guess change is good too.
The Thecus N4200 is not a beginner NAS box, it's meant for those that know what they're doing, it's primarily meant for small businesses and even medium sized one as well. That's not to say a regular person couldn't utilize this box, but I think it's just a bit much for a home user really in terms of features and expensive really. The N4200 comes in at almost $800, and that's not including the hard disks. The Western Digital drives i have in there now run $80 each for the OEM or bare drive version so that's another $320 on top of the almost $800 for the box, so you can easily drop over $1,000 into this NAS system. Simply put it's not a NAS box for a home user really. If you wanted a NAS for your home, you could go with something like I have the N3200 Pro, that offers three drive bays and does Raid 5, it's also a fairly decent NAS box and it costs about half as much as the N4200 does.
I like the fact that he N4200 has a front door with the hard drives easily accessible, if there's ever a problem just open the door, pop out a drive and put in a new one, there's no need to take the entire box apart like with other NAS boxes out there.
As far as noise is concerned I never heard it once, neither fan nor the drives could be heard. During testing I've got the N4200 sitting one my desk less two feet from me, and I couldn't hear it at all.
As for temperature, the drives seemed to be running cool, and the box itself is cool to the touch, about room temperature. The drives in the NAS are about 15C over room temperature, and that's about the same temperature as the drives in my computer as well.
Conclusion:
Thecus makes some excellent products, I know this from first hand experience as I've had a Thecus NAS box running 24/7 for well over a year now and have never one issue with it, besides running out of space, but that's my fault..
The Thecus N4200 is a stable unit that will satisfy even the most demanding work environments, and users. The Intel Atom dual core CPU and the 1gig of ram work well together to insure smooth and fast transfers across the board. The built in security features are an extra added bonus and a welcome one, the N4200 is truly a Zero-Crash NAS box.
If you're looking for a NAS box that's full of features and has excellent performance then I can recommend the N4200 easily.
The price might put it out of reach of the average user, but businesses can truly benefit from it, and even some hardcore users will welcome this NAS into their homes with open arms.
Pros:
+Fast transfers
+Tons of features
+Battery backup
+Good security features
+Good temperatures
+Can control basic functions through display
Cons:
-Tough for new users, not a beginner NAS
-Expensive
-Slight issue with large file transfers
-User folder controls are lacking, must use ADS
| | |
| --- | --- |
| Grades: | |
| Overall | |
| Design | |
| Performance | |
To learn more about our review policy please visit this page HERE.