Today for review I've got the latest addition to the Verizon stable of phones from BlackBerry, the Curve 3G. This phone isn't really much new over the older gen Curve, but there are a few improvements, but not much to get excited about honestly. It's a nice business phone overall though and if that's what you need then I'm sure you'll be happy with it.

We'll start out with the video unboxing:
Next up are some still pictures for you of the box and contents. Inside you'll find user manual and documentation, along with USB cable, AC adapter, battery and software disc.
The new Curve 3G is similar to other BlackBerry phones out there, it just seems smaller really.
Below the screen you'll find the familiar keyboard, but this time it's been redesigned a bit, and I actually like it better. Above the keyboard you'll see the the call buttons, BlackBerry button, back button and the track pad for navigation.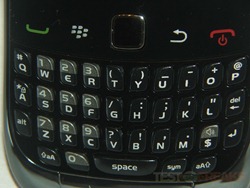 On the back you'll find a textured rubbery surface and the camera, but there's no flash to be found.
On the left side is the audio port, USB port and single button that is set to voice dialing by default. It's more of a little dimple rather than a button though.
On the right side you'll find three more little dimple buttons the top two don't do anything when on the home screen and the one by itself is for the camera.
Not pictured, but on the top of the phone you'll find multi-media button controls for play/pause, forward and backward.
The microSD card goes under the back cover, thankfully though you don't have to remove the battery to access it.
Specifications:
BlackBerry Curve 3G Smartphone
Colors: Charcoal or Fuchsia Red
Key features and specifications:
-Stylish new design (4.3″ x 2.4″ x .55″ and 3.7 oz.) with face finished in a mirror-like trim; black, soft-touch sides; and textured back for a comfortable, secure feel in the hand
-35-key full QWERTY backlit keyboard for fast, accurate typing and optical trackpad for easy and fluid navigation
-Dedicated media keys integrated along the top of the smartphone, so music lovers can easily access their tunes while on the go
-BlackBerry Media Sync to easily sync music as well as photos with the smartphone
-512 MB Flash memory and microSD/SDHC slot that supports up to 32 GB memory cards for media storage
-Built-in GPS with support for geo-tagging and location-based applications, including VZ Navigator, which provides audible turn-by-turn directions to millions of points of interest and the option to share the directions with others
-Built-in Wi-Fi (802.11 b/g) for fast browsing; smooth music streaming; and the ability to talk on the phone while browsing the Web, instant message with BBM (BlackBerry Messenger), and share location with friends on popular social networking sites
-Camera with video recording (requires a separately sold microSD card)
-Industry-leading BlackBerry e-mail and messaging capabilities
-Easy mobile access to Facebook, Twitter, MySpace and Flickr as well as popular instant messaging services
-Support for BlackBerry App World, featuring a broad and growing catalog of third-party mobile applications developed specifically for BlackBerry smartphones
-Premium phone features, including voice-activated dialing, speakerphone, and Bluetooth (2.1)
BlackBerry 6 ready:
-The BlackBerry Curve 3G smartphone ships with BlackBerry 5 and is BlackBerry 6 ready.  BlackBerry 6 is a new operating system for BlackBerry smartphones that retains the trusted features that distinguish the BlackBerry brand while delivering a fresh and engaging experience that is both powerful and easy to use.  BlackBerry 6 is expected to be available for the BlackBerry Curve 3G, upon network certification, in the coming months.
Pricing and availability:
-The BlackBerry Curve 3G smartphone (model 9330) will be available in business sales channels on Sept. 16 and it will be available online and in Verizon Wireless Communications Stores in the coming weeks for $29.99 after a $100 mail-in rebate with a new two-year customer agreement on a voice plan with an Email and Web feature or an Email and Web for BlackBerry plan.  Data plans for the BlackBerry Curve 3G smartphone begin at $29.99 when added to any Nationwide voice plan.  Customers will receive the mail-in rebate in the form of a debit card; upon receipt, customers may use the card as cash anywhere debit cards are accepted.
-To learn more about the new BlackBerry Curve 3G smartphone, visit www.blackberry.com/curve3G .  For more information about BlackBerry 6, go to www.blackberry.com/6

Loading up the phone you'll find boot time is a bit long, almost a minute on first boot, then after that it seems faster.
The main screen has rather small icons at the top, and a few menu items at the bottom with a lot of unused space in the middle. Navigation is done with the track pad, and that works well, it's nice and sensitive to touch and movements are smooth and quick.
Let's start with the screen it's small and the resolution seems very low. Regular text seems pixilated, and browsing just isn't really a clear or enjoyable experience. The screen is rather small as well, I don't think you'd want to watch many videos on this phone seriously. With browsing yes you can zoom in and out, but the screen is so small that you'll do a lot of scrolling around the pages your viewing. The screen is nice and bright and the colors are sharp and spot on.
The phone ships with BlackBerry OS5, but promises to update to 6 in the near future, whatever that means in terms of timeframes.
When you check out the Menu options you'll find a lot of Verizon branded things on there, too many really. This is my biggest gripe about nay phone, all the crap ware that companies put on them, they need to just stop it or let us remove it easily if we don't want it.
Under Applications you'll find Flikr, FaceBook, MySpace (really?!), Twitter, Memopad, Tasks, calculator, Word, Sheet and Slideshow to Go, Files, Voice Dialing, Password Keeper and Saved Messages.
There are a few games that comes with it, but they're not what I would call fun. You'll find BrickBreaker, Word Mole, Texas Hold'Em King 2, Sudoku, and Klondike.
Not pictured but you'll find a few IM clients for Windows Live, Yahoo, Google Talk, Aim and BlackBerry Messenger, so they're certainly got everyone covered in that area.
Under Media you'll find Music, Videos, Pictures, Ring Tones, Voice Notes, Video Camera and Voice Notes recorder.
The keyboard is nice on the Curve 3G, the buttons are raised and typing is easy, but it can get cramped toward the middle of course.
Call quality on my end seemed not so good, though I was told I sounded fine to the persons on the other end. On my end it sound hollow, like in a cave almost, i just don't like the sound quality at all.
Wi-Fi worked fine as did GPA, but there's no 802.11N, only B and G, you'd think a new phone like this would have N spec for Wi-Fi.
Battery life is ok I guess for a smartphone, I didn't have to charge it everyday in other words.
The camera is underwhelming with only 2mp resolution and no flash or focus ability. It can zoom, but it's pointless as the resolution drops and things become extremely pixilated. There's also limited options when it comes to the settings.
Conclusion:
I'll be honest here, I don't care for BlackBerry phones at all, I've checked out a couple of them and I'm not impressed at all. The main reason is that I've owned other smartphones and the Blackberry just doesn't seem like one to me. This is the latest and greatest but yet it feels like tech from a couple years ago. The screen resolution just seems very low and things are pixilated, and from my experience call quality is sub-par, at least with the Curve 3G. You're making a phone for business use but that doesn't mean it has to feel that way. I don't know how a businessman could actually enjoy using a phone like this when there are so many other better options out there that can do the same thing and offer a much better experience while doing it.
Browsing on this phone is fast yes, but the screen resolution is low and everything just doesn't look good. Text is even pixilated, it would give me a headache having to read a lot on this phone. The screen is small, something that I feel is certainly wrong, a smartphone needs a large screen. The screen is also not a touch screen, sure the track pad does a decent job at navigation but a touch screen would be so much better and quicker and more enjoyable really. To have a touch screen though you'd probably need a bigger screen, which in turn would make the phone itself bigger. I do like the size of the Curve 3G, it's not too big or not too small.
Honestly it just doesn't seem that BlackBerry is keeping up with the times in terms of technology that's out there right now for phones, if feels like old tech really..
Don't get me wrong here though, it's just my personal preferences stated above really, well at least some of it is. Objectively I can see the phone as something of a decent tool for business use, but just not for personal or average consumer use. It's a phone that's made for business and not pleasure really, and that's not a bad thing if that's what you want and need.  The Curve is inexpensive, it seems reliable and it gets the job done, but it's just rather plain, no bells and whistles or real excitement involved.
Pros:
+Easy to navigate
+Keyboard works well
+Well made and small phone
Cons:
-No wireless N
-Poor picture quality / no flash
-Call quality isn't the greatest
-Screen resolution is low
| | |
| --- | --- |
| Grades: | |
| Overall | |
| Design | |
| Performance | |
To learn more about our review policy please visit this page HERE.