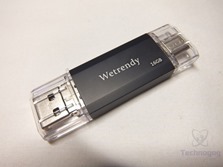 I like flash drives, I've got a lot of them in fact, I just find them very useful for all sorts of things. Today for review I've got a flash drive from Wetrendy but this drive is probably the most useful I've seen as it has a regular USB connection, a micro USB connection and a USB C connection on it. You could use this drive for everything really, you'll be able to easily transfer between all devices you've got, phones, tablets and computers. Read on to learn more…
Specifications and Features
Wetrendy USB C Drive 16GB Phone USB Drive 100% Real Capacity 3 IN 1 (Type-C/ Micro USB/USB 2.0) OTG Flash Drive Waterproof Data Storage Thumb Drive for Macbook Mobile Phones Tablets Samsung (16G-Black)
This USB C Drive is 100% Real capacity, 16GB, a portable data storage USB drive for the OTG enabled mobile devices , keeps your data safe against water, dust, shock, extreme temperatures, and other harsh conditions. Never need to worry about getting your important data lost.
-Wide Compatibility
Equipped with 3 connectors: USB type C, Micro USB and USB 2.0, Wetrendy 3 in 1 USB memory stick has wider compatibility, easy to plug into Micro USB, USB A and USB Type-C ports on ultra-thin laptops, tablets, mobile phones and more.
-Instantly Add External Storage for Your Cell phones and Tablets
The Wetrendy USB type C Drive offers up to 16GB to instantly expand the storage of your mobile devices , gives you plenty of space to backup photos, videos, music and important files.
-Built-in more than 4 protections & High heat resistance
Our OTG USB drive adopts high quality PCBA and Intel premium Chip to ensure good performance and stable data transmission storage.
-Easier File Transmission with No Interruption
No more constraints of cables and Internet connection, you can get rid of traditional methods with this 3 IN 1 Thumb USB drive to enable much easier and faster data backup and transmission.
Price: $15.99 (from Amazon at time of review)
The Review
Let's start with a quick unboxing and product tour and then move on:
The Wetredny flash drive comes packaged in a gift box and inside you'll find the drive well protected surrounded by a sponge foam material and then wrapped in plastic. On the side you'll find a wrist strap and user guide as well.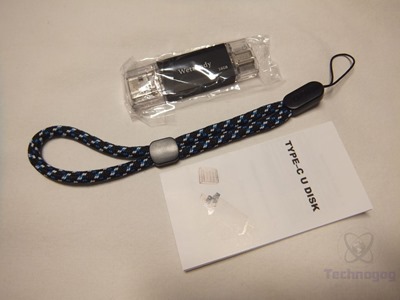 The drive is a bit larger than other flash drives but that's because it does have three connection styles on it. There are clear protective caps on both ends and the drive itself has a small loop sticking out to attach the strap. The drive is about 2.5inhces or about 65mm in length and about .75inches or 19mm wide and only .25 inches or 6mm thick. The drive does have a metal housing and it's supposedly resistant to shock, water, dust and extreme temperatures.
The drive has a standard USB connection on one end but it flips open to reveal a micro USB connector as well. The other end is where you'll find the USB C connection.
I did run into a small issue with the Wetrendy flash drive, it wouldn't fit in my Samsung Galaxy S8 with the case on, to use it I had to remove the case.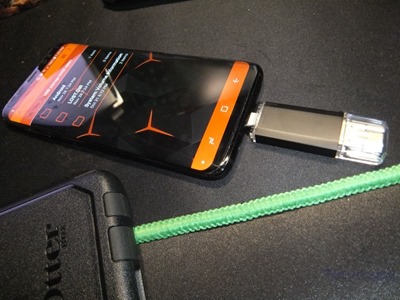 I was curious so I decided to test the speed of the drive and compare it to some other 16gb flash drives I have on hand. The other drives I have are USB3, but the Wetrendy drive isn't so it's obviously not going to be as fast. I did use the USB3 interface with all the dries though to keep everything even. The other drives I have: Kingston DT Micro Duo, Kingston DT Micro and Corsair Flash Voyager Mini.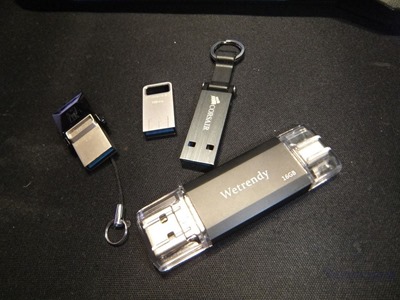 I used ATTO for the testing so here's the results for you:
Here's the results from the tests, I took the fastest result from all of them:
Read Speeds (MB/s):
Corsair: 82623
Kingston DTMicro: 127421
Kingston DTMicroDuo: 116299
Wetrendy: 20601
Write Speed (MB/s):
Corsair: 10841
Kingston DTMicro: 20538
Kingston DTMicroDuo: 18732
Wetrendy: 11110
We knew going in that the USB3 drives would be faster as the Wetrendy is only USB2, so there's no surprise there. What is the surprise to me though is that the Wetrendy drive isn't the slowest in terms of write speeds, the Corsair is. Even so I think the Wetrendy drive is fast enough for most purposes.
Conclusion
I have tablets with the micro USB connection and then my Galaxy S8 with the USB C connection and then my computer with the standard USB connector, the Wetrendy flash drive allows me to easily and rather quickly transfer files between all of them without having to use any other adapters which I think is great really.
The Weterndy drive is about $16 right now on Amazon and that might seem expensive for a 16gb drive, but I don't think it is really for this specific drive as it has three different interfaces making it that much more useful and valuable really.
The drive itself seems very well made and it has built-in protections along with being water, dust, shock and temperature resistant.
The included wrist strap is a nice addition I guess, I think I would have rather had a lanyard instead though, but it's fine.
All in all the Wetrendy drive is decent with only one small issue and that's the fact that I had to remove my phone case to use it. Yes it's a slight hassle but oh well, I can live with it.
Pros:
+USB, MicroUSB and USBC connections
+Seems very well made
+Very useful
+Inexpensive
Cons:
-Might not fit in phone with case on
| | |
| --- | --- |
| Grading | Scores Out of 10 |
| Overall | |
| Design / Aesthetic | |
| Value / Price | |
| Performance / Usage | |
Disclosure: This product was given to me for review by the company for review purposes only for free or at a discounted price.
To learn more about our review policy please visit this page HERE.