DVDs are great but how do you take them with you? Our lives are mobile and honestly I don't won't to carry a portable DVD player in addition to my phone and my tablet just to watch a movie. The only option is a sort of gray area choice and that's to rip the DVD that you own to a more portable format so you can play it on your tablet or phone as your backup essentially. It's all funky law really and it could be just an article unto itself.
United States law is conflicting on the subject: Under United States Federal law, making a backup copy of a DVD-Video or an audio CD by a consumer is legal under fair use protection. However, this provision of United States law conflicts with the Digital Millennium Copyright Act prohibition of so-called "circumvention measures" of copy protections. (source Wikipedia)
In another case Federal District Judge Susan Illston of the Northern District of California, ruled that the backup copies made with software such as DVD Decrypter are legal… (same source as above)
So my take is that basically doing it is fair use but it's not fair use. Yeah it's goofy and confusing. You own it, you paid for it and you should be able to make a backup, but you can't.
Now copying your own DVDs, like you home videos you made and the like is legal, at least I think it is, who knows the MPAA or DMCA or whatever other multiple-letter organization might change that too and make that illegal soon. For now though I'm fairly certain that copying your own homemade family movies is still legal, but then again even as I type this they could adding to the DMCA to make that illegal as well.
Personally I'm a Netflix and Amazon Prime member, and that gives me more than enough to watch. Sure I have DVDs,Blu-rays and even HD-DVDs but most of them just sit there collecting dust honestly, I watch them once or twice and that's it. I can't remember the last time I bought one really as I just don't see the need to buy them as I'm in no rush to see the latest movies, I can wait for it to hit one of the streaming services I subscribe to.
Anyway, today for review I've got WinX DVD Ripper Platinum which is a DVD ripper obviously and it's one that works fast and offers numerous options for the whole process. You'll find the ability to copy or backup your DVDs, rip them to PC formats or any one of many mobile formats. So read on…
Installation and Menus
Installation is simple, just follow the prompts and enter your key with prompted to and you're all set and ready to go.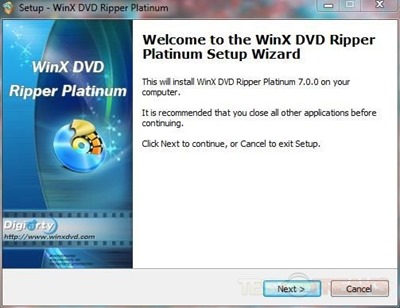 The main interface consists of a menu bar at the top with options for DVD Disc, ISO Image, Clear and Options. Off to the far right you can check for new version, see the version number, email support and then the help files. Towards the bottom you can set the output folder. The interface on the right side more for the ripping process.
There's not much to the options, just setting folders, languages and other basic settings.
The main options come in when you are picking your output profile, there's a plethora of choices for PC, mobile and others along with DVD backup.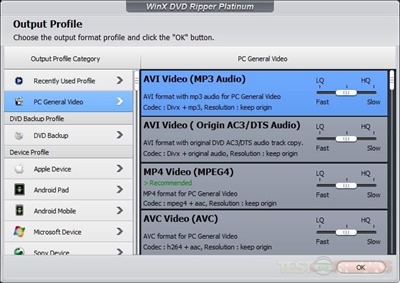 Each option has more options in the right panel, like here's the choices for the PC General Video. Each choice also has a slider to adjust the quality, personally I would always pick high quality which take a little longer but it's worth it I think.
For DVD copy you've got a few choices as well, like just copy the main title or movie, full copy, 1:1 DVD to IOS and then copy the DVD to a folder.
The Device profile choices are even more in-depth, like for example under Sony device you can copy to PSP, PS3 and even PS Vita formats.
Here's a few more showing you many profiles to choose from for Apple, Android phones and tablets and Microsoft products like the new Win8 tablets.