I haven't seen many console accessories in a while but I've got a few of them coming for you, starting today with the XJacker PS3 Kit. I'm sure right now you're wondering what the heck an XJacker is, well it's an adapter that let's you use most any headset or headphones with your PS3. They can be the same ones you use with your PC, phone or MP3 player. They can have have a microphone or not, but I think you'll want a microphone to have the ability to chat  of course. The XJacker PS3 Kit is inexpensive product that comes in just under $20 and I think it's worth as I looked around and really couldn't find a decent wired headset for the PS3 for under $50. The Xjacker PS3 Kit lets you use your current headset with your PS3 and you don't any functionality, this way you don't have to buy separate headsets which is you spending more money.
I don't know about a lot of you, but I've got small kids and I like to game but I can't exactly do that at night time when they're trying to sleep. Of course my wife isn't exactly thrilled either by the booming sounds while I'm playing games. I work from home so I can play games in the day time when no one is here, but I'm supposed to be working so I don't do it often. I don't play as much as I want to basically and I've been meaning to get a PS3 headset but it's just one of those things that aren't a priority for me so I've never got one. The Xjacker PS3 kit though now allows me to use my regular headphones for my PS3 to play games without disturbing anyone, and I think it's just great.

The XJacker PS3 Kit comes in a very small and colorful box with specs and features listed.
There are no instructions in the box, they're on the side and you can get more detailed one on the XJacker website.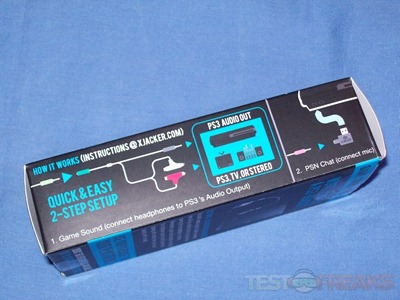 You'll find three things in the box, USB dongle, 'Y' audio cable and a lengthy set of audio cables as well.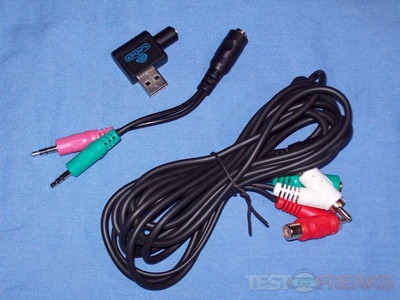 The Xjacker kit can be hooked up two way, via RCA style jacks or via a standard 3.5mm jack if you TV or stereo has one. The female end in the picture below is what you would plug your headphones into.The cord is a rubberized style, personally I would have rather seen an anti-tangle cloth style, but these seem more than durable.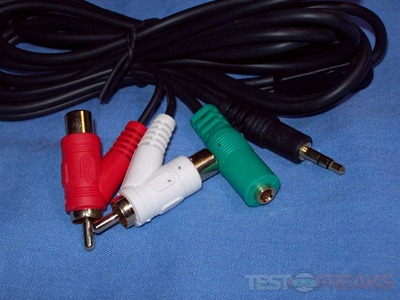 The included 'Y' audio cable is for those types of headphones that have a microphone but only a single audio jack. This is the type you'd see that can be used with most phones.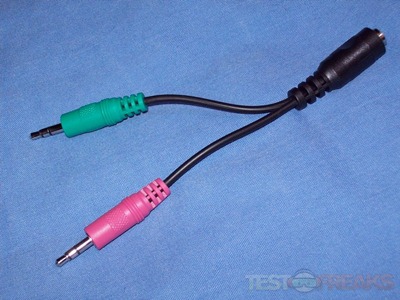 The included USB dongle hooks to your PS3 and it's so you can use a microphone for in-game chatting ability. It's just a small little gadget with a USB connection on one end and a female audio jack on the other.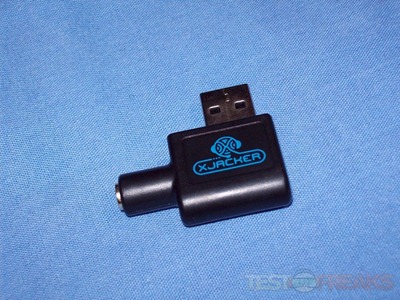 Specifications: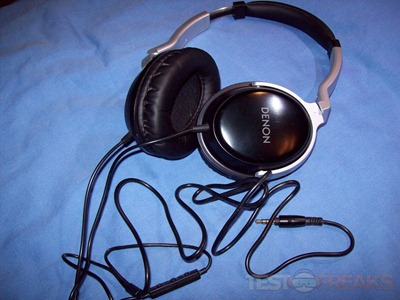 My PS3 is hooked up to my HDTV with an HDMI cable so that meant I had to dig around and find the original component A/V cable to be able to use the XJacker Kit. you can hook up the kit without it but you'll need to have 3 regular 3.5mm audio jack on your TV or on your audio system and it seems neither one of mine do, so I'm stuck with the A/V cable.
You have to hook the RCA audio connections on the XJacker to those on your PS3 cables, then the other end just hooks right to your headphones. This configuration is just for sound though the headphones and not using the microphone. If you're like me and use HDMI you've got to go into the PS3 settings and adjust it for multi-audio output which I found you can have the sound playing through both the headphones and your TV or stereo at the same time if you don't do it right. So pay attention when you're changing the settings. Of course if you're already using the component cable you'll just use the pass-though part but that might have a problem of it's own depending on how far the connection is away. The included cable is long but if your connection is on the back of your TV then you're going to lose whatever length that is to get there.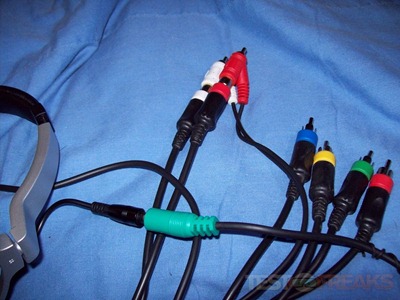 Now if you want to use the microphone in your headset you need to use the included UBS dongle. Some headsets have separate microphone and audio jacks and some don't, especially those that can be used with phones. The Denon pair I have is one such product so I had to use the special splitter that can in this kit. According to the specs and the Xjacker site this splitter is only really for Beats branded headsets so I wasn't sure it would even work for the Denon set but I'm happy to say it worked fine.  To use the audio jack the front USB port was the obvious choice for me. If you have the type of headphones with separate audio and microphone plugs then you obviously won't need the 'Y' adapter and you'll just plug the microphone directly into the dongle.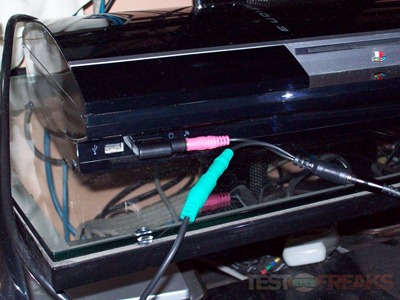 The XJacker kit includes a nice long cable but that's negated when you use the USB adapter as now you're limited to the length of the cable on your headphones sadly. Just like above when I changed the audio settings you'll need to do the same thing for the microphone. In the settings you'll find one labeled USB microphone when it's plugged in.
For me I'm really not into the whole chatting thing in games, the little obnoxious children that I've ran across annoy me. Honestly I prefer single player games myself, but I do play some multiplayer just without chatting. So for me the microphone part of this isn't that big of a deal as I won't be using it so I have the whole length of cable to work with in addition to the length of the A/V cable. This is nice as it let's me sit farther away from my HDTV and not right up on it.
It's seems like there's quite a bit to do to get this working but not really, just hook it up and change a few settings and you're done. The difficulty or length of time it takes to get this up and running is going to depend on your personal set up.
As far as clarity of sound, it sounded perfectly fine to me with the headphones being hooked up this way, no static or buzzing, it works well.
The one thing I noticed is that there really isn't any volume control when hooked to the PS3, at least I didn't notice one. There is a volume control on the PS3 but it's not like it's easy to access while playing games. The basic or default level seemed more than adequate though for my personal needs.
Conclusion:
The XJacker PS3 Kit is one of those things that I didn't know existed but it's one of those things that I think I'm thankful does exist. I found this kit to be very useful and easy to use overall. It's a great way to save some money as I think pretty much everyone already has some sort of headset floating around. The XJacker PS3 Kit solves the problem of needing and having to spend money on a separate headset for your PS3. There's not much to the kit, but what there is seems well made and should last through even the most intense gaming sessions.
There are a few small issues but you running into those will depend on how your system is set up and what kind of access you have to audio jacks.
Personally I really like the XJacker PS3 Kit, I know it will be in use often in my home.
Pros:
+Inexpensive
+Very simple to use
+Can save you money
+Nice long cable
Cons:
-When using USB microphone you're limited by headphone length
-Cable length might be an issue in some instances
-Need to have regular PS3 component cable handy
| | |
| --- | --- |
| Grades: |   |
| Overall | |
| Design | |
| Performance | |
To learn more about our review policy please visit this page HERE.