A few days ago I took a look at the Seagate BlackArmor PS 110 2.5″ external hard drive, today I've got the BlackArmor WS 110. This drive utilizes a 3.5″ 1TB hard drive inside of the unit, and features both eSATA and USB connections along with everything that the PS 110 can do. So let's just jump right in…

The box for the BlackArmor WS 110 lists the specs and features, along with pictures, inside we find the drive itself protected and an accessory box.
Unpacking everything we find the WS 110 itself, along with power supply, USB cable and stand, but there is no eSATA cable which I find odd. The WS 110 features an eSATA connection, but yet they don't give you a cable to utilize it.
The Seagate BlackArmor WS 110 is black in color with silver accents, it's wedge shaped, sort of. On the back we find the power connection, Kensignton style lock, USB interface and eSATA interface. The housing is plastic, but it seems well made.
The BlackArmor WS 110 can be mounted horizontally or vertically with the included stand, the stand just clips onto the housing.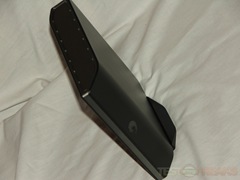 Specifications:
Model: ST310005BWA1E2-RK
Business-grade backup solution for PCs and servers
Business-grade software, a reliable Seagate hard drive and incredibly fast eSATA / USB connectivity make the BlackArmor WS 110 drive a powerful external storage and backup solution for your digital assets. The BlackArmor Backup software, preloaded on the drive, offers full-system backup, which includes the operating system, all of your programs, setting, email… Everything! Plus, you can choose to safeguard your backed up files with AES 256-bit government-grade encryption.
If you accidentally delete a file or lose data due to a computer crash, you can easily recover individual files or revert your entire system back in time before the problem occurred, all with the included SafetyDrill+ recovery software.
The Try & Decide feature allows you to create a secure, controlled temporary workspace on your computer. You can try out new programs or change system settings without having to worry about losing data or damaging your system. When finished experimenting, simply decide to keep the changes or discard the recent activity as if it never happened.
The BlackArmor WS 110 drive has the option to lie fat or stand vertically to blend into your work environment.
Highlights:
-eSATA and USB 2.0 for the fastest available data transfer rate.
-Incremental and full-system, automatic backup for PC.
-Backs up open files for greater protection.
-SafetyDrill+ recovery software (Bare Metal Restore).
-File and folder-level encryption for backed up data.
-Utilizes the same software package as all other BlackArmor products for ease of installation and management.
-Built with a reliable Seagate hard drive.
-Supports Windows XP and Windows Vista.
-Lies fat or stands vertical to complement your workspace.
-5-year limited warranty.
Product Dimensions (Standing):
Horiz x Vert x Depth – 1.33" x 6.89" x 6.77" (33.70mm x 175.00mm x 172.00mm)
Weight: 3.06 lb (1.39 kg)
Performance:
-7200RPM
-eSATA: up to 3Gb/s
-USB 2.0: up to 480Mb/s
Inside the Box:
-BlackArmor WS110
-BlackArmor Backup software pre-loaded on the drive (Windows Only)
-Quick start guide
-Base stand
-Attachable feet
-Power supply
-USB cable
System Requirements
-USB 2.0 or eSATA port
-Windows Vista Home Basic, Home Premium, Ultimate, or Business Service Pack-1.
-Windows XP Home, Professional, Media Center Edition Service Pack-2

Here's a picture of a 3.5″ hard drive with the BlackArmor to show size, I wanted to take it apart, but I really couldn't find a way to do it easily and without possibly breaking the plastic housing.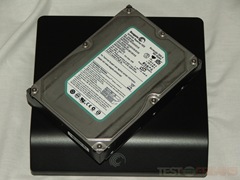 The BlackArmor WS 110 does feature a power and activity LED, the Seagate logo lights up solid when powered on, and slowly fades from bright to dim while accessing the drive.
Here's the results for testing with ATTO, I've got a few drives included for comparison, and I've included results for both eSATA and USB interfaces of the BlackArmor WS 110.
Imation Apollo 500GB 2.5″
Samsung 1TB 3.5″
Western Digital Green 500GB 3.5″
Seagate 160GB 2.5″
Ok, first up I've got testing with SiSoft Sandra 2009 SP3 Removable Storage Benchmark.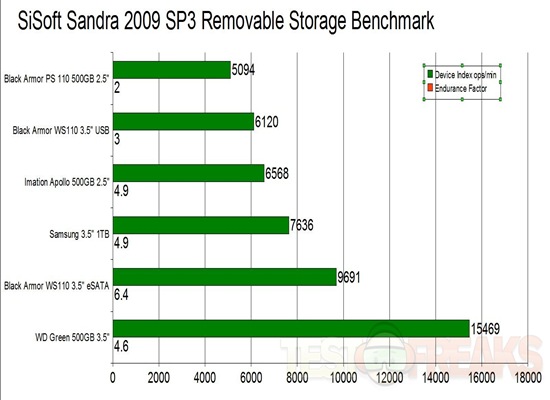 The WD Green drive I have is pretty fast… but the BlackArmor WS 110 using the eSATA interface is faster than the Samsung and the external drives I've got.
Next up is testing with Diskbench and the time it takes to Copy to and Copy from the external drives I've got on hand. I used a 350MB .AVI Video file for the testing. Lower time is better of course.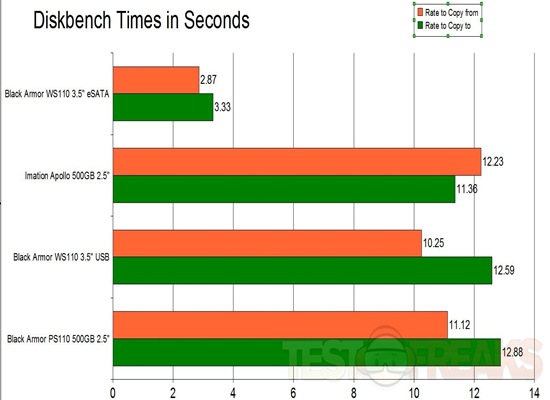 As expected the eSATA connection is the best, but using the USB connection isn't bad either, about 13 seconds to write the file to the drive.
Here's the Transfer rates for the test, higher is better of course.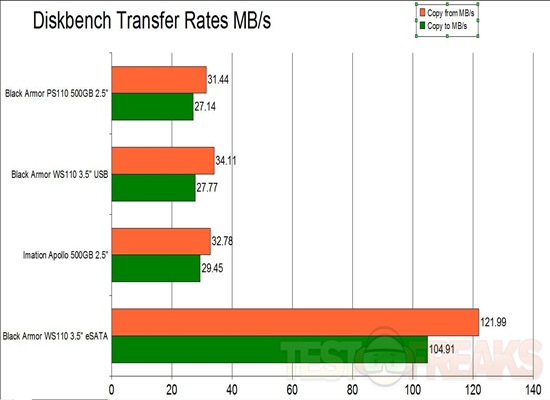 Again we see the eSATA connection has some impressive speeds.
Obviously the eSATA connection is the better choice when it comes to transferring files to and from the WS 110, but the USB isn't bad either, it's comparable to others out there in regards to speeds.
I'm not going to go into the interface of the WS 110, it's the same as the PS 110, so it's not worth repeating it all again, you can check out my review of the Seagate BlackArmor PS 110 HERE to learn about the interface. Though I should mention the interface is easy to use, and it's a very valuable tool for protecting your data.
The price for the WS 110 is listed as $159.99 on the Seagate website, though looking online I found it for as low as $139.99. Still though some might consider a bit expensive for a 1TB hard drive, but you've got to consider what it is and what it can do for you. Buying just a 1TB hard drive will not get you what comes with the WS 110, and all it can do for you in regards to protecting your data. In the end I think it's well worth it.
Conclusion:
The BlackArmor WS 110 is an excellent product that can truly be an invaluable tool for home or business users. The WS 110 offers an easy way to protect your data and your computer. It's easy to use, well made and looks great.
Considering you've got to carry the power supply around with you, I wouldn't consider it very portable, but then again I don't think it's supposed to be, if you want portable then you should look at the BlackArmor PS 110.
The WS 110 is a great product overall and I can easily recommend it to anyone looking for an easy way to protect their data.
Pros:
+Nicely made
+Good software included
+Dual interface
+eSATA is fast
+Easy to use
Cons:
-No eSATA cable included
-Expensive
| | |
| --- | --- |
| Grades: | |
| Overall | |
| Design | |
| Performance | |