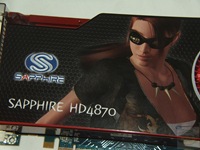 Today I've got a video card review of the Sapphire Radeon HD 4870 512MB product, though it's not technically an official review… A couple weeks ago I looked at the SmoothCreations LanShark Gaming system, and it had this card in it, SC asked me to review this card separately for them so that's what I'm doing today.
So yes this is a review of the Sapphire HD4870 with 512mb of ram, but it's also a comparison of what differences, if any there are between having 512mb or 1gig of ram on your video card. I'm comparing the Sapphire 4870 512mb to my Diamond 4870 with 1gig of ram to figure out if it's worthwhile to double the ram or not. Both card run the same 750Mhz Core Clock and 900Mhz memory clock, and both have the 256bit memory interface, they pretty much the same except for the onboard memory.
So read on to learn more…

This card was provided by LanShark Pyro system that I reviewed recently, so I don't have any box shots for you.
I do have pictures of the card, and it's large just like the other 4870 I have. It's a dual PCI slot card as well, and has the same cooling system as my Diamond 4870 1gig does, just the sticker is different on the cover and the circuit board is blue as opposed to the red of the Diamond.
Here's the two of them for comparison, the differences are the red and blue circuit board and the stickers on the coolers:
And here they are installed in my system, they look exactly the same from the side view really:
Currently my system consists of:
Evga NF680i Motherboard
IntelC2Q6600
8gigs of OCZ Fatality DDR2 ram
hard drives and dvd/rw drives as well
all powered by a Corsair TX750 750Watt power supply
Specifications:
SAPPHIRE ATI Radeon HD 4870 512MB GDDR5 PCI-E
The ATI Radeon HD 4870 GPU brings the power of graphics supercomputing to gamers, setting a new standard for visual computing.
Redefine the way you play and take HD gaming to the extreme with best-in-class performance. The new TeraScale graphics engine delivers an immersive, cinematic gaming experience. Add this GPU to your PC and watch Blu-ray movies and play HD content with incredible visual fidelity. Do it all with break-through efficiency that doesn't compromise performance.
GDDR5 memory and 256-bit memory interface
DirectX 10.1
24x custom filter anti-aliasing (CFAA) and high performance anisotropic filtering
ATI CrossFireX multi-GPU support for highly scalable performance
Use up to four discrete cards with an AMD 790FX based motherboard
PCI Express 2.0 support
Dynamic geometry acceleration
Game physics processing capability
ATI AvivoHD video and display technologyUnified Video Decoder 2 (UVD) for Blu-ray and HD VideoBuilt-in HDMI with 7.1 surround sound supportOn-chip HDCP
ATI PowerPlay technology
# Core Clock: 750 MHz
# Memory Clock: 900 MHz, 3.6Gbps
# PCI Express 2.0 x16 bus interface
# 512MB /256bit GDDR5 memory interface

So here we go onto the testing to answer the question posed in the beginning, and to check out the performance of this card..
First up is the old standby, 3dmark06: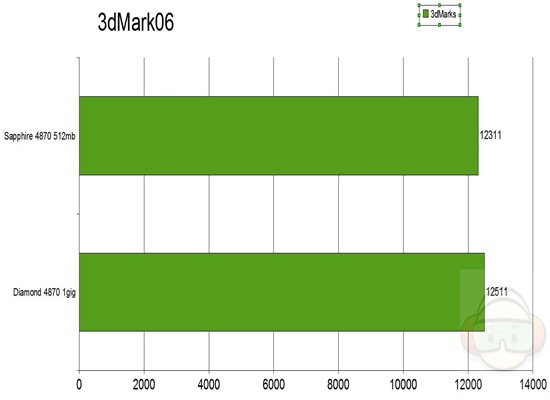 You can see the Diamond just barely beats out the Sapphire.
Next up is SiSoft Sandra 2009 Video Rendering Test using DX10.1
The test involves the generation of Mandelbrot Set fractals that are used to realistically describe and generate natural objects such as mountains or clouds. Such instructions are used for audio and video encoding and decoding, games and other applications where the same operation needs to be applied to large amount of data.
Float Shaders (Pixels/s) – higher results are better, i.e. better single (32-bit) floating-point performance.
Double Shaders (Pixels/s) – higher results are better, i.e. better double (64-bit) floating-point performance.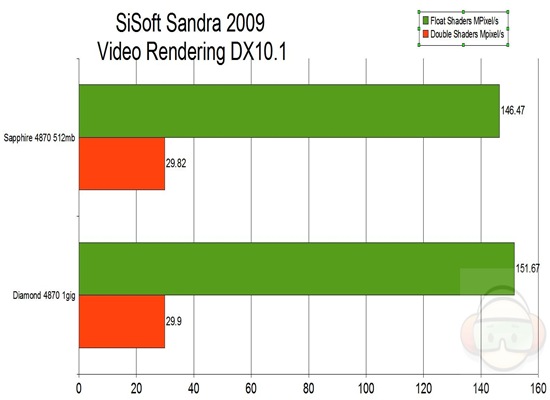 Again you can see the Diamond just barely gets the lead over the Sapphire card.
Next up I've got Crysis, two graphs for DX9 and DX10 testing.
Settings were on High, at 1680×1050 resolution with 2X AA Enabled for both DX9 and DX10.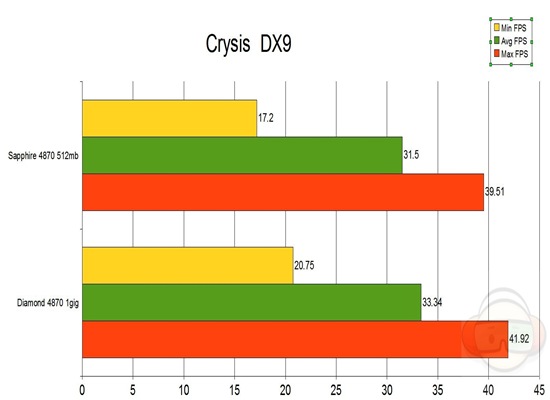 It's close, but as you can see having the extra 512mb of ram does seem to help, still though not bad overall.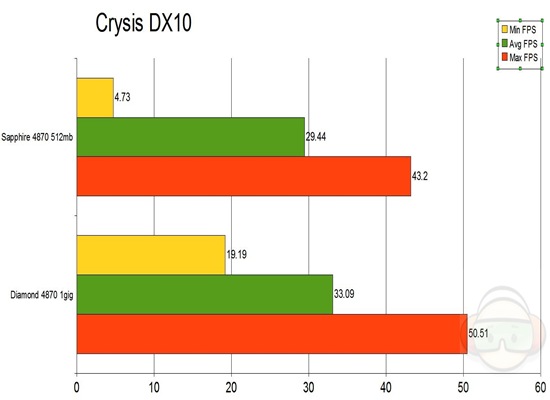 Not sure what's up with the very low drop in framerates, but I ran the tests several times and came out close to that every time for the low end of the FPS… As we can see here again having the extra 512mb of ram does seem to truly help things out a bit.
Next up is Crysis Warhead, 1680×1050 resolution, Gamer settings with 2XAA Enabled, again both DX9 and DX10 testing included.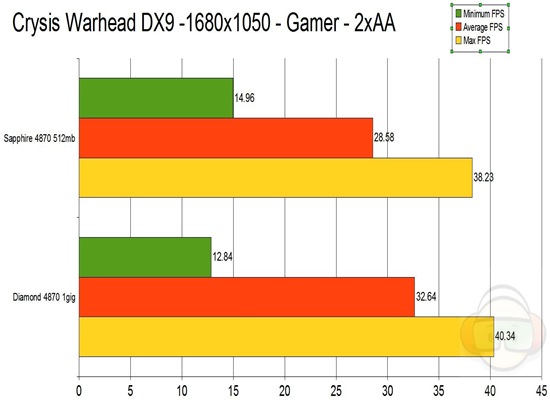 Here again we can see the extra 512mb of ram does help a bit.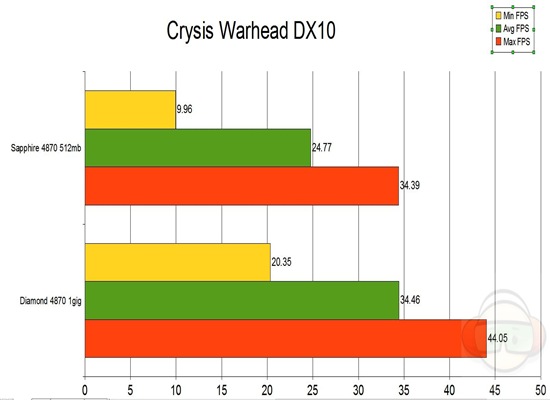 here again we see that having the extra ram helps quite a bit, still though not bad for the Sapphire.
and finally I've got FarCry2 testing, in both DX9 and DX10.
Settings: Demo(Ranch Small), 1680×1050 (59Hz), Fixed Time Step(No), Disable Artificial Intelligence(No), Full Screen, Anti-Aliasing(2x), VSync(No), Overall Quality(Optimal), Vegetation(Very High), Shading(Very High), Terrain(Very High), Geometry(Very High), Post FX(High), Texture(Very High), Shadow(Very High), Ambient(High), Hdr(Yes), Bloom(Yes), Fire(Very High), Physics(Very High), RealTrees(Very High)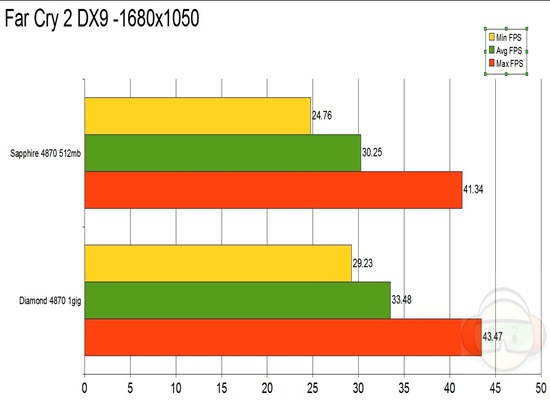 We see fairly close results here between both cards, the low end is rather low for both cards, below the magical 30FPS number, but the average for both is above.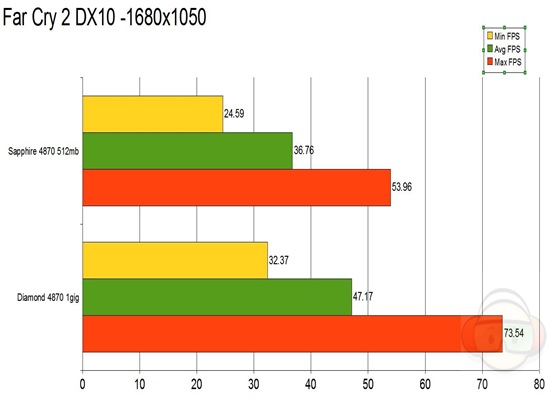 here we see both cards perform well under DX10, with both cards performing better than in DX9 actually.
Conclusion:
The Sapphire 4870 512MB card is not a bad choice for a video card, it performs admirably well and runs cool and quiet while in idle.
The framerates you'll get will of course depend on the resolution you're running and the settings of the game, you can always adjust to get better performance.
Taking a quick look over at Newegg I see the Sapphire card runs normally $260, while the Diamond runs normally $300, personally after seeing the performance numbers of having the extra 512mb of memory I think it's well worth it to spend the extra $40 for the 1gig card.
Pros:
Runs cool
Quiet while idle
Not bad performance for having 512mb of ram
Cons:
Large two slots
Loud under load
Not the best performance
| | |
| --- | --- |
| Grades: | |
| Overall | |
| Design | |
| Performance | |