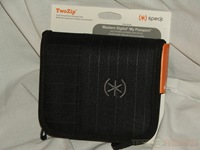 Today I've got a brief review for you of another product from Speck, it's called the TwoZip and it's made to be a case for carrying you 2.5" hard drive around, but it can be used for anything really. The TwoZip gets it's name because it has two zippers on it for the two compartments, one large one for the hard drive and one for the cable basically. It's nicely made of durable cloth, with two compartments that are slightly padded and lined with a soft material, and it features heavy duty zippers as well. So read on to learn more about a useful little product from Speck…

There's really no special packaging for the TwoZip, just a cardboard backing with specs and features listed.
The one I got for review is black with gray accents and pinstripes, but other colors are available.
The TwoZip has two zippered compartments, one large and one small.
Inside you'll find a very soft lining that won't scratch anything you put inside of it, and it acts as a cushion as well.
Specifications:
Keep Stuff Nice, Zip Twice!
Do you like putting things away, neat and tidy? Check out TwoZip for your portable hard drive or other device! This super smart dual-compartment case is the perfect accessory for convenient transport of your WD portable hard drive and cords, or various other small portable electronics and their accompaniments. Larger zip compartment is ideal for holding your device safely in place, the smaller zip compartment fits your cords and accessories, keeping them tidy and accessible. Cool Pixel and professional Pinstripe patters are an extra bonus, as you "zip" around town rocking your own unique style! <
Features:
* Dual compartments are a perfect fit for your portable device and it's cords or other small accompaniments
* Hefty zippers secure safety of both compartments
* Soft fabric inside for extra cushioning
* Two super cool patterns with offset, light colored interior
* Smart design doesn't add unnecessary weight or bulk!
Specs:
Length: 5.5 inches
Width: 6.0 inches
Height: 1.6 inches
Weight: 7.0 oz.
Colors: Restart Greyscale Pixel, Speakeasy Grey Pinstripe
Price: $24.95

The TwoZip is made to fit the Western Digital My Passport portable hard drives, but it can be used with virtually anything as long as it will fit inside. I tried to get my Seagate BlackArmor drive in there but it was just a bit too big, but my Cirago 2.5" HDD fit just fine.
Closing it up allows you to take it with you easily and what's inside will be protected well.
I like Speck Products, they all seem very well made, and worth the price. I got a Speck case for my Zune about a year ago and I'm still using it to this day actually, and everyday really.
Don't forget we're giving away three different Speck Products for MacBook and iPhone, so hop on over HERE and see if you can win something!
Conclusion:
The Speck TwoZip is a simple, but yet very useful product that can be used for much more than just your hard drive. It's very well made with durable cloth and heavy duty zippers, if you're looking for a nice case for your hard drive then give this one a look.
Pros:
+Very well made
+Useful for most anything
+Will offer good protection
Cons:
-None
| | |
| --- | --- |
| Grades: | |
| Overall | |
| Design | |
| Performance | |