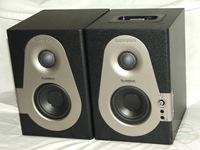 To me speakers are a very important part of my life, sitting in front of a desk most of the day I need my music to keep me going, sometimes I'm here for 12-15 hours per day and if I had to do it in silence I would go nuts. Of course you've got a plethora of choices when it comes to speakers for your computer or music system, which on you pick depends on budget, space and functionality.
Samsontech has sent me over their StudioDock 3i Active USB Monitors, yeah it's a fancy name for a set of speakers, but they're so much more than that. These speakers include an iPod dock, USB input and standard RCA inputs as well so they can be used for much more than just your PC. On the front of the speakers is even another input jack and a headphone jack along with a volume control knob to easily adjust the sound. These are a relatively inexpensive set of speaker that are decent sounding and can provide a nice audio solution for someone with an iPod and any other audio devices.

First up check out the unboxing video and then continue on:

Specifications:
StudioDock 3i – Active USB Monitors
Record, mix, sync and go!
StudioDock is a total solution for listening to your music. With its on-board iPod dock and USB interface, StudioDock lets you record, mix, sync and take your music with you. StudioDock will even charge an iPod while it's docked. And because you use USB to send your music digitally, you get extremely high quality audio from one convenient, incredible sounding set of desktop monitors.
Great Monitoring Performance
StudioDock 3i offers the same professional monitoring performance found in all Samson studio monitors, thanks to our use of custom-designed components and a critically damped, vented cabinet design. In addition to the functional aspects of its design, StudioDock is an elegant complement to any desktop, home studio or mixing room.
All-Pro Features
StudioDock 3i features a 3.25-inch, copolymer woofer with a Santoprene surround for high excursion and internal damping, providing uncolored music reproduction. With its high performance, magnetically shielded woofer, the 3i also employs a precision made 25mm silk dome tweeter with a neodymium motor structure for smooth, extended high frequency response that reduces listener fatigue.
In addition, this revolutionary monitor is powered by an internal 30 watt (2 x 15) high performance, low distortion power amplifier with custom equalization. The result is a system that delivers unusually smooth and accurate frequency response with precise stereo imaging. StudioDock 3i also provides a front panel 3.5mm stereo input jack to plug in an additional sound source, as well as a headphone output jack to mute the speakers and listen with headphones and volume control.
With its pure digital delivery via USB, StudioDock provides clean, powerful sound and the convenience of an on-board iPod dock to record, mix, sync and take your music with you. Welcome to the ultimate solution for the way musicians record today.
-Integrated iPod dock to sync, charge and play music
-USB input to stream digital audio from your computer, offering high-resolution sound
-3.25-inch magnetically shielded, inverted cone, copolymer woofer
-25mm silk dome high frequency driver
-Bass reflex vented cabinet design
-30 watts (2 x 15) of internal power
-Front panel 3.5mm stereo aux input jack, headphone output jack and volume control
-Convenient rear panel RCA inputs
-Passive crossovers utilizing multi-pole design for linear response
-USB and speaker cables included
-Solid Medium Density Fiberboard (MDF) construction for maximum SPL
Price:$149

The first thing I can say about the StudioDock 3i speakers is that it charges the new line of iPod nanos, many accessories will not charge the new iPods.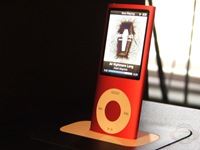 At the present time I've got the StudioDocks hooked up to an AV switch so I can use them for my Xbox360 and PS2, along with TV as well. Since they're shielded I can have them right next to the TV and have decent sound from gaming and movies, along with of course I can throw my iPod in the dock to listen to music whenever I wish to.
Sound is fairly decent from these speakers, the bass isn't overwhelming though as I thought I would be with those tuned ports on the back, treble or highs are nice and crisp also.
I did find that if you turn the volume up very loud it does get distorted, but even at a half turn of the dial they are more than loud enough for me, so I don't have much reason to crank it to full blast either. I found also that it depends on the source volume, if that is up to loud then the distortion starts a bit lower on the volume dial. Another thing is that it would be nice to have bass and treble controls on the speakers to possibly eliminate any of the distortion as most was due to too much bass from, the source.
Since you can hook these up via USB you can use them with your computer, your PC will recognize them as speakers and install them, then you've got direct digital sound from your PC. Though if you've got a sound card as I do you'll lose that functionality to the speakers, so it's kid of pointless, but they included a 3.5mm jack to RCA cable with the speakers so you can hook them up that way if you wish.
Using the USB cable and the iPod at the same time allows you to also sync with iTunes if need be, so that's a nice feature as well, though you can't play music from your iPod while it's docked this way, you can just iTunes of course for that. Most people have the same music on their iPod and computer anyway so there's really no big problem there that I see.
Personally I don't like to have them hooked to my computer as then it would be rather pointless to have a sound card in there, so they're in use with my TV and gaming right now. Which is all fine and good, they sound great for gaming, I was playing Guitar Hero World Tour and Gears of War 2 with these hooked up and it really adds to the overall enjoyment of it.
The speakers themselves are nicely made, and they're heavier than they look really, the volume knob actually extends out for easy access when you push on it, a feature that I really like.
Despite a few quirks I really like these speakers, they're small enough to fit most anywhere, but yet provide very good sound and a couple input options.
Conclusion:
The SamsonTech StudioDock 3i Active USB Monitors are a great product overall that can provide quite a few options fro your listening enjoyment. Overall they sound very good and they're well made, they're easy to use and you've got several options of ways to use them or connect things to them.
They charge the new iPod, there's a nice plus there, not many accessories do that yet, and if you hook them up via USB they'll let you sync it as well.
Pros:
Easy to use and install
Charges 4th gen iPod nano
Inexpensive
Great for gaming, TV etc
Very well made
Different input options
Decent sounding, good highs, good lows and mids
Cons:
Distortion at very loud volume
Bass not very deep
| | |
| --- | --- |
| Grades: |   |
| Overall | |
| Design | |
| Performance | |