Back in April I took a look at a Vizio 47" HDTV and I found it not a bad choices overall for the price range it was in. The sound was not that great and it had a few other minor problems, but still not a bad choice for a sub-$1000 47" HDTV.
Up on the review block today I've got the SV470XVT 47" HDTV from Vizio, this is a 120Hz HDTV and it's considered one of the higher end models of the 47" line of Vizio HDTVs. The main feature of this TV is of course the 120Hz refresh but it also features Smooth Motion technology, along with SRS TruSurround XT through three built-in 10Watt speakers. The SV470XVT is a big upgrade over the previous model I reviewed, both in terms of video and audio quality. This TV can be had for around $1400 depending where you like and it's well worth it if you desire quality picture an sound, but it does have a few flaws…

Obviously it comes in a big, heavy box, and it's packaged very well.
Included with the TV is an accessory box that contains user manual, steel cable, HDMI cable, remote, power cord and batteries.
The remote fir this TV is the same as the remote from the last Vizio TV I looked at, it's a wedge shaped remote that works for the most part. The remote is grouped with input selection and channel numbers near the top, navigation in the middle and feature buttons towards the bottom.
The remote works sometimes, I've run into times where the remote will just stop working for some odd reason. I've researched it and found that many people have had a similar problem with it as well, so it's not just me, it just stops working for an unknown reason and then starts again. I found though that by taking the batteries out of the remote for a couple minutes will fix it, but I shouldn't have to do that at all, the remote should work all of the time, every time.
This HDTV features three 10Watt speakers for much improved sound, I've got a Sony Soundbar HT-CT100 that I use actually for my sound and inputs, but if I didn't have it I think I might be happy with the built-in speakers of the Vizio for basic general use. The sound is clear, and crisp, of course you're not going to have booming bass, but it's not bad overall. The SRS TruSurround XT really does make a difference if it's turned on, it's not quite surround sound but it does give the effect of it to a point.
The inputs are cluttered and just jammed a bit too close together on the back, you really have to get in there close to get stuff plugged in. The component connections and the S-video, along with the composite connections are stacked, you'll have to make sure to plug in the back ones first or else it's very difficult to connect them with something connected in the front set. This TV offers only one component connection on the back, along with two HDMI and an RGB connection as well along with the S-Video and composite connections. For me this isn't a big deal as I use the Sony Soundbar setup for all of my HDMI connections, but others might find they're aren't enough connections for their systems.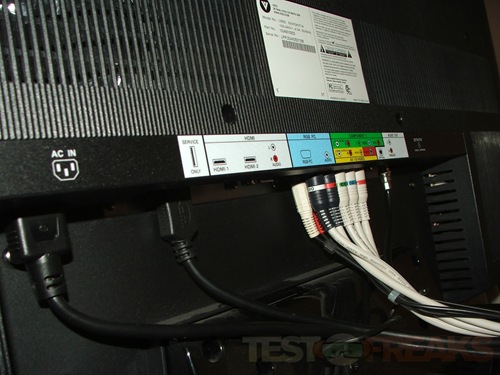 The right side does offer more connections, but again they're a bit cluttered and you can only connect component or composite here, not both because there's only one set of audio inputs, not sure why they did it this way. There's also two more HDMI inputs on the side as well, but I have to wonder why they put them on the side instead of on the back, maybe one on the side but not two.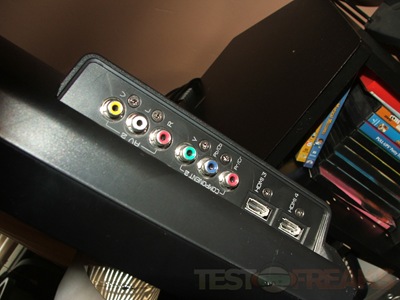 The left side is where you'll find a the control panel with power, menu, volume, channel and input selection along with the special TX input as well.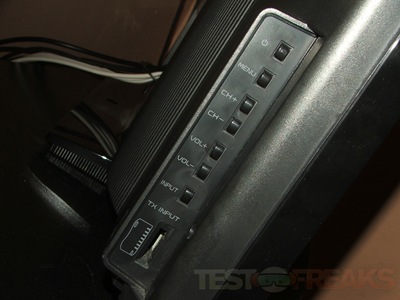 The setup for the inputs and controls is exactly like the Vo47L I looked at back in April, so they haven't improved anything at all in terms of usability or added any new connections.
Specifications:
Vizio 47" LCD 120Hz HDTV SV470XVT
MODEL – SV470XVT
-SV470XVT1A
MSRP: $1,399.99
Experience HD as it's meant to be seen! The VIZIO SV470XVT FHDTV 47" Full High Definition television includes 1080p resolution teamed with 120 Hz refresh and Smooth Motion picture technology giving you a crisp, clear and fluid viewing experience. Enjoy DVDs, gaming, or High Definition television with astounding clarity. SRS TruSurround XT (TM) sound, 2 million pixels, a dynamic 6,500:1 contrast ratio are a few of the other features this TV totes. The stylish design, with piano black finish and 178 degree viewing angle make this HDTV the perfect addition to any room. VIZIO – Where Vision Meets Value.
Specification:
Size: 47-in*
*Viewable: 46.96-in
Tuner: Integrated NTSC/ATSC/QAM HDTV Tuner
Supported TV Formats:
1080p
Native Panel Resolution: 1920 x 1080
Supported PC Resolutions
1920 x 1080, 1366 x 768, 1024 x 768, 800 x 600
Specification:
Panel Type: 47" Diagonal, 16:9 Wide Screen, Color TFT Active Matrix LCD
Panel Specifications: Anti-Static and hard coated surface
Pixel/Dot Pitch: 0.5415mm (H) x 0.5415mm (V)
Display Compatibility: FULL HDTV (1080P)
Signal Compatibility: 480i (SDTV), 480P (EDTV), 720P (HDTV), 1080i (HDTV), 1080P (Full HD)
Response Time: 5 ms (typical)
Colors: 1.06 Billion
Brightness: 500 cd/m2 (typical)
Contrast Ratio: 6500:1 (w/DCR)
Viewable Angle: <178 degrees (horizontal and vertical)
Inputs:
RF (F Connector for internal tuner): 1
HDMI with HDCP: 4
Analog Stereo Audio for HDMI Inputs: 1
Component YPbPr plus Stereo Audio: 2
Composite Video: 2
S-Video plus Stereo Audio: 1
Computer RGB plus Stereo Audio: 1
Service Port: 1
Outputs:
Analog Audio out (RCA): 1
5.1 SPDIF Digital Optical Audio: 1
Headphone (Stereo Mini-Jack): 0
Additional Information:
Zero Bright Defective Pixel Guarantee
Picture-in-Picture (PIP)
Picture-outside-Picture (POP)
Closed Caption (CC)
V-Chip
3D Comb Filter
Zoom
Freeze
3:2 or 2:2 Reverse Pull-down
ATSC with 8VSB & QAM demodulation
ATSC with MPEG-2 decoding
NTSC Video decoding via RF: Yes, thru Antenna, Cable, or Satellite
NTSC Video decoding via Video: Yes, thru CVBS, S-Video, or Component
Progressive Scan Video: Yes, thru Component YPbPr, VGA or HDMI
HDTV: Yes, thru HDMI or Component YPbPr
Computer: 640×480, 800×600, 1024×768 , 1280×1024, 1920×1080 via RGB or 1920×1080 via HDMI
Sound enhancement: Yes, SRS TruSurround XT
Color Temperature: 6500K (standard), 5400K and 9300K
Color Fine Tuning: Independent Red, Green and Blue
Audio: Built-in 10W x 3
Lamp (LCD) / Panel (PDP) Life: 50000 hours
Power: IEC Connector for direct power line connection
Voltage Range100 ~ 240 Vac at 50/60 Hz
Power Consumption: 400W average
Removable Base
Weight:
Gross: 77.8 lbs
Net: 62.4 lbs
Without Stand: 56.9 lbs

Overall the picture is beautiful on this TV, the blacks are nice and dark, and all of the colors are vibrant and correct. Still picture of course aren't exactly a good example of the coloring and how it really looks, but trust me, it looks very nice.
One thing I don't like about this TV is that most everything looks live, it's the 120Hz combined with the Smooth Motion technology that does this. Some people love this, but I don't like everything to look live, it has that camcorder look and feel to it. You can adjust it to reduce the effect but it never really goes away.
The menu system has been totally redone with it being smaller and off to the left corner of the TV instead of right in the middle. You've got all kinds of choices for changing settings, but you can't change settings individually for each input. Under the first choice of Picture you've got many preset setting like Football, Game, Vivid, Basketball, Baseball and Golf… I really didn't notice much of a difference at all between the sports settings, but changing to Vivid does brighten the colors, a bit too much actually.
You can use the remote to select individual inputs, or you can use the on-screen menu if you wish. You can also change the names of the inputs individually if you wish as well, this makes things a bit easier when trying to figure out what is connected where.
I've got my Wii and Xbox360 hooked up to this TV, as well has a VCR (yes a VCR…), Mvix Media Player, and a Blu-Ray player. Games look particularly good on this TV, even the Wii looks good though the component connection.
I've got kids so we watch quite a bit of kid shows and cartoons, and I noticed something odd, there seems to be tearing in animation that's very noticeable, but not in regular shows. It's almost like a blur between frames really, than a tear. My kids don't seem to mind or notice it but I do, and it's not with live TV, it's usually only with DVDs or VHS tapes that this happens, not sure why it's doing it. I've played with the settings and it never really goes away.
I did play with the RGB computer connection, but you're a bit limited to the resolutions you can choose, with only a few of them, but it does look decent. You can also hook your computer up via HDMI as well if your PC supports it, there you'll get the best picture.
The setup of this HDTV was easy, pretty much plug and play, it looked very good with the settings from the factory and only minor adjustments were needed to my personal preferences.
Conclusion:
The Vizio SV470XVT is not a bad choice for the price of it, you're most likely not going to find a 120Hz HDTV for this price from any other manufacturer. Vizio has done well with this HDTV, though there are some improvements that could be made to it, especially the cluttered inputs and the remote. The other problems I mentioned are more personal preference than anything, like things looking live and not having enough inputs.
Pros:
+Overall very nice picture
+Decent sound
+Very easy to setup
Cons:
-Noticeable tearing at times
-Not enough inputs really
-Everything can look live live TV, not a good thing at times
-Remote doesn't work all of the time for some reason
-Crowded input area
| | |
| --- | --- |
| Grades: |   |
| Overall | |
| Design | |
| Performance | |