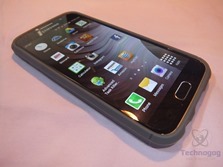 I have to play catch up here, I've got a several cases for review for my Samsung Galaxy S6 so let's just jump right in with another one from Collen but this one is more of a rugged style as opposed to the very basic one I looked at a little bit ago. This case is what they call a hybrid and it's a combination of plastic, rubber and aluminum but yet it won't add much bulk to the phone and it should offer decent protection overall. Read on to learn more..
Specifications and Features
Once you unpack the box you'll find the case in a plastic tray, two screen cleaning wipes, glass screen protector in styrofoam and basic installation instructions.
The case is a mix of aluminum, plastic and rubber basically. The main part of the case is plastic or polycarbonate with the rubber or TPE (thermo plastic elastomer) actually fused to it and a sheet of brushed aluminum on the back side. The rubber is on the inside where your phone would be and then around the edges as well to provide shock protection for the phone. The right and left edges are textured to make sure you keep a good grip on the phone.
The case isn't much larger than the Samsung Galaxy S6 phone so it shouldn't add much bulk to it which is a good thing in my opinion.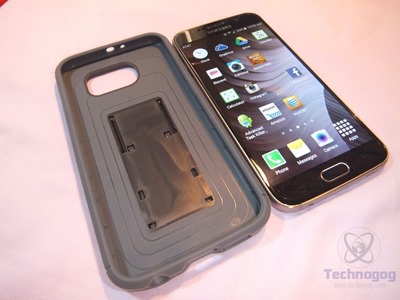 To get your phone in the case you just push really, start on one end and push the phone into the case, yes it's a tight fit but it's supposed to be as you don't want the phone coming out. On the back is a nice large opening for the camera and flash so the case won't interfere with your picture taking.
The case does have an integrated stand for you so you can set it on your desk or wherever to watch videos etc.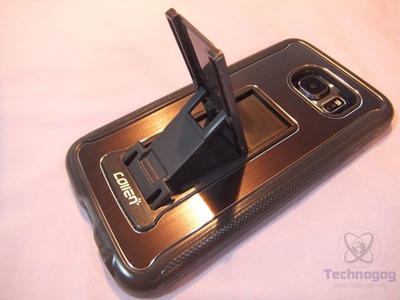 The case does come up slightly over the edges of the front of the phone for protection and it fits well in the case, the case holds the phone securely.
On the top and bottom are opening for the speaker, microUSB port, audio port, microphone and IR sensor and the sides have 'buttons' built into the case that slightly stick out so you can feel where they are and easily press them.
I should note that I did not use the included glass screen protector as I already have one on my phone, but it's seems clear and it should offer good protection especially since it's glass.
Conclusion
I'll be honest, I really can't find anything wrong with this case, it's inexpensive, offers decent protection and it doesn't add much bulk or weight to the Galaxy S6.
There was a time when you had to spend quite a bit of money to get a decent case for you phone, but times have changed and now you really don't have to spend a lot to get good protection. This case from Collen is nicely made and should protect your phone well.
Pros:
+Offers decent protection
+Really doesn't add bulk to phone
+Includes glass screen protector
Cons:
-None really
| | |
| --- | --- |
| Grading | Scores Out of 10 |
| Overall | |
| Design / Aesthetic | |
| Value / Price | |
| Performance / Usage | |
Disclosure: This product was given to us for review by the company for review purposes only, and is not considered by us as payment for the review.
To learn more about our review policy please visit this page HERE.